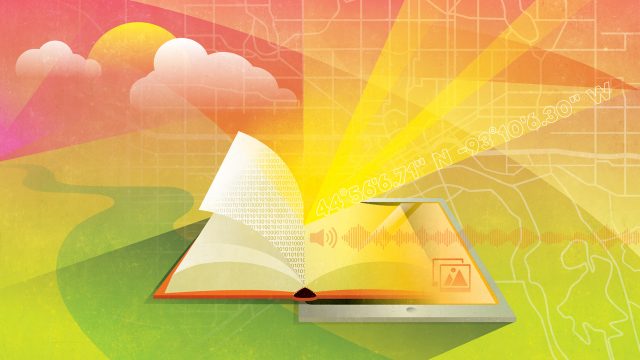 By Laura Billings Coleman / Illustration by Traci Daberko
In today's Germany, nearly one in four German residents is an immigrant, a foreign-born population that rivals that of the United States. Germany appointed its first female chancellor more than 15 years ago, and today women make up at least 30 percent of the governing boards of large corporations. More than seven percent of residents identify as LGBTQ, the highest percentage in all of Europe. The average German creates an annual carbon footprint of 9.4 tons of CO2—about 40 percent less than the average American.
As the data points show, modern German society is progressive and diverse. But until recently, the best available textbook for first-year German students depicted little of the diversity or daily life of the German-speaking world—a fact that associate professor Britt Abel and her students at Macalester were finding increasingly frustrating. While the publisher updated the books regularly, the stock characters depicted as German speakers remained unchanged and out of step with the times. "I found myself constantly apologizing to my students for the material," Abel says. "That's when I realized it didn't have to be this way."
Working with a team from Macalester's DeWitt Wallace Library led by the late librarian Ron Joslin and a grant from the National Endowment for the Humanities, Abel decided in 2016 it was time to build a better textbook—one that was both more dynamic than a traditional textbook, and also more up to date in terms of content. Along with her colleague Amy Young, a professor at Iowa's Central College, and a team of coauthors, Abel spent a month in Vienna, where the group recorded conversations with native and proficient non-native speakers, captured photos, and took videos of everyday life. Abel and her coauthors came up with a diverse set of characters to build a lesson plan around, then envisioned a choose-your-own-adventure learning format to steer first-year German learners toward real-world conversations.
Back in the U.S., they assembled all the pieces into Grenzenlos Deutsch—Limitless German—an online, open education resource for introductory German. Built on a WordPress platform with illustrations drawn by Macalester students, Grenzenlos Deutsch is changing the way German is taught at Macalester and many other institutions. It includes embedded audio files and videos featuring actual German speakers, as well as interactive exercises that allow students to check their progress in real time. "It's actually seven different websites that all work together," Abel says. "There's a lot going on there."
Unlike other language e-textbooks, with access codes that can cost $300 or more, Grenzenlos is free to every user and can be accessed from any device. And unlike traditional, physical college textbooks, which can be out of date as soon as they're printed, Grenzenlos can be updated, enriched, and expanded on a continual basis, creating a curriculum that evolves with the times.
Creating a digital product as complex as Grenzenlos Deutsch without a coding degree would have been nearly impossible a decade ago. But today, the proliferation of digital tools such as DIY website interfaces and story-mapping software allows even nontechnical users to build interactive educational experiences. Collectively, the use of these tools is known as the digital liberal arts (DLA), and it allows today's faculty, staff, and students to present scholarship, collaborate with colleagues, and represent research findings in dynamic new ways. While computer-assisted tools have obvious applications in STEM courses, the technology is now making its way into humanities classrooms.
"It's about using these tools not just because digital is cool, but because the technology has a way of enabling projects that couldn't otherwise be done," says Andrea Kaston Tange, professor and chair of Macalester's English Department for the last four years, and director of Mac's Digital Liberal Arts program from 2019 until this past spring. "I define DLA as the methods, tools, and approaches for using digital technology to illuminate research or add to pedagogy in fields where people might not normally expect to see computer- or data-driven technologies used."
With the help of recent grants from the National Endowment for the Humanities and The Andrew W. Mellon Foundation, Macalester has been rapidly expanding its capacity in this digital realm. Over the past several years, it has assembled a cross-disciplinary team from the DeWitt Wallace Library, the Digital Resource Center, and academic information associates to connect big ideas to the information technology it will take to build them. Macalester's DLA program is helping faculty members deploy new digital platforms to create more meaningful assignments for students, share scholarship with new communities, and collaborate across disciplines.
While the digital liberal arts, also referred to as the digital humanities, have been buzzwords on college campuses for the past decade, Tange says the movement may have gotten a boost during the pandemic, as the constraints imposed by physical distancing and virtual learning prompted many faculty members to revise their course plans. As the campus shut down last spring, the DLA team took the lead in hosting a series of workshops to help faculty adapt to teaching virtual classes quickly. When classes moved to Zoom and Google Meet, many Mac professors began looking at digital projects as a way to build camaraderie and connections during a time when dynamic classroom discussions were elusive. For instance, assistant professor of history Katrina Phillips's students researched and built an interactive chronology of Indigenous history with brief Wikipedia-style posts, many featuring maps and historic images. "I wanted it to be a project students could do anywhere, and I wanted to use it to build a sense of community, and get them to connect with each other by seeing what everyone else is doing and learning," Phillips says.
To build the timeline, Phillips got help from academic information associates Brad Belbas '88 and Ben Voigt '10, part of a six-member team of tech-savvy specialists who support each of the school's core departments while keeping faculty members up to date on what's possible with new teaching technologies. While Macalester's academic information associates will often drop into a classroom to help students learn new tools and software to support their digital projects, the extra training isn't always necessary. "We're actually meeting students where they already are," says Aisling Quigley, a postdoctoral fellow who took over as the DLA program's director in June. With the ubiquity of digital technology, students are comfortable engaging with these tools on a daily basis. But they're increasingly curious about ways they can organize and apply those skills, says Quigley, who also teaches a popular DLA course called "Introduction to Data Storytelling."
"I've been surprised to find that they want to know more about project management and how to scaffold a project and collaborate with teams—skills that some people might think are mundane, but that are new muscles that many students haven't had a chance to flex before," she says. "Students spend a lot of time on the internet and social media already, so the idea that their academic work can have a more public audience is very engaging to them." While digital initiatives are coming out of every discipline at Macalester, the Geography Department has been an early adopter of DLA.
Classes have used geographic information systems— technology that analyzes spatial locations, patterns, and relationships—to research and explore the feasibility of launching an early childhood education program in St. Paul. They've also incorporated student-made infographics into online books and used story-mapping software, which combines narrative texts, location maps, video, and other interactive content, to track how and where Mac alums have made use of a geography degree.
"There's definitely a certain coolness factor when you're working with technology and tools that are relevant and that may even have an impact on your employability later on," says geography professor Dan Trudeau. While he still sees a place for research papers and other more traditional assignments alongside digital projects, Trudeau says the potential audience for work that's published online tends to raise the stakes for many students. "They do their best work when the products they're creating are for an audience that is not their teacher," he says. "That accountability creates an environment that motivates people to do great work."
In fact, some of Macalester's most successful digital initiatives have been designed specifically through collaborations with community organizations. A prime example is Remembering Rondo—a 2016 project with community leaders from the Rondo neighborhood, which was divided in the 1950s and 1960s when the I-94 freeway was constructed through the heart of St. Paul's historic African American community, displacing businesses and families. Macalester history students set up headquarters at the Hallie Q. Brown Community Center, where they digitally archived objects and photographs, and collected stories and reminiscences from residents who remembered the old neighborhood. The information Macalester students collected is still available as a searchable online database, one that continues to inform visitors about the history and family connections in St. Paul's Black community.
"Digital, community-based projects can help deepen the connections between the campus and community partners, and can help make knowledge more public, rather than the academy creating knowledge only for itself," says Paul Schadewald, the senior program director for Community-Based Learning and Scholarship and another key part of the college's DLA team. Research that previously might have been handed in to the professor now has a public presence long after the course is over, he says, "and the use of digital tools can help students realize the significance of their work. That project was very impactful because our relationship with the Rondo community has continued."
The collaborative possibilities of DLA are an important part of its draw, says John Kim, associate professor and chair of Macalester's Media and Cultural Studies Department. As a contributor to Mississippi. An Anthropocene River, a multilayered, multidisciplinary exploration of human activity and impact on the Mississippi River, Kim and three students in 2019 traveled more than 800 miles of the river by canoe, working with a diverse set of collaborators including the National Park Service, New Orleans Center for the Gulf South, and the Max Planck Institute. Macalester's canoers carried along a data-sensing robot that Kim built himself and programmed to collect information about the journey, everything from GPS coordinates and water temperature, to concentrations of atmospheric volatile organic compounds. The data they collected continues to contribute to public research and be analyzed through data visualizations, but Kim says those outcomes may not be as important as the new webs of connections that he and his students helped to build on the way down the Mississippi.
"The Anthropocene River project was a new way of thinking about research for me. Rather than thinking of a paper or a monograph, it was about building relationships and a community of researchers and activists that spanned the entirety of the Mississippi so that we can continue to collaborate on projects into the future," he says. As participants continue to share findings and writings on an evolving project website, "the fact that it is ongoing and seemingly continuous is a benefit."
The growing complexity and academic quality of digital projects is also prompting many colleges and universities, Macalester included, to explore whether digitally produced projects and published research should eventually count toward tenure. Right now, most institutions consider only traditional scholarly publications such as books and journal articles; pedagogy-oriented and digital-first projects don't count. "For me, the payoff of creating a project like Grenzenlos Deutsch has been about working with students, using better materials in my classes, and having been part of an incredible collaboration to make this project possible," Abel says. "That said, this is a digital project, openly published, that relates to pedagogy—three strikes against doing digital liberal arts projects for faculty members trying to get this to count for tenure."
Another debate in higher education is whether digital initiatives, tools, and algorithms could eventually drain away the magic of diving deep into the humanities. If students can build online projects, the argument goes, will diving into books and debating and discussing with classmates have less value? In Tange's experience, it's quite the opposite. "The magic of a deep dive is actually enhanced by DLA projects, which have made digitized versions of archives available for much wider study, and provided students with expanded ways to present their own deep research work," she says. "We see students' engagement in debate and discussion increase as they access more primary sources and analyze them in new ways. We aren't replacing humanities with technology—we're using new tools to demonstrate even more the value of the humanities to create connections across time and populations of learners."
While today's digital multimedia projects may look almost nothing like the homework that Macalester alums remember, at their core, says Kim, they still teach students how to make sense of the world. "I will continue to assign written papers because I believe there's a kind of critical thinking and inquiry that's only developed through the discipline it takes to form a thesis and support an argument," he says. But the digital realm and traditional ways of learning about the humanities can complement one another: "It's not about one at the exclusion of the other—now it's important to be fluent in both."
Laura Billings Coleman is a frequent contributor to Macalester Today.