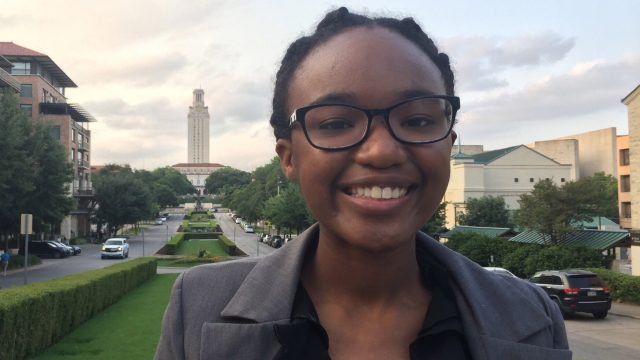 Saint Paul, Minn. — When economics professors Sarah West and Amy Damon both sent Sariya Stowers '23 emails on the same day encouraging her to apply for the first ever Expanding Diversity in Economics (EDE) Summer Institute at the University of Chicago, the rising junior perked up. The new program's goal, which is right there in the name, was a message that really resonated with her.
"That's something I talk about all the time, even with my family and friends," she said. "Economics is one of those things that's the backbone of every country, but a lot of times the experts are not necessarily the most diverse, even though the economy is affecting so many people."
Taking her mentors' not-so-subtle hints, Stowers submitted her application.
"I had already set in my mind that if I didn't get it, I would be fine," she said. "But in the back of my head, I was really hoping."
Last month, Stowers learned she had been selected from a pool of more than 200 applicants, and on July 18, the economics and political science major from Ponder, Texas will join 44 other students from 31 different institutions as part of the EDE's inaugural cohort. She and her fellow participants will receive a stipend for the three-week virtual session, which is being hosted by the Becker Friedman Institute for Economics (BFI), as well as a certification of completion from the University of Chicago.
"Talent is dispersed widely and this program will help to bring a wider set of people into economics," Michael Greenstone, who is the Milton Friedman Distinguished Service Professor of Economics and director of BFI, said in a press release. "We expect that the result will be a deeper understanding of the world that ultimately allows economics to more effectively influence the world."
Stowers said she's really looking forward to getting to know the other students, who all share her love for economics, as well as learn from some of the leading minds in the field. Upon completion, she and the others will become part of an ongoing EDE mentoring network, and select participants will be eligible to participate in research projects and assistantships during the academic year. To Stowers, that all sounds too good to be true.
"In the field of economics, it is so interesting to see how we can make these models and represent our world and then use those same models to solve issues with our world," she said. "I just think it's like mathematical magic or something."
About the Expanding Diversity in Economics Summer Institute 
The Expanding Diversity in Economics (EDE) Summer Institute at the University of Chicago's Becker Friedman Institute for Economics (BFI) was designed to identify and support talented undergraduate students from a broad range of backgrounds interested in the study of economics. BFI's goal is to diversify the pool of students majoring in economics, who may go on to a graduate program of study or a career drawing on this important skill set.