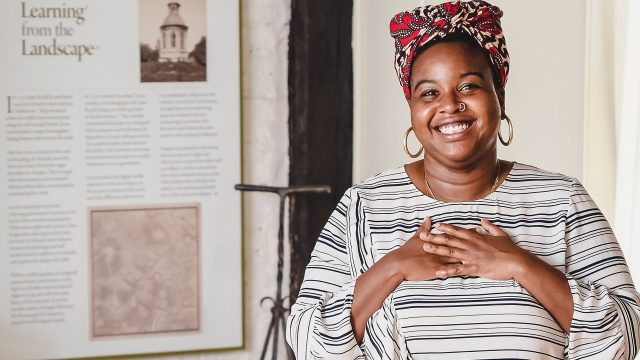 By Hillary Moses Mohaupt '08 / Photo by Nicole Loeb
As protests erupted across the country after George Floyd's murder in May 2020, young activists of color gathered at the Royall House and Slave Quarters in Medford, Massachusetts, just outside Boston, to protest the existence of slave quarters in the city. When Kyera Singleton '11 talked with the protesters, they were surprised to learn Singleton, a Black woman, was the museum's director. 
"And what they thought the museum was—that we were either romanticizing this history or simply ignoring it—couldn't possibly be the case if I was the executive director," Singleton remembers. "That became a moment for me to say, 'Let me tell you about what we do.'" 
The Royall House and Slave Quarters has operated for more than a century, its mission originally focused on telling the story of Massachusetts's largest enslaving family. But new research initiated by the museum's board of directors led to a reinterpretation of its mission, and in 2005 the museum added "Slave Quarters" to its name to counteract the original story. Singleton became the part-time executive director of the museum in April 2020. 
While today the museum focuses on the history of slavery, centering the lives of enslaved people, Singleton notes that the site's preservation had nothing to do with that story. In fact, the slave quarters themselves are no longer in their original state, with part of the building converted in the early twentieth century into meeting space and an apartment. That the quarters weren't properly preserved illustrates whose history is celebrated, she says, and whose history is relegated to the margins. 
"As a Black woman leading this museum, I'm so happy that I get to lead the charge to change that," Singleton says. "I get to say we're going to do as much research as possible so we can make sure that those people who were compelled to work here matter." 
Last summer's interaction with protestors was a watershed moment at the beginning of Singleton's tenure at the museum. It reinforced for her that museums—which have historically hidden or minimized their relationship to slavery or misrepresented the experience—can be painful for Black visitors, who so often aren't able to influence how this history is depicted. "Besides making sure we get the history of slavery right, my role also includes asking communities what else they want to talk about, and what I learned is that people want to discuss what impacts them on a daily basis," she says. "As a museum leader, it's my responsibility to talk about how the past and legacies of slavery impact Black communities today." 
Singleton began thinking critically about history—how it's told and recorded—as an American studies and women's, gender, and sexuality studies major at Mac. "Macalester gave me the tools to think about who I was as a scholar and why," she says. "It gave me a blueprint in so many ways. I wanted to think about how slavery is embedded not only in our history but also in this nation's built environment. It's all around us, yet it's invisible." 
Singleton also credits Macalester with introducing her to working with communities, thanks to an internship at the YWCA St. Paul through an American studies course with Professor Karín Aguilar-San Juan. "The classroom gave me a space to think about my own values and desires in terms of doing community-based work," Singleton says. "How can we empower people, especially when institutions stereotype the same communities they pretend to uplift? You can walk into any community right now and people will give you a long list of solutions they think may fix the issues they face on a daily basis. I learned that all you have to do is listen." 
After graduating, Singleton enrolled in a PhD program in American culture at the University of Michigan. While a graduate student she moved to Atlanta to study at the James Weldon Johnson Institute for the Study of Race and Difference at Emory University; she also completed a policy fellowship at the ACLU of Georgia. A Harvard fellowship to complete her dissertation sent her to Massachusetts, where she is currently an American Democracy Fellow in the Charles Warren Center for Studies in American History. 
Her vision for the Royall House and Slave Quarters has three main parts: ensure the past is always in conversation with the present, expand the museum's partnerships with cultural organizations statewide, and become one of the leading sites on the history of Northern slavery in the region. The ultimate goal: restore the only known freestanding slave quarters in the North back to its original state. 
"I don't want the story of slavery to only be through the lens of violence, because that's limiting," she says. "You have to center Black people as political agents in their own history. We have always fought for our own freedom, and everyone else's, and continue to do so today." 
Singleton is passionate about using her research skills to help people uncover long-hidden histories in the archives. Approaching historical records from new angles can yield discoveries that challenge the white supremacist structures that have hidden the stories of enslaved people. "If we ask different questions, we will get different results," she says. 
Leading a museum during a pandemic challenged her to shift to programming online and to expand into social justice issues like mass incarceration, education, and housing inequality. Singleton also launched a poetry series to celebrate Black cultural production and joy. 
"At the root of all of this is that I love history, and I love what history can teach us," Singleton says. "I love how history allows me to imagine a more just future."
Hillary Moses Mohaupt '08 earned a master's degree in public history and is a freelance writer in the greater Philadelphia area.