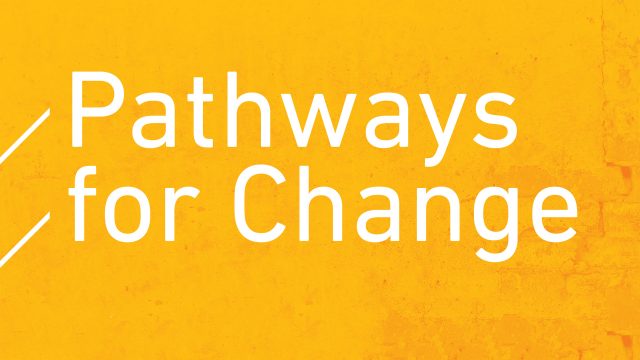 Each year, the college's Alumni Awards honor alumni who exemplify a deep commitment to Macalester's values. Their paths are wildly different, but they all—in one nominator's words—"see the pathways for change," whether that means trying something new, launching an idea, advocating for what they believe in, or reaching out to make connections. We asked this year's winners about the people, places, and experiences that stretched their perspective, changed their mind, and shaped their focus.
"If I can help train new leaders, that's the best use of my time and experience."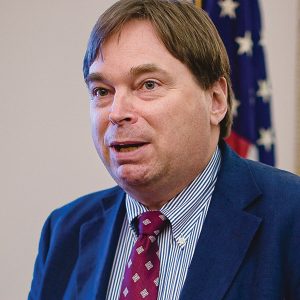 After his sophomore year, Douglas Johnson '71 quit school and hitchhiked to India. He wanted to study nonviolent organizing in Gandhi's ashram, and visited 15 countries before returning home. Since then, the self-described entrepreneur for social justice has been a transformational human rights activist and leader. 
A co-founder of the Infant Formula Action Coalition (INFACT) in 1977, Johnson led a campaign protesting the infant-formula marketing practices by multinational corporations in the developing world, successfully pressuring Nestlé to curtail inappropriate marketing measures in 1984. 
In 1988, Johnson became the Center for Victims of Torture's first executive director. Over 23 years, he helped build an international movement that has enabled thousands of torture survivors to heal and rebuild their lives. With Senator Dave Durenberger he designed, and then with Senators Paul Wellstone and Rod Grams enlisted critical and unusual bipartisan support for the passage of, the Torture Victims Relief Act of 1998. Concerned by the human rights movement's tactical inflexibility, Johnson launched the CVT's New Tactics in Human Rights project in 1996. 
Today, Johnson trains the next generation of human rights leaders at the Harvard Kennedy School. "If I can help train new leaders, that's the best use of my time and experience," he says.
"Macalester helped me develop a language around the social justice issues that had always bothered me."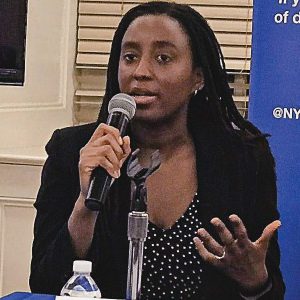 From challenging racism at Prada to advocating for the rights of transgender people in prison, Demoya Gordon '06 has dedicated her career to making positive change through the law. 
Gordon grew up in Jamaica. A lucrative career as an attorney would make her parents proud, which was important to Gordon. But she also wanted her work to make the world more just and fair. At Macalester, Gordon realized she could explore law "in a way that would better the world," she says. "The readings, teachings, and conversations at Macalester helped me develop a language around the social justice issues that had always bothered me." 
Gordon is currently a supervising attorney at the New York City Commission on Human Rights. There, she tackles discrimination in public spaces and bias-based profiling by city law enforcement. 
Looking back, Gordon says she often doubted herself. Leaning on her Macalester community helped. "If I didn't have the support of my Mac friends and professors . . . I don't know if I would have made it." 
Writes her nominator, "Demoya continues to see pathways for change, and I am grateful that she is among the many incredible women who have been nurtured and sent out into the world by Macalester!"
"Having diverse minds in the same room will help propel science farther, faster."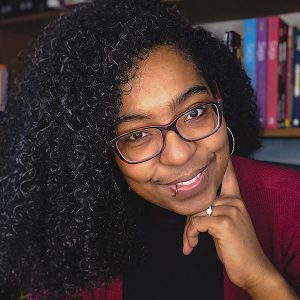 When cancer researcher Jaye Gardiner '11 dreams up a solution to a problem, she's not one to wait for someone else to take action. Take JKX Comics, which she cofounded in 2015 to increase scientific literacy through comics as a storytelling medium. Or the Unique Scientists website and trading cards, projects she helped organize to celebrate the diversity of scientists. Or a Black in Cancer group, which she co-organized last year to promote diversity in the cancer and biomedical research communities and support young scientists of color. 
Through these projects and more, Gardiner is making science more approachable and inclusive for people from diverse backgrounds. 
"Everyone's perspective is unique and based on their lived experience, and they will tackle and solve problems in a different way than someone else will," says Gardiner, who works as a postdoctoral research trainee in Philadelphia's Fox Chase Cancer Center, supported by numerous competitive fellowships. "Having diverse minds in the same room will help propel science farther, faster." 
Writes her nominator: "Jaye has taken her love of science and her love of comics—two seemingly unrelated fields—and created a way to bridge the gap so that she can inspire and teach others."
"They're inspiring women doing good work in a very broken world."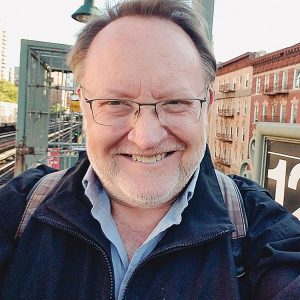 Throughout his 40-year journalism career, Chris Herlinger '81 has consistently and eloquently lived out the liberal arts and internationalist world views that are at the core of a Macalester education," writes his nominator. 
A New York-based international correspondent for National Catholic Reporter's Global Sisters Report, Herlinger has reported from Bangladesh, South Sudan, Haiti, the Middle East, and Europe, covering the work of Catholic sisters, global humanitarian issues, and the United Nations. "I feel very drawn to the Catholic sisters I write about," says Herlinger. "They're inspiring women doing good work in a very broken world." 
Along with his daily journalism, Herlinger penned a trilogy: Food Fight: Struggling for Justice in a Hungry World; Rubble Nation: Haiti's Pain, Haiti's Promise and Where Mercy Fails: Darfur's Struggle to Survive. 
"His work is about telling the stories, making the connections, celebrating the work of the people he meets, and providing his readers with a clearer understanding of the world around us," writes his nominator. 
By introducing him to liberal theology, his Macalester peers prompted Herlinger to think about religion in a new way. Forty years later, his nominator calls him "one of the nation's leading thinkers and writers focused on the intersection of religion and international issues.
"It's important to challenge laws that harm people."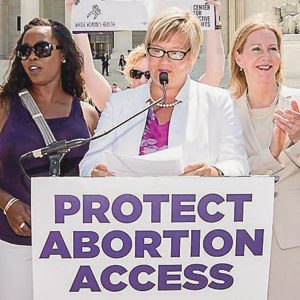 "Amy Hagstrom Miller '89 is a woman of exceptional courage and determination," writes her nominator. "She has what we call it in Texas grit." 
In 2016, that grit brought Hagstrom Miller all the way to the Supreme Court. Her clinics were the lead plaintiff in the most critical abortion rights decision in a generation, taking on onerous regulations around abortion in Texas. Her win created a legal standard that has helped secure and preserve access to abortion around the country. 
Hagstrom Miller is the founder and CEO of Whole Woman's Health, managing eight clinics in five states. After years working in different clinic settings, she learned that many approaches to abortion care services were rooted in patriarchy and traditional medical approaches. In 2003, Hagstrom Miller decided to start a company with a more holistic, feminist model. "What if we could design our own experience for health care that would consider our values, cultural experiences, and comfort with medicine; one where that pregnant person is truly at the center?" she says. 
For now, Hagstrom Miller continues to dispute restrictions around abortion, in legislative halls as well as courtrooms. "It's important to challenge laws that harm people," she says. "Abortion access is the floor, not the ceiling."
"I thought this broad perspective and humility would be a good formula for a book group."
Emily P.G. Erickson '08 calls her reason for wanting a Mac alumni book group "selfish," but her efforts toward creating and directing MacReads are anything but.
In 2012, Erickson launched the monthly Twin Cities-based MacReads group. "Macalester alumni tend to pay attention to perspectives other than their own," says Erickson, who worked as an urban planner, earned a master's degree in psychology, and now works as a freelance writer. "I thought this broad perspective and humility would be a good formula for a book group."
Over the past ten years, Erickson has devoted considerable time and energy into organizing MacReads. And every month, people show up. Clearly, alumni crave what she created: a fun and safe space to exchange ideas, much like what they encountered at Macalester.
After George Floyd was killed near her home, she wrote a trio of widely read essays about how parents can talk to their white children about race and justice. When the Alumni Board asked Erickson to help facilitate discussions on antiracism in education, parenting, and community activism, she answered the call.
Intellectual curiosity, compassion, and multiculturalism—Macalester helped sharpen these values, Erickson says, from "ideas that you talk about in high school to embodied action."
"I learned the enormous sense of the possible."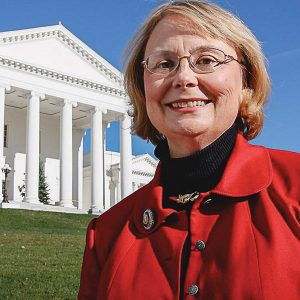 Sixteen years ago, on a mission trip to help abused and abandoned girls in Honduras, Kris Amundson '71 and two friends had a realization: if these girls could go to college, they could have far better lives. "We looked at each other," says Amundson, "and we said, 'We could do this.'"
With that, La BECA Women's Scholarship Foundation began. "Beca means 'scholarship' in Spanish," Amundson explains, "but we use it as an acronym for bringing education, compassion, and assistance to girls and women in Central and South America." La BECA has awarded more than $550,000 in scholarships to 114 scholars in six countries.
She has remained a fighter for kids in politics, as a leader in K-12 education, and as founder of multiple nonprofits. Amundson served for 10 years in the Virginia House of Delegates and later as president and CEO of the National Association of State Boards of Education.
Most recently, Amundson wrote the book 81 Questions for Parents: Helping Your Kids Succeed in School; founded EduTutorVA, a nonprofit to tutor K-12 students at risk of falling behind during the pandemic; and co-chaired the Class of 1971's 50th Reunion committee.
"At Macalester, I learned the enormous sense of the possible," says Amundson. "If you need to get something done, you get together a bunch of people and then you go and do it."
"Data is produced with our beliefs and values embedded in it."
"From the moment I met Nyalleng Moorosi '06," writes her nominator, "I was both awed and inspired."
A leader in the fields of artificial intelligence (AI) and data science, Moorosi helped set up the first Google Research Lab in Africa and co-founded an Africa-wide summer school focused on machine learning, all while researching how AI perpetuates inequality.
Now a software engineer for Google AI, Moorosi aims to help people understand how data influences their lives. "Even the most perfectly quantitative space is not perfectly without bias," Moorosi says. "Data is produced with our beliefs and values embedded in it."
Along with her groundbreaking research, Moorosi has brought other women, especially Black women in Africa, along with her as trailblazers in a field made neither easy nor accessible for women.
Moorosi's interest in computer science and research was cultivated by two women: Professor Susan Fox, who sparked Moorosi's interest in computing, and Professor Libby Shoop, who introduced Moorosi to research. "The way teaching was carried on at Mac was transformative," Moorosi says.
Writes her nominator: "Nyalleng fully embodies Macalester values, continuing to see the goodness and potential in the world that energized so many of us during our Mac days."
"Mac gave me the ability to grow into myself."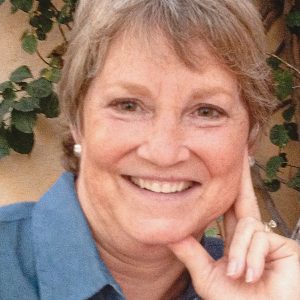 "The most fun I had in my work life was as Macalester's dean of students," says Mary Ackerman '70. "Macalester students are unbelievable. They're smart, fun, critical, supportive, and creative—you don't get anything better."
As a student, says Ackerman, "Mac gave me the ability to grow into myself, to understand that I could lead and be passionate about things that mattered."
After being hired as a Macalester admissions counselor, she eventually rose to become director of admissions, one of two women in the country in that role at the time. From 1979 to 1991, Ackerman created a nationally recognized student affairs program as dean of students.
In 2011, Ackerman retired and reignited her activist roots. Her new community grappled with a proposed pipeline, set to run through wetlands, wild rice paddies, tribal lands, and across the Mississippi. Ackerman and her husband gathered leaders from water conservation organizations around their kitchen table. Those efforts launched the Northern Water Alliance of Minnesota, a collaboration to preserve and protect clean water. Empowering others to use their voices continues to drive Ackerman, as it did during her tenure at Mac.
Writes her nominator: "She's an inspirational and brilliant leader."
"I want to set up future Mac students and alumni to do great things."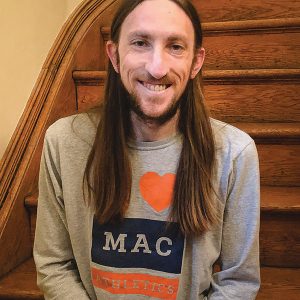 Michael Coleman '11 has stayed connected with Mac in so many ways since graduation, from serving for seven years on the Young Macalester Alumni Connect (yMac) steering committee to pitching in on alumni panels. (And that's not even factoring in his role as a Mac tennis coach.) For Coleman, the explanation is easy. "Macalester feels like home to me—more than my actual house sometimes, more than the home I grew up in and loved," he says. "No matter what's going on, I can walk onto campus and feel good."
Coleman's college tennis experience created the foundation for his Mac connection, and he also worked as a residential assistant for three years, building community for new students.
He continues to build community through yMac programming, especially networking events that bring together alumni in different life stages. During the pandemic, yMac has drawn in more alumni through online events, in addition to helping students prepare for life after graduation. Soon, Coleman looks forward to resuming Dunn Brothers coffee chats with students who reach out.
His goal for his support is big, yet simple: "I want to set up future Mac students and alumni to do great things," Coleman says. "That's how I can best help."