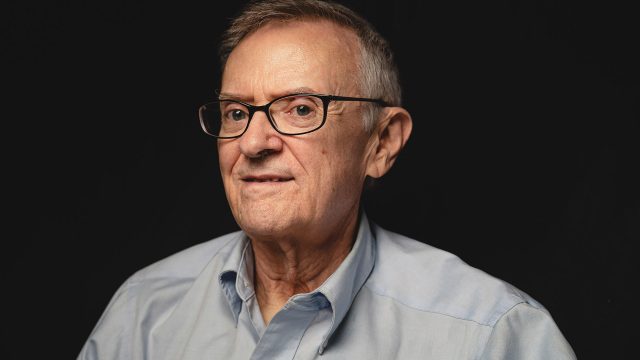 In 2019, Burke Strickland '69 hosted his first alumni event as Mac's Houston regional chapter lead: a reception at the Houston Museum of Fine Arts, followed by time to explore the exhibits. There was only one hurdle: some members of the multigenerational group gathered on the museum's plaza were in such deep conversation that they never even entered the museum.
For Strickland, it's a vivid example of how the Mac connection endures, a thousand miles from St. Paul. "It's validating, exhilarating, encouraging," he says. "We share so much in common across generations. Even as campus changes, as student needs change, we still share the same core values."
Strickland's Mac experiences helped shape those values, especially in Professor Hildegard Binder Johnson's human geography class. "When I was a first-year, geography would've been toward the end of my list of potential majors," Strickland says. "But she engendered in us such an expansive world view, and that lit a fire in me. She taught us about eighteenth-century geographer Alexander von Humboldt, who said, 'The most dangerous world views are the views of those who haven't viewed the world.' Hildegard guided us to see the world with an inquisitive, analytical mind—but she also told us that there has to be an end to analysis, when you have to take action."
Strickland has carried those lessons ever since, gravitating toward job opportunities and social justice engagement where he could make an impact, including his work at the end of his career at the University of Texas's MD Anderson Cancer Center. He has also traveled internationally, with a keen interest in photography.
For many of his 40 years in Houston, Strickland focused his advocacy abroad. Then he started to wonder why there weren't more Mac alumni events in Houston. "Someone needs to do this, and I can be that someone," Strickland, a loyal Macalester Fund donor and James Wallace Society member, remembers realizing. "But it hasn't been a one-person show—I've been pleased to see the response from other alumni in the area, too. I feel a double call to promote Mac regional activities and hopefully be a guiding light to encourage engagement and support for the school."
Although the pandemic halted the chapter's in-person plans, the group cosponsored a Mac in Your City event with Dallas alumni by Zoom and will continue virtual options alongside future in-person events. One chapter event idea on Strickland's list: "Someone told me we should go back to that museum, so we can finally make it inside this time."