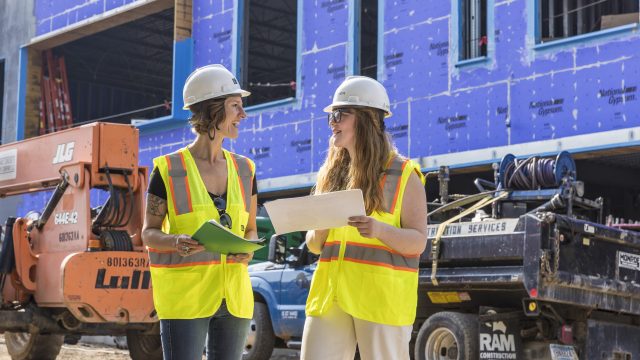 A geography major with a statistics minor and a concentration in community global health. An American studies major with a political science minor. An English major with a math minor.
These are just three of the 12 students selected for the 2020-21 Chuck Green Fellowship program. Hosted by the Political Science Department, the Fellowship is open to juniors and sophomores of all majors, says Patrick Schmidt, professor of political science, and facilitating professor for the 202o-21 fellowship.
The fellowship receives about 40 applications on average and selections are competitive, says Schmidt, with previous fellows and alumni serving on the selection committee. Students apply in October, take part in a spring seminar, and then develop a partnership with a community-based organization. Fellows then receive a stipend to work full-time with that partner over 10 weeks to complete a project they have researched and designed.  "It's part of the college's commitment to civic engagement," says Schmidt. "The fellowship was an early arrival in the realm of summer paid work at Macalester, an area that has really expanded over the past five years."
When the pandemic altered the fellowship's timeline, the fellows persevered. Some of the seminar coursework was reduced or modified so that students had time to research and secure a partnership with a local organization—in two months, rather than the usual four months.
"That was unprecedented," says Schmidt. "But the students pulled it off. It's just a testament to their ability to work through all of these challenges."
We spoke with three fellows to learn more about their projects and experiences.
Annabel Gregg '22 (Stillwater, Minn.)
Geography major, statistics minor, and global health concentration
Organization: Family Tree Clinic 
"The Chuck Green Fellowship gives you the freedom to come up with a project that you care about and tailor it to the needs that would most benefit the organization," says Annabel Gregg. For nearly as long as she can remember, Gregg has been passionate about sexual and reproductive health and education. She calls Family Tree Clinic the "perfect place" for her. 
After 50 years in St. Paul, the community clinic, which provides affordable and comprehensive reproductive and sexual health care, is moving to a brand-new location in Minneapolis. Gregg is helping to create a community needs assessment. "I'm doing data collection and cleaning, making maps to determine the health needs and implications of being in this new location," she says. "Who is living there and where do they celebrate? Where do they grieve? What are the issues that are inhibiting health and health access?" 
Gregg says the three-part project process began with an analysis of publicly held data, such as the U.S. Census and American Community Survey. Determining things such as median age, how many people have Internet access, and what percentage of people of color live in the area will help the clinic know who their patients will be and how to reach them. 
Next, she analyzed the clinic's own data, including the zip codes representing the majority of patients. "The new location is the third-highest zip code," she says. "Over the last 10 years we're serving more patients of color and those who identify in the LGBTQ+ and gender expansive communities." 
The third part of the project is "maybe my favorite part," she says. She's talking with stakeholders, including a thrift store and a CVS, about what the neighborhood feels like. "Talking with folks to learn what the needs are is something you just can't gather from qualitative data," she says. "I'm putting it all together into a report that will influence strategic planning at the clinic." 
Gregg says it's been valuable to see her formal liberal arts education come to light in a professional setting. "I'm doing a job that has all three of my areas of study," she says. "Another big takeaway is learning how to sell myself. I was cold-calling people and saying 'My name is Annabel Gregg and this is what I can do for you and why I want to work for you. Are you interested?' It's really uncomfortable, but it worked. Stepping into that side of myself has been really beneficial."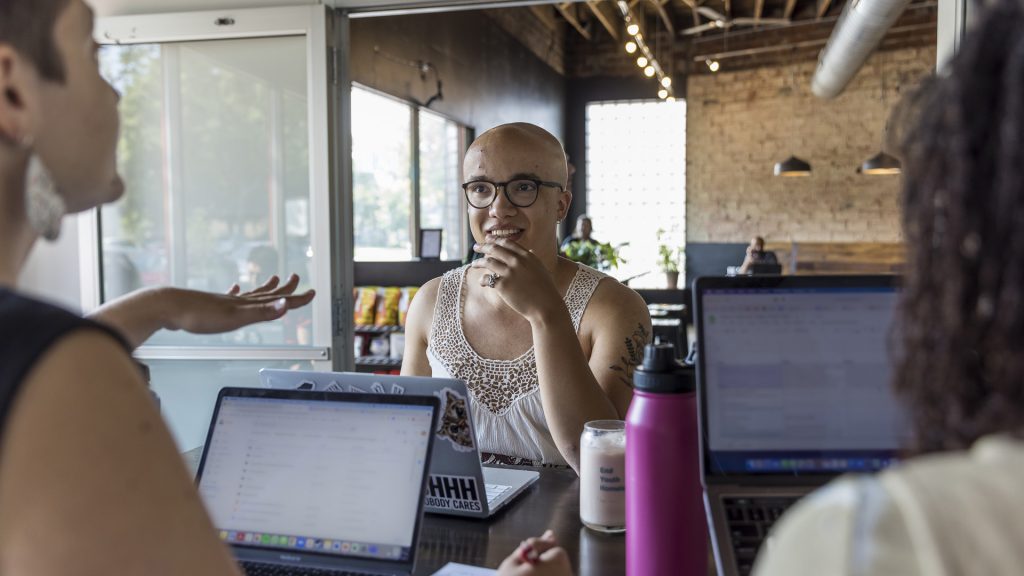 Ben Levy '23 (Beloit, Wisc.)
American studies major and political science minor
Organization: Research in Action
During the Chuck Green seminar, says Ben Levy, the cohort read several philosophies of civic engagement, with each offering their own idea of the "proper" way to engage with communities. 
"Oftentimes what has happened at Macalester and elsewhere, is people go into communities with their own agendas," he says, "which is always counterproductive and inevitably reproduces harm. It's really important to go into the community, into the organization, and listen to what is needed. A lot of the work that I did in preparation for this fellowship was focused around that."
Levy is working with Research in Action, a participatory action research consulting firm founded by Dr. Brittany Lewis '09 and based in Minneapolis. He was connected to it through his advisor, Professor Duchess Harris. "It's just another way that the Mac network is absolutely incredible at setting up these sorts of opportunities," he says. "It's a fairly small company, and not one I would have been likely to encounter on my own."
Research in Action's mission is engaging communities and giving them a voice and power to drive change forward. "Research is often exploitative and draws on communities without letting them control the narrative," says Levy. "That's what Research in Action wants to change. We want to give communities control over their narrative in order for us to help implement solutions that are grounded in the experiences of the community."
Levy's work is part of the firm's contract with Twin Cities Habitat for Humanity. Research in Action is providing recommendations for restructuring Habitat's home-ownership programs to more effectively serve foundational Black households (U.S. descendants of enslaved people).  
He has analyzed data collected from focus groups and surveys; helped run and facilitate a focus group; and organized a data walk event–a space where community members can look at the findings gleaned from their data and give their own feedback. That feedback, which will be incorporated into the final deliverables and recommendations, helps hold the researchers accountable, says Levy. With this feedback in mind, Levy worked alongside other Research in Action staff to write the final report for the contract, and the programmatic and institutional recommendations contained within it.
"I cannot emphasize enough how powerful it's been for me to be in a space where research is being made alongside community," he says. "I have learned that I really enjoy being able to engage with people and address, and work against, the racialized power systems that have harmed so many people. My work with Research in Action and their wonderful staff has definitely promoted that type of valuable self-reflection."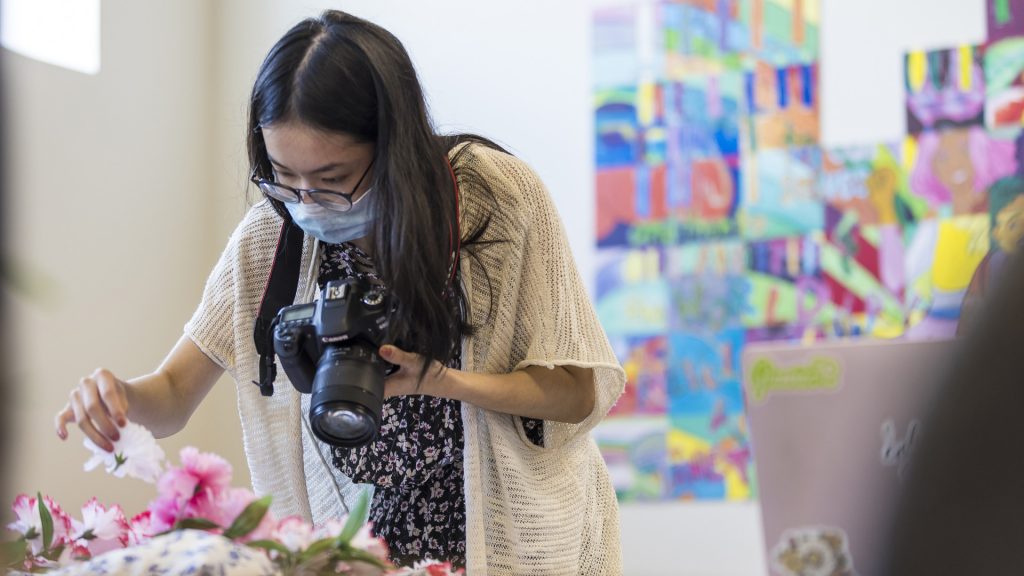 Anna Chu '22 (Woodbury, Minn.)
English major and math minor
Organization: Asian American Organizing Project (AAOP) in St. Paul
"The Chuck Green Fellowship has really helped me understand how to market my skills in different ways," says Anna Chu. "I can do a lot with an English major."
During the fellowship's seminar, Chu wrote a paper about sexual education within Asian-American families. When it came time to find a project and partnership, Chu continued on that trajectory, looking for something that combined her Asian-American identity with gender and women's health issues. 
"Trying to find a partnership took a long time," she says. "I learned that it's not a reflection of you and your personality–sometimes there are time constraints or people miss emails. You can still do it, advocate for yourself, and find a way to put yourself in a better position."
Chu did exactly that. Through a friend, she found the Asian-American Organizing Project (AAOP), which helps advance Asian American and Pacific Islander participation in democracy for a just and equitable society. Gender Justice is one of AAOP's programming areas, and Chu learned they had begun work on a Reproductive Justice Toolkit. She connected with the executive director who told Chu that if she was interested in the toolkit, they could plan something together and Chu could head it up. "I had ideas and she was pitching ideas," says Chu. "We came up with a multimedia campaign and design project to uplift and tell the stories of Asian American communities about sexual and reproductive health."
During July, Chu interviewed 15 people about their experiences with sex education. She hadn't done interviews before, but the fellowship had offered a lesson on interviewing during the seminar which helped to prepare her. 
"Everybody was so open to talk to," she says. "There was a trend of parents who didn't talk about anything or felt too uncomfortable to teach it. And in school, [that] education differed for everyone, which surprised me. It wasn't standardized across schools." 
After compiling the interviews, Chu began work on the toolkit's website so it would be ready to launch later this fall. 
"Now more than ever, I want to work with young people and be able to give them a good base of knowledge to make decisions for themselves," says Chu, "whether it's in their careers, or with sexual and reproductive health."