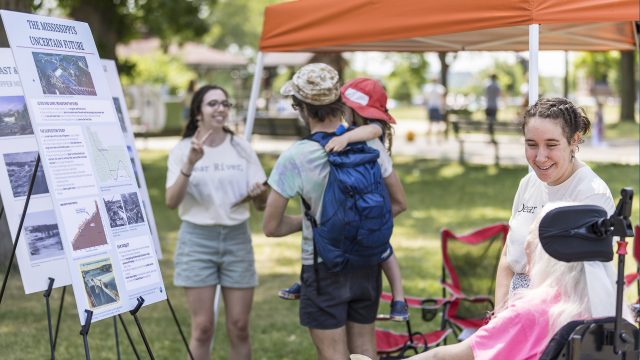 Summer for many Macalester students means time spent digging deeper into research projects with professors. Almost 80 percent of students report doing an internship or research project by the time they graduate. Below, Professor Roopali and her three students share their experience working on a National Science Foundation project to study the U.S. Army Corps public engagement process around the future of the locks and dams in the Upper Mississippi basin. They studied the official process and also solicited public opinions.
Roopali Phadke, Environmental Studies
Why is this work important?
The Mississippi is America's river and it's in our backyard. What we do here in Minnesota impacts millions downstream and eventually the Gulf.
Our research asks people "What's your wish for the river?" While we know climate change will impact the river, we also know that planning for the best possible future must be done today. Lately we've been spending a lot of time surveying park users about the changes that are likely coming to the river infrastructure.
Alexandra Jabbarpour '23
Salem, Virginia
What attracted you to this research project?
I was immediately impassioned by this project because it had aspects of policy, geography, infrastructure, and environmental justice, with a spritz of biology and geology. One of the reasons I came to Macalester was because the institution pushes us towards reaching a breadth and depth of education. This research opportunity seemed to open even more doors for me, giving me practice in social science research, interviewing with government officials and experts in the community, practicing statistical analysis, and science communication. I was especially drawn to this research because I knew how important this work is. Research and policies related to the environment directly impact human lives because we are equally a part of the said environment. It is important to know and recognize who does not have access to the river, how the Mississippi is a part of stolen Dakota land, and who has access to being a part of limited public engagement processes.

Your best day of research?
My favorite moment, and therefore favorite day, may have been when we interviewed the former Mississippi National River and Recreation Area (MNRRA) Superintendent, John Anfinson. We had interviewed nearly a dozen other experts in their field and community members, all of which brought us insight on our research as well as brought me personal insight to how I imagine infrastructure and nature existing together. Dr. John Anfinson's approach to the river, to me personally, highlighted how intersectional river policy is. We learned more about the history of the river, the biology, and creatures that used to live in the whitewater pools that can no longer exist as they used to now that the lock and dams have created their pools. It was an honor to get to meet so many intelligent people and learn how each of their outlooks came from drastically different directions, yet they all seemed to have a similar wish for the Mississippi River: a future full of health and opportunities.
Finish this sentence: The best thing about this research/project is:
The interdisciplinary nature of our research. As a student who has practice approaching research in the hard sciences such as chemistry and biology, approaching a research project through a lens more closely related to the social sciences was an exciting experience. I talked with strangers next to the Mississippi River about what they wished for the river, created visualizations based on the data we collected from the surveys, and watched as my teammates created story maps and a website. I personally loved creating the postcard templates for our "Dear River" Postcard Project using images of a past whitewater Mississippi River from the Minnesota Historical Society. Our postcard project allows people to write a letter to the river and share what they wish for the Mississippi.
What is your most surprising discovery/learning so far?
I was surprised to see that there were only around 100 public comments placed for the most recent Upper St. Anthony Disposition study comment period. Considering the Minneapolis metro area has a population of about 3.65 million people and these disposition projects have major implications for the Mississippi River, it begs the question: whose voices are being left out? According to the 270 surveys that we have collected so far, the public is largely unaware of the Corps' study and of the purpose of the Upper Mississippi locks and dams, both of which are barriers to participation in the Corps' public engagement efforts.
One goal of our research is to use our findings to inform the Army Corps of Engineers of ways to engage a larger and more diverse sector of the public in their decision-making process. This step will be especially important as the Corps continues the disposition studies of the Lower St. Anthony Lock and Dam and Ford Lock and Dam in the coming years.
Best soundtrack for research
Lake Street Dive, Vampire Weekend, and Macalester alum Kori Suzuki's "Here We Are" podcast
What advice do you have for students who want to do research?
Choose your research where your passion is and it's okay if you don't get in. I applied to dozens of research experiences for undergraduates (REUs) and spent weeks applying for summer research on topics ranging from studying parasites in Chicago to desert ecology in New Mexico. Acceptance rates were <2-4 percent, so don't be discouraged if you don't get in everywhere (especially in a pandemic). I am grateful that I looked beyond biology and expanded into environmental studies research as well. I have enjoyed stepping into different fields of research and I believe that this experience has helped shape me into a better environmentalist, biologist, and person.
***
Rebecca Driker-Ohern '23
Huntington Woods, Michigan
What attracted you to this research/project? Why is this important to you/to the world?
I am very interested in the intersection between geography and environmental studies. This project is very place-based. We are investigating a disposition study which determines the ownership and maintenance of the Upper St. Anthony Falls Lock, just a few miles from Macalester. The ability to give the public a chance to speak out and share their feelings about the federal government's bureaucratic decision-making process, which impacts the environment and the places that so many folks call home, feels like very important and timely work.
Describe your typical day
On a typical survey day, we head to Macalester at 9 a.m. We pick up all our stuff (tent, clipboards, surveys, pens, posters, etc.) and then load up in the car to wherever we're surveying. Once we arrive at our destination, we take a few minutes to set up before we start to approach folks and ask them if they'd be willing to take a short survey about the Mississippi River. We then engage the survey-takers and explain a bit about our project. Once we've collected around 50 surveys, and after about two hours, we head back to campus where we do data entry, work on our website, continue creating maps and storymaps, and do big-picture planning for the rest of the project.
What do people get wrong about this subject?
People just plainly do not know what locks and dams are, what their purpose is, or that there are three in the Twin Cities area. And most of those people are embarrassed to not know! So we spend a lot of our time reassuring folks that whatever questions they have are welcome and worth answering and understanding.
Go-to research snack
Our go-to research snacks have been Dilly Bars and donuts! We bring them with us when we survey and entice folks to take our short survey, knowing that they can have a sweet treat afterwards.
What advice do you have for students who want to do research?
Research is a fantastic way to meet and interact with different faculty, as well as key players in your research subject around the Twin Cities. It's a great opportunity to push yourself to take a deep dive into a niche subject, and it's incredibly rewarding to see your work pay off.
***
Zella Lobo '22
Portland, Oregon
Your best day of research?
One of our survey days was spent at the Minnehaha Dog Park. We picked up donuts  for survey-takers and brought our survey gear in our backpacks rather than our entire set up with a tent and table. We started asking folks if they would take the survey on our way down the path to the park and never made it to the river's edge because we had so many people say yes. We were working furiously the whole time, got to meet a lot of dogs and owners, and had one of our best survey counts.
Most people don't know what locks and dams do, or what a disposition study is (I didn't either before working on this project). Although most of the people we surveyed did not know about the Army Corps' Mississippi River Lock and Dam Disposition Study before speaking to us, I was surprised by how interested many people were in learning more about locks and dams and how they impact the river.
What advice do you have for students who want to do research?
Commit to the research you're doing! The three of us got very invested in our project and I think it made us more productive and our findings more interesting.