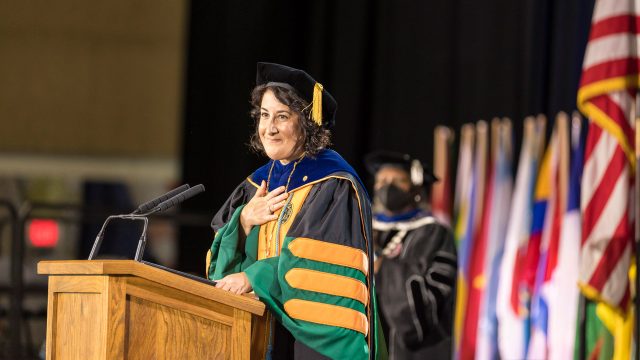 Saint Paul, Minn. – On October 9, 2021, Macalester formally inaugurated Dr. Suzanne M. Rivera as the college's 17th president. Trustees, faculty, students, staff, alumni, family, friends and community leaders gathered online and at the Leonard Center Field House to celebrate the occasion. 
In her inaugural address entitled "Onward Together," President Rivera thanked the presidents who came before her and emphasized the enduring importance of a liberal arts education to equip future leaders with the knowledge, empathy and skills to make our world a better and more just place for everyone.
"Now, more than ever, we affirm the transformative power of a Macalester education, equipping our students with the ability to engage in critical analysis, effective communication and persuasion, problem-solving, and teamwork with people who bring to each encounter very different lived experiences," she told the audience.
Pres. Rivera, who is the first woman and Latinx president in the college's history, also articulated her expansive and inclusive vision for Macalester. 
"Like other sectors in our economy and other institutions in our society, higher education was created by people with a very narrow idea about who was entitled to an education and who wasn't. In this chapter of Macalester's history, I want every person in our community to know and feel in their bones that they deserve to be here and they belong here," she said. 
Pres. Rivera called on all members of the Macalester community to join her in shaping this vision for the college's future. 
"These efforts to build an even more vibrant and distinctive Macalester begin now," she said. "When we engage in this work as a full community — when we create more equitable pathways in our institution, challenge ourselves to consider other perspectives, and put classroom lessons into action — it makes a difference in small ways and large. The impact of our efforts together will ripple across generations of future Macalester students. It will plant seeds of change on campus, in our neighborhood, across Minnesota, and in communities around the world, in ways we can't even yet imagine." 
The ceremony opened as most do at Macalester with a processional from the Macalester College Pipe Band led by Michael Briedenbach '96. Attendees were welcomed by Shreya Nagdev '22, Macalester College Student Government President. 
Rev. Kelly J. Stone, College Chaplain and Associate Dean, offered the invocation: 
"We carry with us many threads that will be woven together this day … Bless this beautiful and holy tapestry! Today we ritually hand this gift to Dr. Suzanne M. Rivera. Mindful that being the caretaker of a tapestry this beautiful and bold is not enviable nor simple," said Rev. Stone. 
Elder Elona Street-Stewart P'99 of the Synod of Lakes and Prairies, Presbyterian Church (U.S.A.) reminded the audience that the celebration was taking place on the traditional, ancestral and contemporary lands of the Waȟpékhute band of Dakhóta Oyáte, the Dakota nation.
The keynote address was delivered by Dr. Fayneese Miller, president of Hamline University and Pres. Rivera's mentor, friend, and former professor from when she was an undergraduate student at Brown University. 
"Macalester, you have, in President Rivera, someone who understands firsthand the various experiences that students bring with them to campus and their idealistic desire to change the world, even when others might not understand, nor appreciate, the ways in which they choose to do so," Pres. Miller told the audience. 
Tasked with formally installing her as Macalester's 17th president, Carrie Norbin Killoran '94, chair of the Board of Trustees, affirmed that Dr. Rivera is the right person at the right moment to lead Macalester into the future.
"Among President Rivera's many strengths is her deep belief in the transformational power of a liberal arts education, and the importance of ensuring that Macalester is a community where all are welcome," said Killoran. 
Artistic performances from the Macalester community rounded out the program. English Professor and award-winning poet Michael Prior delivered an original poem to mark the special moment in the college's history. Prof. Michael McGaghie directed the Macalester Community Choir's rendition of "Dear Old Macalester." The Macalester College African Music Ensemble led by director Sowah Mensah performed a traditional number from the Akan women's musical genre from Ghana. The group also accompanied the Brown Spirits Dance Ensemble, directed by Patricia Brown, in their performance of a welcome dance based on a traditional Liberian invocation for the sky and earth.
The Inauguration website contains videos and photo galleries of the ceremony and other Inauguration week events.