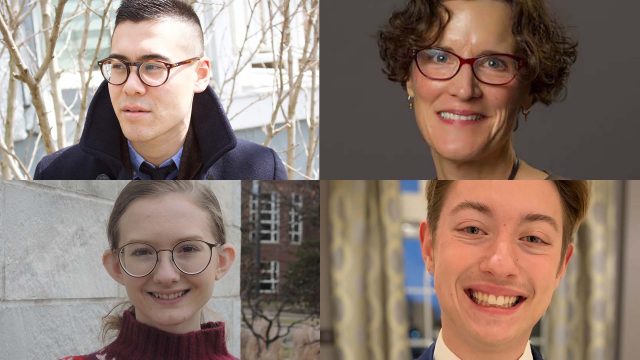 Maccolades is a monthly round-up of the most recent accolades and accomplishments earned by members of the Macalester community. Below are highlights from November 2021. 
Poetic praise
English Professor Michael Prior received the 2021 Philip Freund Prize for Creative Writing from Cornell University — his alma mater — in recognition of excellence in publication. Along with a $5,000 award, the alumni prize comes with an invitation to participate in the Freund Prize Reading in the fall semester. Prior's most recent poetry collection, Burning Province, won the Canada-Japan Literary Award and the Dorothy Livesay Poetry Prize and was shortlisted for the Raymond Souster Award. "I'm honored to have received the Philip Freund Prize in Creative Writing," Prior said. "Burning Province wouldn't exist without the support and guidance of the Cornell MFA program's wonderful faculty and my brilliant cohort, so it means a lot to me to have been invited back to receive the Prize."
Their day in moot court
The two-person team of Julian Applebaum '23 and Rebecca Gentry '23 earned second place in the 2021 Yale Undergraduate Moot Court Invitational. Moot Court is a competitive speech and debate activity simulating Supreme Court arguments. Teams research and prepare arguments about a legal case and compete against students from around the country. Following the Yale competition, Applebaum and Gentry placed third at an American Moot Court Association regional tournament and earned a bid to compete in the national tournament in January. "Our team is only two years old, and we're already holding our own with some of the top programs across the country," Applebaum said. Gentry added: "We are laying a strong foundation for Macalester's moot court program to thrive in the years ahead. Through Moot Court, we're shaping future lawyers who will bring Macalester's values to their work." 
Coping with climate anxiety
Among the many concerns attributed to climate change, the negative effects on our mental health don't often take the spotlight. But a new report co-authored by Dr. Christie Manning, an environmental psychologist and Macalester's director of sustainability, aimed to bring more attention to the rising issue as world leaders, diplomats, scientists, activists and others gathered in Glasgow for the 26th UN Climate Change Conference of the Parties. The report, entitled "Mental Health and our Changing Climate: Impacts, Inequities, and Solutions," was commissioned for release ahead of the summit by the American Psychological Association and ecoAmerica. 
Boost in career exploration
Macalester was awarded a $100,000 grant from the Hearst Foundations in support of community building, career development, and internships for underrepresented students. The Hearst Foundations are national philanthropic resources for organizations working in the fields of culture, education, health, and social services. Macalester's Sophomore Reboot program, led by Career Exploration and Multicultural Life, supports a cohort of 21 sophomores who meet twice each month to build career skills and connections. The program culminates with internship grants that offer students financial support to take on unpaid summer internships.
Addressing sexual assault and relationship violence
Macalester received a $300,000 grant from the U.S. Department of Justice's Office on Violence Against Women to support sexual assault and relationship violence prevention and response. The project, titled "Integrating Resources: Comprehensive, Coordinated Campus Prevention & Response," will coordinate and enhance prevention and response resources related to sexual assault, dating/domestic violence, and stalking. The project will include special focus on Macalester students who are typically underserved by prevention, response, and advocacy efforts, such as students of color, international students, LGBTQ+ students, and students with disabilities; and will incorporate work with several community organization partners.
How to be considered for future Maccolades
If you've recently earned an award, fellowship, or honor and would like it to be considered for inclusion in next month's Maccolades, please let Communications & Marketing know by filling out this Maccolades form. For recent book publications, please use this book publication form.