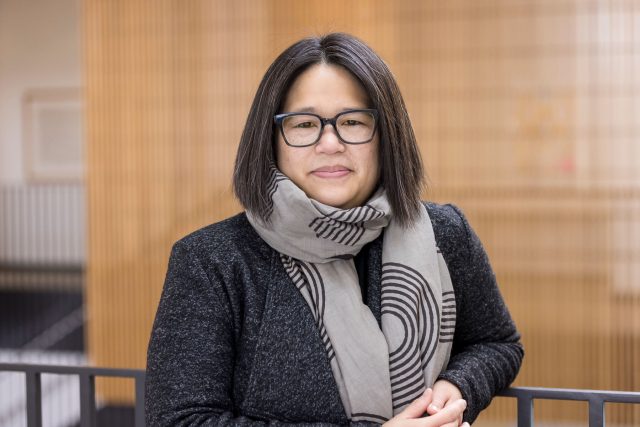 St. Paul, Minn. – Dr. Alina Wong will return to Macalester as our inaugural Vice President for Diversity, Equity, and Inclusion who will work with all in the Macalester community to promote a culture of inclusive excellence, inclusion in learning and teaching, institutional equity, and community flourishing. She will join Macalester in early February from Penn State, where she served as the Assistant Vice Provost for Educational Equity.
"I am overjoyed that Dr. Wong has agreed to join our senior leadership team," said President Suzanne Rivera. "The search committee, led by Dr. Hart, did a fantastic job finding a candidate who is perfectly suited to amplify and connect the various initiatives already underway to foster belonging and thriving in our community– including students, faculty, staff, and alumni. I cannot wait for her to arrive."
Dr. Wong believes in higher education as a mode and medium for equity, justice, and social change, through the intersection, sharing, and application of ideas, histories, narratives, and theories. She engages praxis in her work, to dream in the theoretical landscape while tending to practical realities. 
As the Assistant Vice Provost for Educational Equity at Penn State, Dr. Wong's responsibilities included programmatic as well as institutional initiatives, working across academic units, administrative organizations, and 24 campuses, as well as student, staff, faculty, and alumni communities with a focus on diversity, equity, and inclusion (DEI). In addition to leadership of the Office of Scholars Programs, she directed the University's bias incident response process; supported the DEI initiatives of Penn State commonwealth campuses and professional schools; partnered with Development to guide fundraising efforts for Educational Equity; and contributed to the University strategic plan and climate study projects. 
Dr. Wong spent four years, from 2008-2012, as the Assistant Director of the Lealtad-Suzuki Center in Macalester's Department of Multicultural Life. Following her time at Macalester, she served as the Associate Dean for Student Life at Barnard College and as the Sophomore Class Dean and Director of the Intercultural Center at Swarthmore College.
"Dr. Alina Wong is an accomplished diversity, equity, and inclusion expert, who was previously employed at Macalester, and has a broad background at small liberal arts colleges and research 1-level universities," said Professor William Hart, Religious Studies department chair and VP for DEI search committee chair. "She brings a wealth of experience, talent, and insight to the difficult and important work of DEI. I look forward to working with Dr. Wong and her staff."
"I feel like I'm coming full circle – I started my student affairs career at Macalester and so much of what I learned about diversity, equity, and inclusion on a college campus I learned at Mac," said Dr. Wong. "I love to think about how we connect our learning with our action. Not only are we impacting the current landscape, but we're impacting the future as well. What excites me about Macalester is the commitment demonstrated by faculty, staff, and students to anti-racism, equity, and justice, to transform not only Macalester, but also to take what we learn to build coalitions and movements for social justice. I am eager to build collaborative partnerships across the college and with alumni. It's going to be hard work, and I'm looking forward to joining a visionary team of staff, faculty, students, activists, and scholars with a clear mission and shared principles."
Dr. Wong received her Ph.D. in higher education from the University of Michigan, her M.A. in history from the University of New Mexico, and her B.A. in history and Spanish from Amherst College. She is active in multiple higher education associations, including ACPA, NASPA, and ASHE, and has served in leadership roles with NASPA. As an active scholar-practitioner, her research emphasizes intersectionality as a lens for examining higher education. Dr. Wong also has served as a consultant, speaker, and facilitator in professional associations, higher education institutions, non-profits, and community organizations.
Learn more about Macalester at macalester.edu.