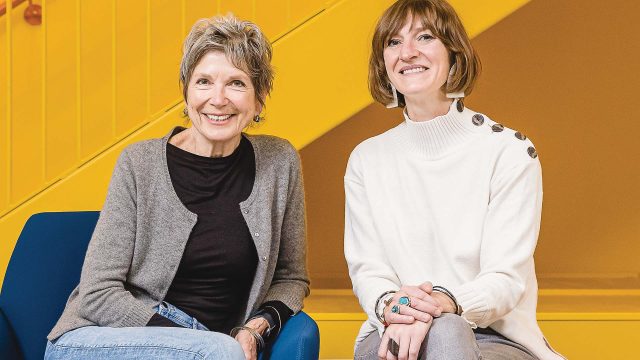 By Julie Hessler '85 / Photos by David J. Turner
Family Tree Clinic's fifty-year legacy of providing comprehensive, sliding-fee sexual health care and education is bookended by the leadership of two Macalester graduates. Karla Ekdahl '69 cofounded the clinic in 1971 and served as its first executive director. Alissa Light '03 has led the clinic since 2010 and oversaw its recent move from St. Paul to a new facility in south Minneapolis. We sat in on a conversation between the two friends about the clinic's evolution, the state of health care, and the many Macalester connections behind Family Tree.
Karla: Family Tree grew out of Mac in so many ways. John Beattie '70 was hearing from local college students about the services they needed and wanted: good information about sexual health, sexually transmitted infections, and birth control, and competent, honest care, delivered without judgment at a price that is affordable or free. The answer was Family Tree. It was all about listening, being respectful, and being on the cutting edge. I was hired to make that happen.
Alissa: The way that you talk about the founding roots of Family Tree blows me away. Here we are fifty years later considering the community-connected innovations that are necessary for actual equitable health strategies, and it's all about listening. I found a box in the Family Tree building's basement with the first newsletter that you and some of the original board members wrote about Family Tree's first months. The words were from patients describing their care experience: "I felt listened to"; "I felt the environment was warm and safe"; and "I felt like I was respected and a partner in my care." That was 1971! If I were to pull up a Family Tree patient survey right now, it would say those exact same things. We have a broader reach now, but the through line is that experience. That is the future of health care: listening and deeply responding and seeing the community as equal partners. What were some of the conversations about where health care needed to go at that time?
Karla: Fifty years ago, we were not talking about specific communities like the LGBTQ community. What we were talking about was equitable health care. We didn't have the trans care that Family Tree has today, but we knew that health care had to be changed to make it available and accessible to all people and provided with respect and dignity. We had a very small paid staff and a doctor and medical volunteers from St. Paul Ramsey Hospital, one of our early partners. The rest of the team—this is another Macalester legacy—was made up of student volunteers who did intake and counseling.
Alissa: It just says to me the power of individual people, committed to something greater than themselves—or maybe even what they could individually vision—combining their perspectives, expertise, and political commitment; understanding what isn't working for themselves or in their personal experience; and coming together to create something that has so much more power because of that interconnected woven fabric of people.
Karla: What drew you to Family Tree? We have never talked about that. How did you get there?
Alissa: I was a patient at Family Tree when I was a Macalester student. I was just stepping into my own identity, and I needed a place to get reproductive health care. People told me to go to Family Tree, and I had a tender and beautiful health care experience. Then I became a volunteer and then an intern, through the Civic Engagement Center, and then joined the staff in 2005, working at the front desk and on our hotline as a sexual health educator. It feels very interconnected with what I was learning as a women's, gender, and sexuality studies major—you're going to be learning these theories, and you need to go out and have some practice and commitment to engaging in social change. An avenue for that was Family Tree—really trying to push the envelope on how we advance health equity, especially with a reproductive health focus. Karla, I don't know your major!
Karla: I was an English major. My first job out of Mac was working for two magazines in Boston. Then I did a little traveling and came back home to Minneapolis. I heard about the idea for the clinic and that they were taking applications for the job of developing the clinic. We were all just learning as we went.
Alissa: So many of Family Tree's employees, students, interns, and board members are Mac alumni or current students. Our real estate advisor for the new facility is Tanya Bell '83, and one of our campaign co-chairs is Chad Kampe '04. And so many interns and employees of Family Tree and from Mac continue on to become medical providers, public health professionals, medical researchers, and health care visionaries. The ripple is global. The connection back to Macalester as a multicultural and civically engaged institution, very much aware of its location in the Twin Cities and on the planet, has afforded Family Tree tremendous opportunity to learn and be guided by how Macalester has evolved over the years, too.
Karla: The new facility at Franklin and Nicollet is actually our third location. Our first was on Selby near Snelling. We transformed that space—we had some wonderful carpenters build unique furniture for our basement space. And then on Dayton Avenue, in a former school building. And now we're in an area that has the second-largest patient growth ZIP code, and is on multiple transit lines. The new space is trauma-informed and art-infused and says: "You deserve the very best. We thought about you and we listened to you." And it is gorgeous. Bravo to you, Alissa.
Alissa: And bravo to you, Karla: None of this would be possible without you and the visionaries in our Macalester community who made this clinic happen. Family Tree is a restless organization. We are striving, and deep listening is part of our founding and ethos—we can't turn it off; we just keep turning up the volume. Our staff and patients are constantly advising us as an organization on how to do better and where the gaps are. In 2009, some amazing staff said, "We can do better by our LGBTQ community, and we need to start by listening." We did a series of listening sessions, patient surveys, and data collection. We learned that 9 percent of Family Tree's patients identified as LGBTQ. Today, over 60 percent identify as LGBTQ. We recognized that we needed to start building some relationships through the energy of our staff and our patients around understanding—where were the trust ruptures between the health care system and LGBTQ folks?
We heard there was a profound dearth of competent providers who understood the basic identity-based oppression that our LGBTQ community was experiencing within just regular access of health care. From the moment people were accessing a clinic, the forms, the intake process—all were creating barriers to people taking the next step to get care. We overhauled our health history forms, and how we asked people about their identities, and distributed more power back to patients to say who they are, how they prefer for body parts to be identified. That opened up this feedback loop, and led to more staff joining us who identified as LGBTQ. And that led to the launch of our affirming trans hormone care program in 2014, which has really catalyzed some significant growth.
Karla: Every inch of the new clinic was designed with patients in mind. It will now serve 33,000 people per year, up from 22,000 this past year. One of the things I learned when you led a tour a couple weeks ago was that people who have experienced trauma need to always see a way out. Every hallway in the new clinic has windows at each end so you see light.
Alissa: The new facility is a beacon of what a trauma-informed facility looks like when you listen to communities' definition of what trauma-informed means, incorporate that feedback, and combine it with the skill and expertise of an architect partner, Perkins + Will. We now have patients who travel from a seven-state, Upper Midwest region and Canada to get care at Family Tree. And the care is delivered in much the same value-forward place that it was in 1971.
Karla, that approach you mentioned earlier of creating a framework that benefits everyone—that says, "Your health matters because of your identity and regardless of your identity"—that approach has brought us so far in really needing to be so culturally specific and responsive, and contend with how people's identities are so deeply impacted by a health care system and an education system that has a history of white supremacy. And that leads to more equitable care in our LGBTQ community, in our communities of color, and in Indigenous communities. There are many different strategies, but it's that root that we have to get real about.
Karla: Everybody wants to be seen. Everybody wants to be heard. That is the bottom line for all human beings. Those who aren't seen and heard get angry—and rightly so. You have to combine being kind and open and understanding and nonjudgmental with really competent care. And, to me, Family Tree combines all of those things.
Alissa: One of the most profound gifts of being in this role is getting to know you, Karla. You are an eternal optimist. Coming to you and doing things that sometimes feel hard around trying to grow a community health clinic that's boldly queer- and trans- and sexual health-forward, and face challenges because of that—every time I've come to you, your optimism has buoyed me and reminded me why this matters so much.
Karla: Ditto back at you. At my ripe old age I get to have a new best friend whom I admire so much. I've learned so much from you. Before COVID I attended the Tony Awards. André De Shields won for Hadestown, and in his acceptance speech, he said, "Surround yourself with people whose eyes light up when they see you, and for whom your eyes light up when you see them." That's you, Alissa.
Alissa: It's been fifty years of this interconnected Macalester legacy, and we're looking toward this next fifty years. We invite this broad, amazing Mac community to join us in this next chapter in whatever ways feel meaningful. There is such a deep story of how Macalester and Family Tree Clinic are intertwined. I believe we are one of Mac's great legacies.
Fifty Years of Activism and Engagement
The Activist: John Beattie '70
John Beattie '70 says it was all about solving a problem.
As director for the Community Involvement Program (CIP), precursor to the college's Civic Engagement Center, Beattie kept hearing from female students at Mac and elsewhere that they didn't have easy access to birth control and other sexual health care.
Creating Family Tree Clinic was the solution. "It was entrepreneurship and inventing things as we went along," he says. Working with campus leaders and alumni, Beattie put together a business plan and a small board, recruited volunteers, partnered with Karla Ekdahl to lead the clinic, and raised around $25,000 from community partners to support the clinic when it opened.
"I'm not sure the project would have happened without the support of Chuck Green [then political science professor], Sandy Hill [then associate director of alumni affairs], and Roger Swardson [then director of information services]," says Beattie, now an attorney in Minneapolis. "They gave me the freedom to spend time on it. Macalester is a wonderful incubator for developing ideas."
---
The Chuck Green Fellow: Annabel Gregg '22
Political science professor emeritus Chuck Green, who died in December, was one of Family Tree Clinic's original board members. Last summer, Annabel Gregg '22 (Stillwater, Minn.), a geography major and statistics minor with a global health concentration, helped carry on Green's legacy. Gregg, a 2021 Chuck Green Fellow at Family Tree, undertook a comprehensive community health needs assessment related to the clinic's new location.
"I did data collection and cleaning and made maps to determine the health needs and implications of being in this new location," she says. "Who is living there and where do they celebrate? Where do they grieve? What are the issues that are inhibiting health and health access?"
Gregg also analyzed publicly held data and spoke with community stakeholders. "Talking with folks to learn what the needs are is something you just can't gather from quantitative data," she says. "I'm putting it all together into a report that will influence strategic planning at the clinic."