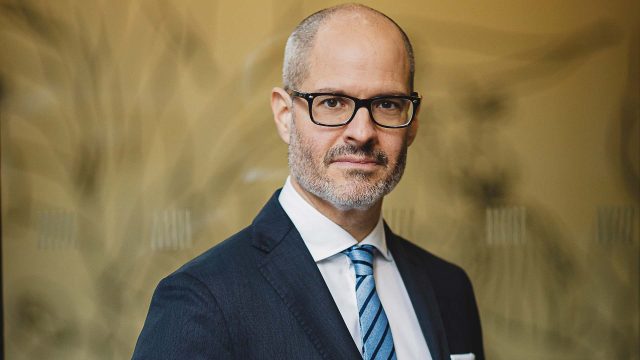 By Joe Kutchera '92 / Photo by Serena Bolton
On September 11, 2001, Tyler Robinson '93 was working for a law firm near Grand Central Terminal in midtown Manhattan. When a colleague told him in the elevator that a plane had crashed into the World Trade Center's north tower, they both assumed it was an accident. But when a second plane hit the south tower, as they watched from the top floor of his building with a clear view of lower Manhattan, Robinson knew it was an act of terrorism. When he returned to the top floor later that morning, he was shocked to see that both towers had disappeared entirely from New York City's skyline.
Like many New Yorkers, Robinson felt a mixture of horror and grief in the weeks after the attacks. It was balanced by a new sense of community in the enormous, diverse, and sometimes cynical city. "There was this unspoken sense of connection that was truly powerful because it cut across everything that otherwise made us all so different," he remembers. In a roundabout way, 9/11 led Robinson to a new career in international dispute resolution—a field where he finds ways to bridge cultural and legal differences.
In the weeks after the terrorist attack, Robinson began working—with a team from his law firm, Simpson Thacher & Bartlett LLP—on a case representing Swiss Reinsurance Company (Swiss Re). The firm's client had written the largest insurance policy (among many) on the World Trade Center for developer Larry Silverstein. Just six weeks prior to the attack, Silverstein had signed a $3.2 billion 99-year lease on the Twin Towers.
The stakes were high: Swiss Re argued that the terrorist attack constituted a single event, worth a maximum of $3.5 billion, while Silverstein believed that each plane crash represented a unique insurance loss, entitling him to recover twice the policy limit, or $7 billion.
The case lasted nearly five years including appeals, but the firm's client ultimately prevailed. In the process, Robinson traveled frequently to London, where much of the insurance had been purchased, and used his skills as a US trial lawyer, doing all of the pretrial preparation required before presenting the case to a jury: writing arguments to the court, preparing and defending witnesses for giving testimony, cross-examining adverse witnesses, and piecing together evidence to construct a timeline of the relevant facts. But because of the international nature of that case, his career evolved to cross borders, ultimately all over the world.
"International dispute resolution requires all the same skill sets as being a trial lawyer in the US," Robinson says. "The difference is dealing with clients, courts, and other lawyers who may come from other legal and cultural systems that are different from your own. The basic skills of being an effective, persuasive advocate for your client's case remain the same, but they need to take account of those legal, cultural differences—otherwise you may not be effective or persuasive to your audience."
After its victory, Simpson Thacher asked Robinson to bolster its international litigation practice in the London market so that the firm could better serve clients with international disputes. Today, Robinson and his Italian wife, whom he met during one of his trips abroad for the Swiss Re case, live in London with their two bilingual daughters. He spends much of his time supervising and mentoring younger lawyers working on international disputes.
Robinson's work brings him before courts, arbitrators, and corporate boardrooms in France, Singapore, Brazil, Indonesia, the UK, and back to the US, to name a few. As an international advocate, he says, "you look for the common threads that can help resolve conflict. Commercial legal problems, including amongst large multinational corporations, ultimately boil down to human individuals—their faults, foibles, and mistakes. And those tend to look familiar across cultures and continents."
Robinson emphasizes the importance of being able to break down highly technical, complex subjects into straightforward narratives that can be understood by a neutral lay judge or arbitrator who most likely knows very little about each case's products or industry. "That requires finding simplicity and key message points in an otherwise enormous morass of conflicting and difficult information," Robinson says. And then, after all of the preparation, he and his team need to persuade the judge or arbitrator that their client's version of the story is the better one.
In order to resolve conflict, Robinson has learned how fundamental it is to build credibility and trust. "If you listen to other people, they'll listen to you," Robinson says. "If you are able to articulate to them their position in a way that acknowledges it and shows you understand it, you're more likely to get them to do the same for you."
Robinson says that, broadly speaking, he is using his Macalester psychology degree when negotiating with people.
"Personal connection isn't just about language," he says. "It includes one's attitude, behavior, nonverbal communication, and using the documentary evidence to direct the conversation. But with that said, common sense, reason, and a sense of humor are universal human traits that are accepted everywhere."
Joe Kutchera '92 is the author of three books and the founder of Latino Link Advisors, a Hispanic marketing and content development firm.