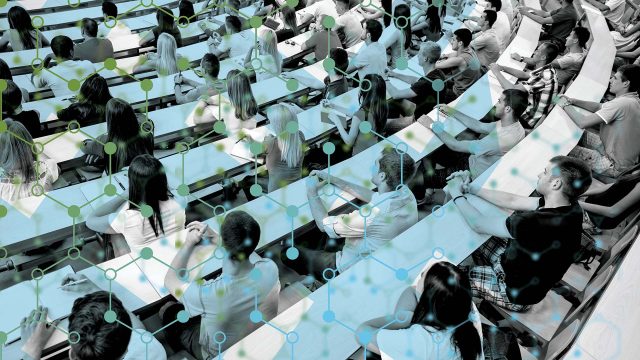 By Erin Peterson
They start as professors.
But over the course of a class, a student's four years at Mac, or even a lifetime, students say that faculty members become much more than that.
They become mentors and coaches, students' biggest cheerleaders and fiercest champions. Professors' teaching upends the way students see the world, and their mentorship often changes the trajectories of students' lives.
At Macalester, faculty members take their responsibilities for teaching and to students seriously. When we asked alumni to share their experiences of professors who had changed their lives, we were inundated with responses, even from alumni who had graduated many decades earlier.
Here are just some of those stories—and a few of the ways that professors themselves seek to share their enthusiasm for their subjects and reveal new possibilities for their students.
'Jaine Strauss saw me as more than just a student in her class'
Jinci Lu '20 is a student at the University of Minnesota's medical school.
I was a neuroscience major and psychology minor, and the first class I took with Jaine Strauss was "Distress, Dysfunction, and Disorder." It was a big, upper-level class with sixty people. It started at 8 a.m., and everyone—everyone—showed up to it. Her lectures were so good. I could sit and listen to her forever.
She became my advisor. For someone like me—first-generation, person of color, low-income—sometimes Macalester could feel lonely. I had so many things to figure out.
Jaine was there every step of the way. Her office door was always open for me. She helped me navigate how to apply for med school and how to set up my application for success. She showed me the research and clinical opportunities to apply for.
She also offered emotional support. She saw me as more than just a student in her class, but as someone who was working through many other things in life. She understands that all of us have families and friends and entire lives outside of college academics. If I was struggling, she was there to listen. If I put too many things on my plate, she reminded me to value and protect my mental health.
I vividly remember my senior year when I was applying to med school and I was doing interviews. It was a very emotional process for me. There was one school that rejected my application that really broke my heart. I just showed up at Jaine's office. She knew. She could just tell. And she gave me that space.
Today, I'm in my second year of med school at the University of Minnesota. I still keep in contact with Jaine, and she still checks in on me.
When I started at Macalester, I was told: You need to have five people at Mac who can be your "go-to" people when things come up. Jaine was one of them.
'It is a privilege when a student lets me see them'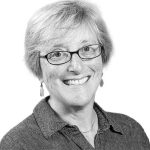 Jaine Strauss is a professor of psychology.
I really value my relationships with students.
For me, it is a privilege when a student lets me see them—when a student is comfortable enough to help me understand more of their experience. I never take that for granted.
It can be scary to reveal parts of yourself, especially with someone who is going to be giving you a grade! But I try to match their vulnerability with my own vulnerability. The payoff is that we get to know each other as real people.
'When I started teaching econometrics, I fully appreciated what Gary Krueger had done'
Tim Classen '96 is an associate professor of economics and an associate dean in the Quinlan School of Business at Loyola University Chicago.
I took econometrics—basically, empirical data analysis—with Gary Krueger. Today, I teach an econometrics class.
He gave us the freedom to work on whatever projects we wanted to work on. I remember being very interested in air travel and looking at how certain models of competition affected pricing at the Minneapolis airport. We had to come and talk with him about the projects we were doing, and he clearly relished those conversations. I liked the class at the time, but it wasn't until I started teaching econometrics that I began to fully appreciate what he had done and how he had approached the classes. And I've been able to do some of those things with my students.
One thing he always used to say was, "Your model should be parsimonious." In other words, do the most you can with as few variables as you can. Every year in my class, students often ask me how many variables to include in their models. And that's exactly what I tell them.
'I-Chun Catherine Chang is a huge cheerleader in my life'
Rachel Wong '19 is a 2021 Charles B. Rangel Fellow; the program prepares individuals for careers in the foreign service.
I struggled in my first class with Catherine. It was really challenging, and I thought it was too hard for me.
But I remember going to her office hours and feeling reassured when she said she often assigned readings that are generally appropriate for graduate students, and that she also knew that I was capable of doing them.
I am 110 percent certain that at times, Catherine believed in me more than I believed in myself. During my Fulbright year in Taiwan, I wrote an article on LinkedIn that compared and contrasted the COVID responses between Taiwan and the United States. She reached out and asked if I had considered getting it published. I hadn't, but she reached out to her networks, and the article was later published as an op-ed in the Taipei Times.
I was really nervous to apply for my current fellowship because I had applied previously and didn't get it. But she was very supportive. She said, "I'll write the recommendations. I believe in you; you can do it." When I was notified that I became a fellowship recipient, I was really excited to tell her.
I was genuinely touched when Catherine shared the news on her personal Facebook page. I knew then that she was very proud of me.
'Challenges are such an important part of college life'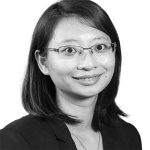 I-Chun Catherine Chang is an associate professor of geography.
You can inspire students to higher levels of achievement, but you also need to give them the tools they need to do that.
Challenges are such an important part of college life. It's not just about enjoying every moment of your four years, because there will be moments that you struggle and that you fail. But it is important to go through this process because you learn that you can expect more of yourself, and you can reach a higher level of achievement.
'Robert Morris's passion for music is palpable and contagious'
Christine Mueri '00 is a senior writer for Project7 Design.
Choir director Robert Morris taught me so much about singing, but also about being part of a community and trusting each other. His dry humor was offset by his intensity—his passion for the music was palpable and contagious. When that big hand shot up in the air, it was positively electric. That passion for singing and being in community with other musicians is still with me today, and I am forever grateful.
'I wanted to take every class Leola Johnson offered'
Katie Izzo '04 is a rule coordinator at the Pollution Control Agency for the state of Minnesota.
I thought I wanted to be a communications major. Really, I just wanted to take every class Leola Johnson offered.
One course that she taught that I've been reflecting on recently is "Blackness in the Media." It covered some of the stereotypes, lazy shorthand, and racist dog whistles by white-dominated media. As a white kid from suburban Chicago, this was nothing I had ever been introduced to before. Even now, so many years later, I see it. It's so painfully glaring.
God, I wish I could go back and retake that class now.
It wasn't just the ideas, though. She would assign reading that would present big ideas, and always assume we had done it. There was always forward momentum from the reading: "What does the reading mean in terms of right now? In terms of today?"
Of all the things I picked up from my liberal arts education, it's the things like her courses that make me feel more connected to my Macalester education. Because I can turn on the news every night and go, "Oh, this is still very present in the world and in my life as an engaged citizen of the world." That has been tremendously important to me.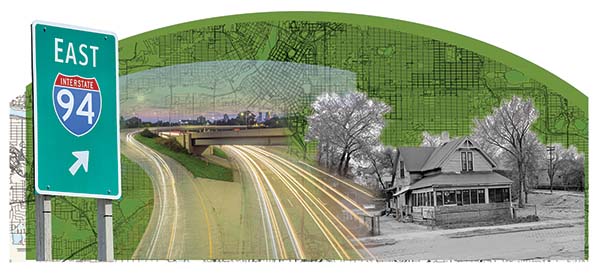 'David Lanegran forever changed the way I look at cities'
Jake Avidon graduated from Macalester in 1996.
In his urban geography class, David Lanegran sent students out into many locations in the Twin Cities and asked us to document what we saw and what we thought. Those assignments enabled me to see what happens after governments make certain decisions.
For example, when I-94 was rammed through the Rondo neighborhood in the 1960s, that had a significant impact on a predominantly Black community. Anytime I'm in a city, I notice where they built the freeways through in the 1960s.
As a professional later on, I could understand those historic decisions, how they created the existing spatial relationships, and how that might necessitate new ways of thinking to support individuals and communities.
In one of my first jobs, I assisted in the development of plans and programs to enable people entering or reentering the workforce to access job opportunities. But the places they were likely to live were often far away from job-rich, suburban areas, and transportation services were not designed to help people connect to entry-level jobs that pay a decent wage.
When I was trying to help solve that problem, I was going back to the ideas that I learned in the urban geography class.
I didn't even know what a geography class was when I walked into his classroom for the first time, but I'm pretty damn grateful that I took that class. David Lanegran forever changed the way I look at cities.
'Geography starts right outside the classroom door'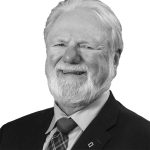 David Lanegran '63 is professor emeritus of geography.
When I started at Mac, I was given a whole lot of intellectual freedom to step outside the classroom. I didn't throw away the textbook, but I incorporated a huge amount of direct observation. It wasn't about being in an ivory tower. We worked with neighborhood associations. We worked with the Grand Avenue Business Association, West 7th/Fort Road Federation, St. Anthony Park, Lake Street people.
In many people's minds, geographers study places far away. And my notion was that geography starts right outside the classroom door.
'Lin Aanonsen's support was foundational'
Okunola Jeyifous '95 is a molecular neurobiologist at the University of Chicago.
I matriculated as a pre-med bio major. By my third year, after having a course or two with Lin [Aanonsen, O.T. Walter Professor of Biology] and doing summer research in her lab, I realized that I didn't want to go to medical school and had a strong interest in a research career. She encouraged me to apply for research funding and to attend a couple of research symposia and conferences.
Today, I am a Black research scientist and work in an academic and professional world characterized by a severe lack of BIPOC representation. To increase the participation of students from underrepresented populations, it is critical to identify students that have an interest in science early in their training and education, and provide them with mentoring resources and research opportunities.
Lin provided this to me, and it was foundational in terms of my desire and determination to enter graduate school. She was approachable, encouraging, and enthusiastic about helping students navigate their undergraduate course of study as well as post-graduate aspirations and goals.
Her example, in terms of mentoring, advocating for students, and fostering their self-confidence, is something that still resonates with me.
Erin Peterson is a Minneapolis-based writer.