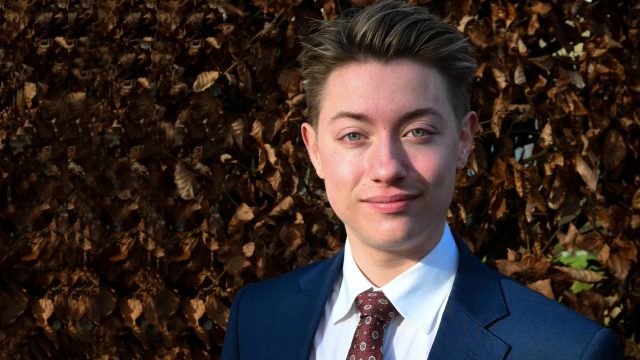 By Talia Bank '23 
Julian Applebaum '23, a junior from Wellesley, Massachusetts has been named one of 58 Truman Scholars for 2022. The Truman Scholarship is a competitive national award created by Congress in 1975 as a living memorial to President Harry S. Truman. Each winner receives a grant of up to $30,000 to pursue a graduate degree towards a career in public service. The award also includes professional development opportunities and leadership training. 
For the 2022 cycle, a total of 705 students from  274 colleges and universities competed for the award. As part of the application, candidates submitted a policy proposal addressing a societal challenge of their choice and short essays on their leadership, service history and career aspirations. For Applebaum, the scholarship will support his pursuit of a career in appellate litigation focused on civil and transgender rights. 
"I am trying to work at the intersection between my transgender identity and my love for constitutional law and advocacy," Applebaum said. "My application centered my experience working at the American Civil Liberties Union (ACLU) of Minnesota, my moot court activities from middle school up until here at Macalester, and about being transgender and using moot court to become an advocate and find my voice as a transgender person."
Majoring in political science, legal studies and English, Applebaum plans to apply the funding towards either a law school degree or a year-long graduate program at the Centre for Socio-Legal Studies at Oxford University, where he is currently studying abroad. No matter what the future holds, he says Macalester has prepared him well.
"I think that my time at Macalester has helped me sharpen my vision for what I want to do. Opportunities I've had here like [working with] the ACLU of Minnesota as a Chuck Green Fellow, and the mentorship and guidance I've been able to receive from faculty, has been life changing. I credit my Macalester experience with much of my success in winning the Truman Scholarship," Applebaum said.
Established in 1975, the Harry S. Truman Foundation has supported the public service careers of over 3,000 Truman Scholars. Reflecting President Truman's commitment to education and leadership, the foundation views its work as a valuable investment in the careers of promising young people at a turning point in their lives. Truman Scholars have gone on to serve in government, the nonprofit sector, academia, and the judiciary.
"I am incredibly honored to have received it — to not only represent Macalester, but also to know that they value what I bring to the table as a transgender rights advocate, a leader, and community member, " Applebaum said.