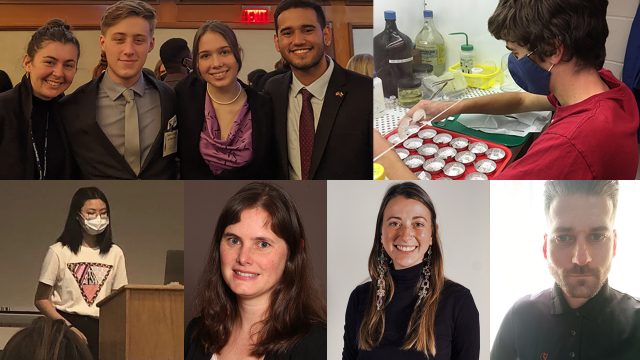 Maccolades is a monthly round-up of the most recent accolades and accomplishments earned by members of the Macalester community. Below are highlights from May 2022. 
Diplomatic achievement
Macalester's Model United Nations Team earned the Outstanding Delegation award during the 2022 National Model United Nations conference in New York, where students from around the world gathered to devise solutions to some of the world's most salient issues. Eight Macalester students received Best Delegate awards for exceptional diplomatic skill and innovative ideas. 
"Macalester's Model UN team epitomizes many of the school's most cherished values: internationalism, multiculturalism, and a commitment to improving the world," said Katie Herrick '22. "This award recognizes the hard work and talent of each individual on the team, as well as Mac as a whole."
The team includes: Calvin Blessing '24; North Carpenter '23; Jane Dawson '25; Katie Herrick '22; Kingsley Hollon-Coleman '24; Giovanny Martinez Rodriguez '25; Grace McDonough '24; Holiday O'Bryan '24; Quinn Roberts '25; Colman Smith '23; and Cande Torres Jimenez '22. 
Glacial progress
Geology Professor Kelly MacGregor and her student, Lou Miller '23, were co-authors on a peer-reviewed research article published in the Journal of Geophysical Research: Earth Surface. The research helped shed light on glacier change. 
"Our contribution to this project was to provide age controls (or dating) of lake sediments in Lago Argentino, the largest glacier-contact lake in the world!" MacGregor said. Endowed funds from the Geology Department supported Miller, who will look at lake cores from Glacier National Park this summer, in addition to continuing this work.
Student presented with high honor
An opportunity shared by Professor Katrina Phillips led Jarita Chen '22 to receive high honors at the American Indian and Indigenous Collective's 9th Annual Symposium. Chen earned the Outstanding Presentation Award for discussing her environmental studies honors thesis, "'Land is Life': Settler Colonial Governance of National Parks and Hunting in Taiwan." 
"My research began through reflections of my identity as a descendent of Hoklo-settlers in Taiwan," Chen said. "This was the first academic conference I participated in, and I was excited to present amongst scholars studying related issues. Sharing my research effectively to a broader audience is a crucial part of my work, and I am honored that my presentation was recognized through this award." Professors Kirisitina Sailiata and Chris Wells served as Chen's thesis advisors.
'Wild' ideas about dietary diversity
Geography Professor Bill Moseley and his former student Jane Servin '21 co-authored a research article published in the African Geographical Review: "The hidden safety net: wild and semi-wild plant consumption and dietary diversity among women farmers in Southwestern Burkina Faso."
Accelerating accessibility
Dr. Lauren Milne, assistant professor in mathematics, statistics and computer science, received a Teach Access Faculty Grant to advance the teaching of the design and development of accessible technologies. With the vision of a fully accessible future, Teach Access is an active collaboration among education, industry, and disability advocacy organizations to address the crucial need to enhance students' understanding of digital accessibility as they learn to design, develop, and build new technologies with the needs of people with disabilities in mind. 
Contemplating refugee aliens
Philosophy Professor Hannah Kim won first place in the adult essay division of the 2022 Sejong Writing Competition for her essay "Language, Memory, and Compassion in 'Symbiosis Theory.'" The Sejong Cultural Society aims to advance awareness and understanding of Korea's cultural heritage in the U.S. through outreach to the younger generations via contemporary creative and fine arts.
When teaching is the best medicine
An excellent undergraduate teaching record earned Helen Baker '04 the Emory Williams Distinguished Undergraduate Teaching Award. The annual award is presented to faculty members in each of Emory University's four undergraduate schools. A professor in the Nell Hodgson Woodruff School of Nursing, Dr. Baker directs the Bachelor of Science in Nursing Program. 
Fulbright at the museum
Mac alumna Samantha Manz '19 was awarded a Fulbright Open Research Award to study under Dr. Jennifer Kramer at the University of British Columbia's Museum of Anthropology in Vancouver. Her research will focus on the First Nations Collections. 
"I plan to analyze beadwork, regalia, and basketry that are a part of coming-of-age ceremonies for young girls and examine the balance between traditional Western conservation practices and cultural care," Manz said. She applied for the Fulbright through Texas Tech University, where she will graduate with a master's degree in history in August. 
Start-up incubation in Europe
Mac alum Elias Tezapsidis '10 earned a two-year scholarship from the Erasmus Mundus International Master's Degree in Global Markets, Local Creativities Consortium. Since he attended Mac, Tezapsidis has studied at three universities: the University of Glasgow, the University of Barcelona, and Göttingen University. His dissertation will examine how European Union funding impacts the local innovation infrastructures of Athens and Berlin. 
"I am conducting primary and secondary research on incubators and the start-up ecosystems of two European capitals," said Tezapsidis. "It is interesting because it shows the similarities and differences that arise in Northern Europe juxtaposed to the Southern European economic systems." The scholarship helps cover tuition, insurance, and travel costs and also includes a monthly stipend for the duration of the program. 
How to be considered for future Maccolades
If you or someone you know recently earned an award, fellowship, or honor and would like it to be considered for inclusion in next month's Maccolades, please let Communications & Marketing know by filling out this Maccolades form. For recent book publications, please use this book publication form.