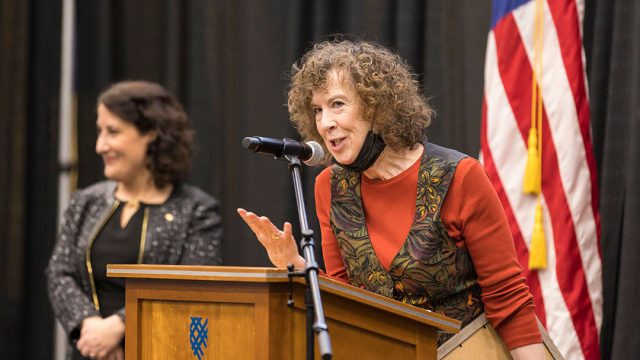 Saint Paul, Minn.  – Nanette Goldman, a senior lecturer in the Classical Mediterranean and Middle East Department, has been awarded the 2022 Jack and Marty Rossmann Excellence in Teaching Award that recognizes "a faculty member who has been identified by colleagues and students as exemplifying the teaching goals of Macalester College."
Macalester President Suzanne Rivera announced the award and read from this citation:
We are delighted to present you with the 2022 Jack and Marty Rossmann Excellence in Teaching Award.
In support of this award, colleagues, current students, and former students all shared accolades about your work. For twenty three years, you have been a superb and dedicated language and literature teacher in the Classical Mediterranean and Middle East Department. You teach three languages–Hebrew, ancient Greek, and Latin–and sometimes you teach all three within a single semester. 
According to your students, most of your classes begin this way: You enter the classroom smiling and enthusiastic, thrilled to share your knowledge with your students. You provide opportunities for students to build community and engage with the rigorous course material in diverse ways–through group work, flipped classrooms, and other innovative measures, including food. Students blissfully describe your Thursday cart filled with goodies like hamentashen, with dietary options so that everyone is included. 
Throughout your career, you have supervised dozens of honors projects and capstone papers. You also serve as an unofficial adviser for many students, providing life and career advice that is always caring and attentive whether on Zoom or in person. Students praise your high expectations paired with your complete belief in their ability to meet and exceed those expectations. They praise your warmth and generosity. They praise your insistence on getting to know them as students and as humans. 
Colleagues say your contributions to the college's study away program are staggering. You coordinated the educational program at Macalester's excavations at Omrit, Israel, every summer from 1999 to 2017, when the excavations wound down. Students describe you as an enthusiastic  instructor in the field, showing them the conservation and preservation techniques used on site, and helping to make the Israeli sun bearable. You created and directed the 2006 January program in Turkey; you were instrumental in the creation of the 2011 January program, "Alexandria and Rome: Comparative Ancient and Modern Cities"; and you team-taught or directed at least eight iterations of the January in Rome program. 
As a colleague, you are deeply valued. You helped revise the Greek curriculum in 2006 and the elementary Latin sequence in the early 2010s. In 2016, you served on a study away task force, bringing your immense experience to the college as a whole. You also have served on search committees for the departments of Classics, Religious Studies, and Music, and you contribute to important department events and developments, including the recent transformation of the Classics Department into the Classical Mediterranean and Middle East Department. 
For many, your influence lasts a lifetime. One former student put it this way: "your passion inspired me to learn, your enthusiasm inspired me to grow and take chances, and your faith in me has continued to impact how I navigate new situations."
Macalester would not be the same without you, Nanette. You are an inspiring and beloved teacher and role model. We treasure your expertise and compassion, and we salute your abiding devotion to students.