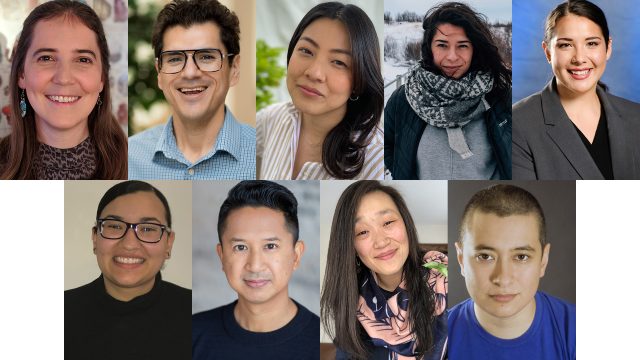 Nine new tenure-track faculty members representing a broad range of disciplines will be joining Macalester in the coming months. They are: Emily First, Geology; Gonzalo Guzmán, Educational Studies; Christina Hughes, Sociology; Alix Johnson, International Studies; Coral Lumbley, English; Joslenne Peña, Computer Science; Randy Reyes, Theater and Dance; Michelle Tong, Biology; and kt shorb, Theater and Dance.
Professor First is an expert in experimental petrology, a field of study that utilizes high temperature and pressure experiments to examine how magmas and lavas cool and crystallize on Earth and other planets. Her current research examines how rocks from Earth interact with different wavelengths of light and how that data can reveal features of rocky exoplanets observed with the new James Webb Space Telescope. Dr. First plans to teach Mineralogy and an intro-level course on volcanoes. She was a postdoctoral research associate at Brown University from 2018-2020 and has been a 51 Pegasi b Fellow at Cornell University since 2020. Dr. First is from the Atlanta area and earned a BS in Geology and AB in French from the University of Georgia and her doctorate in Geology and Geophysics from the University of Hawaiʻi at Mānoa.
Professor Guzmán is a historian of education and race. His current scholarship highlights the ways in which public officials, parents, and state politicians in Wyoming, Colorado, Montana, and Nebraska in the first half of the 20th century looked to public schools to answer the question of who and who is not White, particularly when it comes to Mexican-Americans. Dr. Guzmán will be teaching Race, Class and Ethnicity in Education, Research and Methods in Education, Philosophy of Education, and a new course called Black and Latinx Educational Histories and Voices. From Washington state, he earned his BA in history, and M.Ed. and Ph.D. in the social and cultural foundations of education from the University of Washington.
Professor Hughes is a feminist sociologist whose research examines how everyday social life is embedded and organized within the global political economy. Focusing on the period of mass Southeast Asian refugee resettlement that began in the 1970s, she is currently working on a book called Bad Refugees: Practicing Statelessness at the Margins of Global Northern Citizenship, which hybridizes historical methods to chart the political-legal formation of the criminalized refugee subject and ethnographic methods to make sense of the state evasion practices leveraged by "bad refugees" in their daily lives. Broadly interested in how states and markets classify people as disposable through criminalization and punishment, Dr. Hughes is also collaborating with a transformative justice organization delivering a feminist curriculum in carceral spaces to examine how peer-led groups of system-impacted men define care and accountability for themselves. She earned her Ph.D. in Sociology at the University of Washington and looks forward to teaching a course called Inequalities and Solidarities in the fall. 
Professor Johnson is a cultural anthropologist who will be joining the International Studies Department. Her research focuses on digital infrastructure and industry, and she's currently working on a book about the data storage industry and the effects data centers are having on local communities. Her most recent publication examined the politics of fiber optic cables and how they relate to international sovereignty and conflict. Dr. Johnson will be teaching Global Media Industries, Introduction to International Studies, and a range of elective courses including Digital Cultures and Surveillance and Power. From Medina, Minnesota, Professor Johnson has been an assistant professor of anthropology at the University of Florida since 2019. She earned her Ph.D. in cultural anthropology at University of California, Santa Cruz and her BA in linguistics and French from UC Berkeley.
Professor Lumbley is a British Medievalist who specializes in the history of English literature, the history of Celtic language and literature, and how rhetorics of power intersect in the British Isles. Her current book project is entitled Racialization and Resistance in Medieval England and Wales: Ecological Imperialism and England's First Colony, which examines how England used literary methods to justify its colonization of Wales and how Welsh writers crafted an anti-English rhetoric of their own in response. Dr. Lumbley plans to teach medieval Welsh literature and language, as well as courses called Global Middle Ages and Reading Along the Silk Road. From Lampasas, Texas, she earned a BA and MA in English from University of Texas at San Antonio and a doctorate in English and medieval studies from University of Illinois at Urbana-Champaign. 
Professor Peña has been a visiting assistant professor of computer science at Macalester since 2020. She specializes in human-computer interaction and computer science education. Dr. Peña's current focus is on pedagogy, curriculum development, and the inclusion of ethics and justice discussions into introductory computer science courses. She will continue to teach Introduction to Core Computer Science Concepts, Object-Oriented Programming and Abstraction, and Computer Science and Social Justice, and she plans to teach capstone and elective courses, as well. Professor Peña grew up in the Washington Heights neighborhood of Manhattan and earned her BA in multimedia web design and development from University of Hartford and her MS in information sciences and technology and doctorate in informatics at The Pennsylvania State University. 
Professor Reyes is a practicing artist with expertise in acting and directing. He has held leadership roles and performed, directed, and taught at numerous Twin Cities theaters and institutions for more than 15 years, including The Guthrie Theater, Penumbra Theater Company, Mixed Blood Theatre, Theater Mu, St. Olaf College, and the University of Minnesota. Professor Reyes is currently working with a group of artists in Anchorage, Alaska to produce a contemporary mixed-media adaptation of Homer's Odyssey that incorporates live action and digital 3D simulation. A visiting instructor at Macalester since 2019, he will teach directing and acting. Professor Reyes was born in Manila, Philippines and moved to California's San Fernando Valley at age seven. He trained at the BFA Actor Training Program at the University of Utah and The Juilliard School's Drama Division. 
Professor Tong studies long-term memory for smells with a particular focus on the role of the extracellular matrix. Her current research is focused on perineuronal nets, specialized structures that wrap around neurons in the brain. Dr. Tong will be teaching cell biology, cellular and molecular neuroscience, and a range of seminar courses. She claims Toronto as home and previously was an assistant professor of neuroscience and biology at University of St. Thomas, a visiting researcher at Boston University, and an assistant professor of psychology and neuroscience at Earlham College. Dr. Tong earned her BS in psychology from Queen's University and her doctorate from Cornell University.
Professor shorb is a director, actor, and scholar of critical studies with an emphasis on queer and Asian American studies. They are an expert in devised theater, which is a collaborative method of theater-making where ensemble members come together without a script to create the work together. Dr. shorb's article on reappropriation recently appeared in the Journal of American Drama and Theatre and they are slated to direct a series of five short operas centered around the Asian American experience called "Fractured Mosaics" that will be performed virtually by White Snake Projects. They will be teaching a combination of acting, directing and theory classes. Professor shorb hails from Wellesley, Mass. and northern Japan and earned a Bachelor of Music from the Oberlin College Conservatory of Music, an MA in radio-television-film and a doctorate in performance as public practice at the University of Texas at Austin.