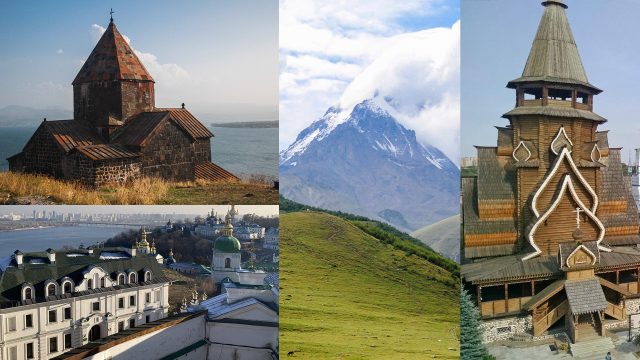 Each spring for the past three decades, undergraduate students from across the region – and more recently, the country – have gathered at Macalester to exchange ideas and share their insights into the post-Soviet sphere. If this year's record participation is any indication, Macalester's Russian Studies Student Research Competition, the highlight of the department's annual conference, will continue to attract the attention of undergraduate scholars for many more years to come.
Russian Studies chair Julia Chadaga, co-organizer of this year's conference along with Professor Maria Fedorova, reflected on the research competition's big milestone and how the war in Ukraine has brought additional significance to this year's event. 
---
Thirty years is a long time for anything. Why do you think Mac's Russian Studies conference has lasted for so long?
That's a great question. Part of it has been our department's desire to maintain a tradition that is distinctive for us and our institution. We see the conference as a way to support and engage with emerging scholars as colleagues. We are able to create dialogue and open the door to future collaborations. It's an event where students feel empowered to participate because they know their ideas will be heard. 
The other part of the longevity of our conference, though, is the passion and drive of the students themselves. So many students are motivated by a sense that things could be better. They would like to see things improve in the Russian-speaking world in some way, and pursue knowledge with that in mind.
How has this year's conference taken on added meaning given what's happening in Ukraine?
The brutality and devastation of the war profoundly affects all of us in the Slavic field. We saw the impact of it in the student presentations, and in the discussions that followed. A number of papers were connected to Ukraine, but from very different angles. There was a paper about Russia's use of disinformation targeting Ukraine, and another analyzing the impact of the economic sanctions on Russia. But we also had a paper on Ukrainian theater, which gave us a chance to highlight the distinctiveness of Ukrainian culture that Putin is insisting doesn't exist. We expect next year's conference to be even more focused on the conflict and its repercussions.
Traditionally, conference participants have been Macalester students and students from other local and regional institutions such as Carleton and Grinnell. This is the third year you've opened it up to students nationwide. How has it worked out? 
Really well. At the onset of the pandemic we responded by going remote and opening the competition up to every undergraduate in the U.S. We didn't know if we would get any submissions at all or if people were just feeling too overwhelmed. But in fact the opposite happened. There was such eagerness to build community and share ideas with one another, maybe as a way to offset the difficulties we all were facing. The work we were engaged in felt like this bright light in the midst of the gloom. 
And this year, we had a record-number of students participate from institutions all over the country –  from Oklahoma and Georgia to the University of Chicago, Brown, Notre Dame, and many others. The students' projects showed how diverse the post-Soviet sphere is, culturally, ethnically, and politically. It was especially meaningful for me to connect Macalester students with their peers who share their excitement about engaging with this part of the world.