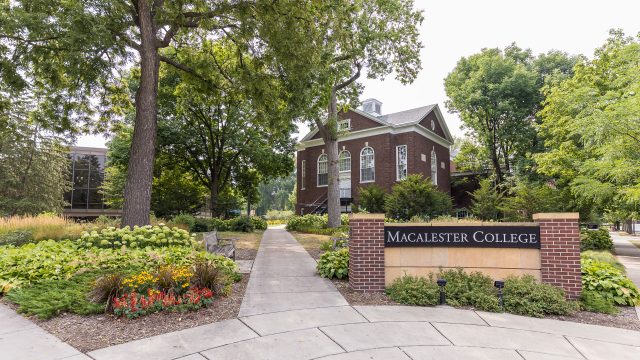 US News & World Report has again ranked Macalester College among the top liberal arts colleges in the nation, including 9th for most innovative and 11th in undergraduate teaching. The Washington Monthly, which places a high value on public good, recently ranked Macalester 16th among all liberal arts colleges, and Princeton Review ranked the college #4 on its list of Top 20 Best Schools for Making an Impact (Private Schools). 
These are just some of the top rankings and accolades Macalester has received in recent national assessments of colleges and universities that measure a wide range of variables, from academics and financial aid to social mobility and public service.  
"While rankings are controversial and their algorithms can be opaque, they matter to students and their families, and we're extremely proud that Macalester is at the top of so many lists," said President Suzanne Rivera.  
US News & World Report's annual rankings assess 17 criteria, including graduation and retention rates, faculty resources, and alumni giving. Macalester College's top USNWR rankings for 2022-2023 include: 
National Liberal Arts Colleges (27th)

Most Innovative Schools — National Liberal Arts Colleges (9th)

Undergraduate Teaching — National Liberal Arts Colleges (11th)

Study Abroad (14th)

Best Value – National Liberal Arts Colleges (24th)

First-Year Experiences (37th)
Washington Monthly's annual rankings of colleges and universities incorporate social mobility, research, and community service criteria with the goal of assessing what colleges do for the country. For 2022, Macalester ranked 16th among liberal arts colleges overall and 2nd in the Midwest. 
Princeton Review ranks the top 25 colleges in 50 categories including a new category called Green Matters for which students report the most robust commitment to the environment and conservation on their campus. In 2023, Macalester was ranked #4 on the list of Top 20 Schools for Making an Impact (Private Schools), #10 on their Green Matters list, and #14 on their list of schools deemed to have Great Financial Aid. 
The Campus Pride Index aims to improve campus LGBTQ+ policies, programs and practices and assesses eight LGBTQ-friendly factors, including academic life, policy inclusion, and support & institutional commitment. In 2022, Macalester received five out of five stars and was among the 40 schools named the Best of the Best Colleges & Universities for LGBTQ+ Students. 
Niche, a popular college search tool used by prospective students around the world, gives annual report cards with grades for 12 indicators, including student life,  location, and diversity. Macalester College's overall grade for 2023 was an A. The college also was ranked 7th on Niche's Best Colleges Without an Application Fee in America, and 24th on the lists of Best Small Colleges and Best Liberal Arts Colleges in America. 
Learn more about Macalester College at macalester.edu.