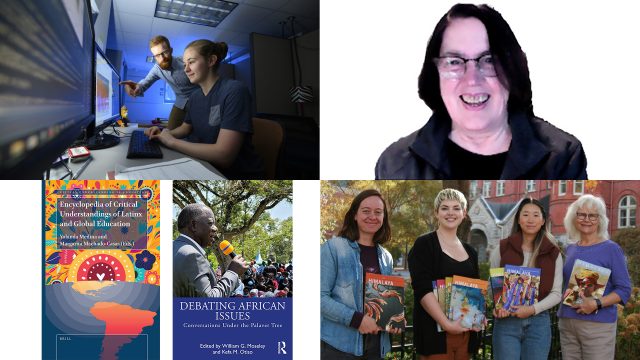 Maccolades is a monthly round-up of the most recent accolades and accomplishments earned by members of the Macalester community. Below are highlights from October 2022.
A light on Broadway
Macalester alum Mandi Masden '08 has been cast as Ruth Younger in the Broadway revival of Lorraine Hansberry's American classic "A Raisin in the Sun." The play opened to rave reviews, including from New York Times theater critic Jesse Green. 
Award-winning monkey business
Biology Professor Robin Shields-Cutler and Macalester graduate Maya Wills '21 were co-authors on a peer-reviewed research article published in Diversity. As part of her biology honors thesis in Dr. Shields-Cutler's laboratory, Wills analyzed gut microbiome samples from diverse primates at the Como Park Zoo and Conservatory to determine how the microbiomes compare between different species of primates, how these zoo-resident microbiomes look compared to those of wild primates, and how different environmental factors might influence these important microbial communities. 
Wills presented the work at several conferences, earning the Judges Choice Award for Outstanding Oral Presentation at the Minnesota Academy of Science Winchell Undergraduate Research Symposium, as well as a second place award at the North Central Meeting of the American Society for Microbiology.
An A+ in educational studies
Professor Walter Greason, chair of the history department, contributed to the Encyclopedia of Critical Understandings of Latinx and Global Education, a book that won the 2022 Critics' Choice Book Award from the American Educational Studies Association. The book offers a critical perspective of the education of the Latinx populations around the world.
"This specific chapter illustrates the importance of mentorship in P-12 education, especially in the context of a national educational climate that sometimes seeks to marginalize large groups of students and their families," Dr. Greason said. "I am most excited by the recognition of educational research as one of the most difficult areas of collaborative and interdisciplinary publication, demonstrating the importance of advanced, community-engaged scholarship in academe."
Contrasting views on African issues
DeWitt Wallace Professor of Geography Bill Moseley co-edited a new book called Debating African Issues: Conversations Under the Palaver Tree. The interdisciplinary collection covers 20 enduring and contemporary debates across a broad range of subjects affecting Africa, from development and health to agriculture, climate change, and urbanization. 
"The majority of the essay contributions are by African scholars, many of whom are based at African universities," Prof. Moseley said. "By elevating African voices in these debates, one gains a better and more nuanced understanding of these topics."
Dr. Moseley and co-editor Kefa Otiso shepherded the project "because it relates directly to our teaching about Africa," Prof. Moseley said. "Reading contrasting views on controversial African issues helps students further develop their critical thinking skills, deepening their understanding of the topic, and developing a more nuanced perspective."
One migrant's musical journey
The world premiere performance of Migration Story, a composition by Professor Randy Bauer, department chair and associate professor of music, took place in the Mairs Concert Hall in the Janet Wallace Fine Arts Center. This new work features 10 performers, including Bauer on piano, visiting jazz saxophonist extraordinaire Andrew Rathbun, and several members of the Minnesota Orchestra and Macalester's music faculty. Professor Mark Mandarano conducted the performance. 
The work was written in response to numerous human migration events in recent years, and tells the story, across five movements and via music alone, of a child's journey from stability to uncertainty, and the resilience they bring to the situation. 
A civic engagement champion
Dr. Myrl Beam, visiting assistant professor of Women's, Gender, and Sexuality Studies, was selected as a Mellon Periclean Faculty Leader in the Humanities, a program supported by the Mellon Foundation and The Eugene M. Lang Foundation. Periclean Faculty Leaders are a community of scholars dedicated to incorporating civic engagement into the curriculum while empowering students to use their academic knowledge to tackle real-world problems. Project Pericles will provide a $4,000 grant for Dr. Beam to create and teach an innovative course in Spring 2023. Evaluators commented that applications were "inspiring in their commitment to bridge liberal learning and community engagement" and that the proposals "reflect both faculty talent and experience."
A timely Fulbright
Macalester graduate Elizabeth Poor '22 received word that her Fulbright Research/Study alternate status was changed to awarded. Poor will head to Uruguay in March 2023 to study abortion access and reproductive justice, a timely topic for residents of Uruguay and the United States alike. This status change raises the number of U.S. Student Fulbrights awarded to Macalester for the 2022-2023 cycle to nine. Information about the other eight awards is available here. 
Stellar student sociologists
Two sociology majors received undergraduate awards in the annual Sociologists of Minnesota Caroline Rose Student Paper Competition. Josh Groven '23 earned first place for "'Cool People' vs. 'Food Goodness': Capitalist Grammar and Social Distinction at a St. Paul Restaurant and Salon." Second place went to Haoxuan Gao '24 for "Work Above and Beyond: How Peer Tutors Navigate Their Role and Manage Emotional Labor."
Both students presented their research and received cash prizes and recognition at the annual meeting of Sociologists of Minnesota. Winners also received free conference registration, meals, and membership in Sociologists of Minnesota. 
Moving mountains
Himalaya, the Journal of the Association for Nepal and Himalayan Studies, was published at Macalester from 2008-2019. The publication, which has now transitioned to the Himalayan region, plans to feature Macalester's contributions in its next issue and a photo of the library on its cover. While based at Mac, the journal grew significantly in scope and content. 
Jacki Betsworth, retired librarian, helped lead the project: "My role was to provide the organizational and technical expertise that would allow us to create a sustainable workflow and support publication of future issues," she said. Anthropology Professor Arjun Guneratne served as editor. Students helped bring the journal to life. "They gained valuable experience in publication tools, graphic design, and project management," Betsworth said. "They also enjoyed a unique opportunity to collaborate on a high quality publication project that was of value to an international community and whose reach was global."
"I loved my experience working on Himalaya," said Jessica Del Fiacco '16. "The skills I gained as a student editorial assistant — from layout design to time management — helped prepare me for my career in communications." 
The ethics of driverless vehicles
Philosophy Professor Diane Michelfelder published a new book called Test-Driving the Future: Autonomous Vehicles and the Ethics of Technological Change. As the development of autonomous vehicles proceeds full speed ahead, it is often said that this new, disruptive form of transportation will change everything. "I put the book together to make a contribution to the scholarship connected to the ethics of autonomous vehicles that would bring some underexplored issues into greater relief," Dr. Michelfelder said. "I'm most enthusiastic about the exciting insights and perspectives that the contributors to the volume bring to the discussion of the ethics of autonomous vehicles. Collectively, they've put the pedal to the metal, so to speak, in advancing the conversation around this timely topic." 
Political Science Professor Patrick Schmidt wrote one of the chapters with Macalester graduate Jeremy Carp '12. 
How to be considered for future Maccolades
If you or someone you know recently earned an award, fellowship, or honor and would like it to be considered for inclusion in next month's Maccolades, please let Communications & Marketing know by filling out this Maccolades form. For recent book publications, please use this book publication form.