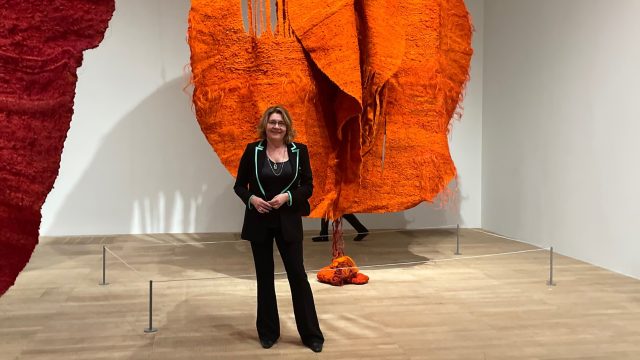 In 2004, Dr. Joanna Inglot, Edith M. Kelso Associate Professor of Art History, wrote one of the definitive books about the 20th century Polish artist Magdalena Abakanowicz. Eighteen years later, the Tate Modern is hosting a prominent exhibition of the artist's work. Professor Inglot, whose book, The Figurative Sculpture of Magdalena Abakanowicz: Bodies, Environments, and Myths, was cited as "pivotal" and "groundbreaking" by the famed curator Mary-Jane Jacob, will be in attendance as a special guest for the opening. She explains what drew her to the sculptor and fiber artist and what the exhibition means for Abakanowicz's legacy.
Who is Magdalena Abakanowicz?
Magdalena Abakanowicz was a renowned Polish sculptor who received worldwide recognition as one of the seminal artists in the revival of figuration in late-20th century sculpture. She first emerged as a pioneering fiber artist in the mid-1960s when she introduced her enormous, three-dimensional works known as Abakans, which revolutionized the prevailing Western perception of woven work as "craft" and stimulated international experimentation with fiber. She gained acclaim again in the early 1980s for her cycles of headless and hollow burlap crowds that she exhibited around the world, and which were often perceived as commentaries on life behind the Iron Curtain.
Abakanowicz's career took a major turn after the Venice Biennale of 1980, which coincided with the rise of the Solidarity movement in Poland, adding an important political dimension to her art. Suddenly her work was seen as a political commentary on what's going on in Eastern Europe and as a protest against Communist oppression.  I show in my book, however, that Abakanowicz was misperceived by Western critics and scholars as a political artist, who often called her a leading voice of protest behind the Iron Curtain, and reveal that she was received in her own country quite differently during these turbulent times.
What attracted you to her and her work as a scholar?
I'm a child of Solidarity and a former student activist. I was only in my first year of college when this revolution was taking place in Poland. My partner was an organizer of the Student Solidarity Movement in Wrocław. He was actually the youngest student activist who was interned when martial law was declared in Poland, and he was consequently given a one-way passport and asked to leave the country. This is how we found ourselves here in the U.S. When I was a student, everyone was talking about the revolutions that were unfolding in Eastern Europe at the time. I became very interested and amazed by Abakanowicz's art, but also intrigued by why she was practically the only person from Eastern Europe and certainly from Poland that people knew here and were talking about in the artworld? Eventually, I decided to zoom in on the artist and write this book.
 What was she like as a person?
I found her fascinating. She had a charismatic and powerful personality. She was extremely preoccupied with her work and strove to have an international presence. She struck me as very apolitical, which surprised me because it was hard to be apolitical at that time. She was surrounded by artists and people who were deeply immersed in politics, so this became an enigma that I was trying to untangle when I was getting to get to know her.
I started my research by working closely with Abakanowicz, but when I began interviewing other artists, scholars and curators in Poland, things became more and more complex and complicated, and I discovered many different sides of her. In America critics continued to see her as a political artist, but in Poland she was surprisingly apolitical. Although, like many others, she endured various hardships living in this part of the world after World War II and Communist rule, she also knew how to take advantage of the rewards the Communist government offered to nationally and internationally acclaimed artists, and she carefully avoided any confrontation with or critique of the regime. During the Solidarity years and period of martial law, when most Polish artists and intellectuals mobilized against Communist rule, Abakanowicz remained silent. Her decision to keep quiet and her relatively privileged position among artists led some in Poland to see her as the favorite "export artist" under Communism, which tainted her reputation in many independent circles in Poland. Paradoxically, however, during the 1980s, her career took off again because her work was perceived abroad in the context of protest art in Eastern Europe. There was a clash of interpretations about her politics and her art that I had to figure out and deal with. In addition, she was also availed by the myth of an "outsider," a secluded artist, inspired more by nature than culture. What interested me was the context in which she existed and developed as an artist.
What were some of the surprises you had in writing the book?
My aim was to demythologize Abakanowicz, to bring in a new perspective, to introduce little-known artistic and sociopolitical context, and that was not necessarily supported by the artist. When I started this research, I was fascinated by her work – and I still am — so I thought that I was going to follow her. When I discovered a different picture in Poland, I had to distance myself from the dominant perspective promoted by the artist. I never envisioned it would go this way. It was my first experience of working with a living artist on a serious academic level, and I was shocked with how much she wanted to control interpretation of her art, including careful control of copyright permissions for her works and interviews.
What does it mean that such a prominent museum like the Tate Modern is recognizing this artist now?
I think it means that Magdalena Abakanowicz is now firmly grounded in the history of modern art. As an artist from Eastern Europe, she was often marginalized in the mainstream discourses of art history, and it looks now like this period has ended for good. I think it is a tremendous recognition for this remarkable and important artist, who managed to bridge the deep divide between the East and the West during the Cold War era.
How does it feel for you to have your work recognized 18 years later?
It feels great. It took a really long time, but art history is a very slow discipline and there are not that many people who focused their research on Abakanowicz. I am looking forward to getting to know the curators at Tate Modern and to learn from them, as I am sure they will bring fresh and illuminating perspectives to this exhibition.