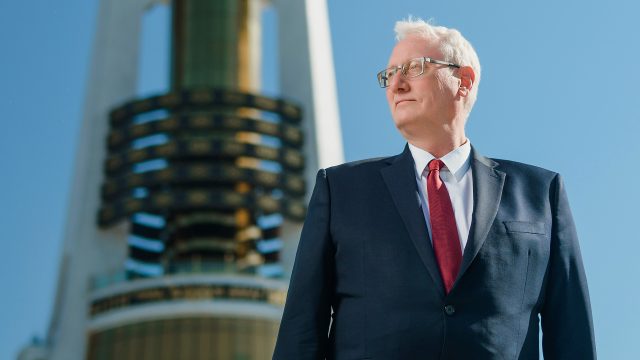 By Hillary Moses Mohaupt '08 / Photo by Vladislav Doroga
Over the last three decades, Benjamin Dille '82 has represented the State Department at hotspots around the world. In August 2021 he was in Kabul, Afghanistan, as U.S. forces withdrew from the country.
As the Taliban closed in on Kabul, Dille was working furiously to organize his staff at the U.S. embassy. He had planned to spend another year in Afghanistan, but it had become apparent that he wouldn't have that opportunity. Now, he was focused on the task at hand: evacuating the staff of the U.S. embassy via helicopter to the Kabul airport.
Dille was serving as the minister-counselor for management affairs at the embassy at the time. As the senior administrator, he was responsible for overseeing everything from human resources to information technology, maintaining facilities to securing supplies. During the withdrawal of U.S. military forces, the Taliban moved into Kabul more quickly than experts had expected. In response, the State Department decided to evacuate its embassy there in just one day. The operation became the single largest civilian evacuation in modern history, with more than 2,000 American diplomatic and support staff leaving the city on August 15.
During the evacuation, Dille worked with his team to ensure that all American and allied diplomatic personnel were relocated. He then stayed on with his support team to coordinate housing, office space, and IT, as well as in-bound flights for supplies like clothing, baby formula, diapers, blankets, and other necessities for the tens of thousands of people waiting for flights at the airport.
"This was an operation carried out in the height of the global pandemic, which not only impacted the mission on the ground, but also the support task forces in neighboring countries and back home in D.C.," he says. Communication was made more difficult, and the embassy was short-staffed. "The situation in Afghanistan was quite unique and impossible to draw a parallel to other events."
'Case studies in leadership'
Dille, a Moorhead, Minnesota native, majored in history and international studies at Macalester. He studied abroad his junior year, spending the fall studying at Cambridge, and the January and spring terms studying French, his minor, in Paris and Avignon.
After graduation, he earned a law degree from the University of Minnesota, concentrating his studies in international and comparative law to prepare for a career in government or international service: "I come from a family of public educators, so public service seemed natural, especially when combined with my international interests," Dille says.
As a management officer, he has spent much of his career running the administrative operations of embassies or supporting them from Washington. He has served in Africa, the Pacific, Europe, and Central Asia. It's unusual for someone in the Foreign Service to have served in so many parts of the world, but Dille says that the working relationships with his colleagues have made his many assignments enjoyable. He had even served previously with three of his colleagues in Kabul. "I am very much a consultative leader," he says. "I believe that the collective creativity of my team is better than ideas that I think of myself."
Dille encourages young people to pursue a range of experiences and human connections, which will provide frames of reference as they get older and advance in their careers. "The advice I would give to current students is to be resilient and be positive," Dille says.
Studying history, he says, has proven invaluable to his career. "It gave me a tremendous understanding of geography, culture, technology, economics, and—most valuable of all as a manager—
what are essentially case studies in leadership."
'The biggest challenge I could take'
"I have tended to take challenging assignments, and I saw the Kabul job as the biggest challenge I could take," he says.
From the outside, the mission to evacuate Kabul appeared rushed and dangerous, and there continue to be long-term repercussions for the American military, officials, and civilians, as well as their Afghan contacts. Dille is quick to emphasize that relocation efforts required intense collaboration among embassy staff and military teams.
"I was surrounded by courageous individuals that never swayed in their commitment to duty, despite near-constant credible threats of danger," he says. "The military did the hard and outstanding work of protecting the perimeter of the airport under dangerous conditions, while State Department staff worked with the military to get flights boarded and off the ground."
Aside from military, security, and two IT professionals, Dille was one of the last people out of the embassy. He stayed on at the Kabul airport for days, along with more than one hundred embassy personnel—some staying two weeks—to ensure that all American and allied diplomatic personnel were relocated, with Dille and many others continuing to provide support from Washington. Using the airport as a base of operations, Dille and the other State Department personnel worked to ensure the evacuation of at-risk Afghans who worked with the U.S. military or embassy. In all, Dille and his colleagues supported the evacuation of more than 124,000 Americans and Afghans—including 2,000 Afghan employees of the embassy and their families— from Kabul over the last two weeks of August.
For his work at the Kabul airport, Dille shared the State Department's Award for Heroism. His efforts in pressing embassy COVID-19 strategies that included purchase of vaccines for all Afghan staff and for advocating for more staff to remain in Kabul to support evacuation efforts earned him a 2022 American Foreign Service Association Award for Constructive Dissent.
D.C. to Micronesia to Turkmenistan to Quantico
After leaving Kabul, Dille was asked by the Acting Under Secretary for Management to go to Washington to provide guidance to those who were working on the U.S. side to continue to arrange flights out of Kabul.
Dille has since served as the deputy chief of mission and chargé d'affaires at the U.S. embassy in Kolonia, Micronesia, and as chargé d'affaires in Ashgabat, Turkmenistan. His next position is stateside at the Marine Corps War College in Quantico, Virginia, where he will teach diplomacy to Marine officers.
Dille may no longer be in Afghanistan, but the country and his colleagues are never far from his mind. "Many of us continue to work on Afghanistan-related issues a year later," he says. "We will continue to be relentless in this effort as we stand by our Afghan allies and their families."
Hillary Moses Mohaupt '08 earned a master's degree in public history and is a freelance writer in the greater Philadelphia area.