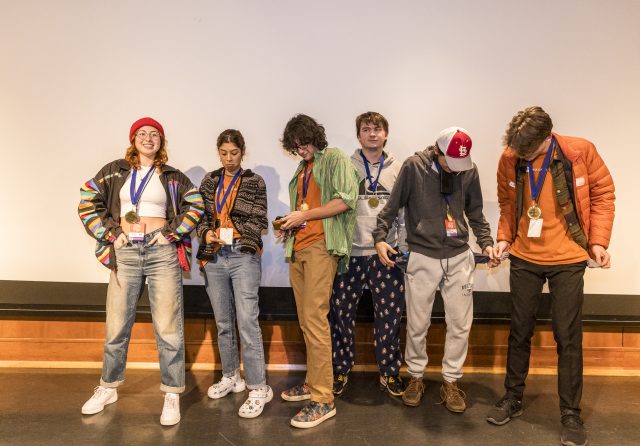 Anteaterz took home first place at this year's Macathon by creating pocket extenders for women's clothing called PockKitz. The pockets in women's clothing is often too small to carry essential items, which requires women to buy items that can be easily stolen.
The Macathon mission is simple. Working with a team of three to six students, invent a unique and original service or product (website, application, physical product) that solves a real-world problem. The twist? All of your work takes place in twenty-four hours.
Over 90 students on 19 teams took part in the 10th-annual Macathon, November 4-5, 2022, fortified by pizza at a Midnight Mingle, snacks, a hot brunch, and a taco bar.
Fourteen alumni entrepreneurs also participated, some serving as mentors who provided advice and support to students throughout the night to judge the presentations and select finalists.
After brainstorming and refining their ideas, each team prepared and delivered a seven-minute verbal/visual video presentation of their product or service. Students were judged on their identification and understanding of a real-world problem, their solution, and their presentation.
Judges chose six finalist teams and twenty-four hours later the finalists gave their presentations to a live audience. Following the presentations, judges selected the top three teams, and President Rivera gave out the 2022 awards.
Team Anteaterz took first place and a $1,000 prize with a product that extends pockets in women's clothing. The team included students Yvonne Moreira-Andrade '25 , Kiara Garcia '25, Adley Schwartz'25, Finn Veerkamp'25, Ronan Manning '25, and Morgan Niven '24.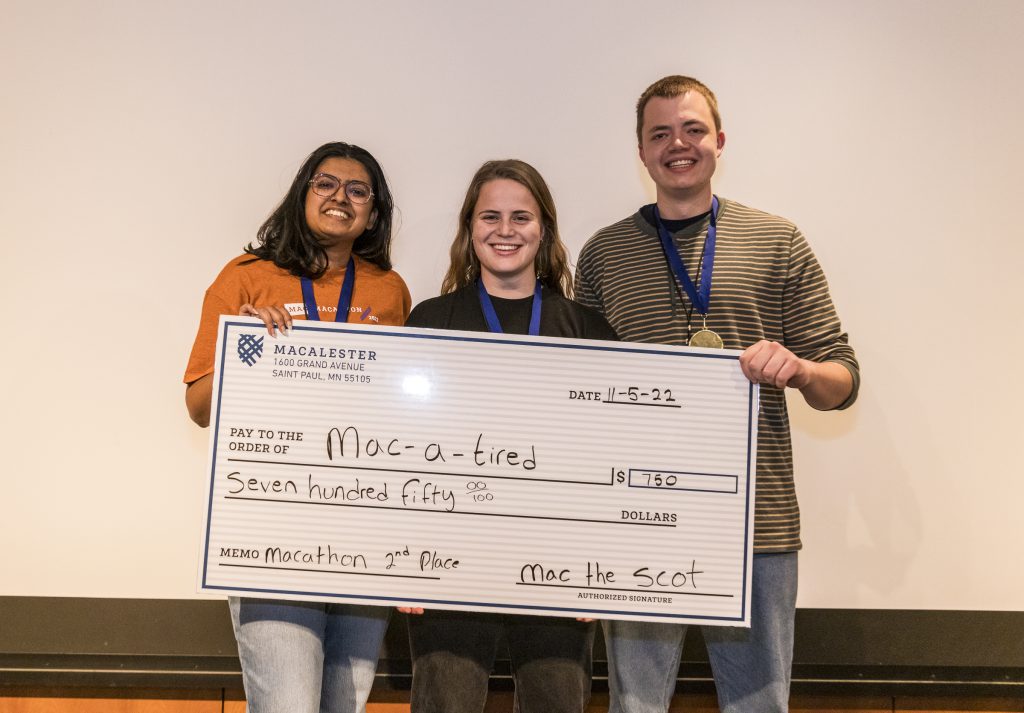 Second place and $750 was awarded to Mac-a-tired. Students Aahanaa Tibrewal '25, Juliet Cramer '25 and Issaka Van't Mul '25 developed a biodegradable lattice to reduce topsoil erosion in sloped regions.
The Edible Rice team took third place and $500 with a new EpiPen that is more user friendly, safer, and cheaper to make. Team members included Evvie Bond '26, Chloe Ke '26 and Shelly Bai '25.
"These are ideas of hope," said Jody Emmings, director of Entrepreneurship and Innovation, at the event's conclusion. "We love and are inspired by what we see you think about."