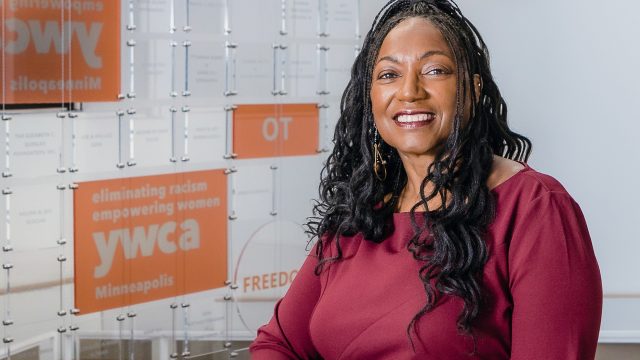 By Tinbete Ermyas '08 / Photo by Theresa Scarbrough
As a former litigator, Shelley Carthen Watson '82 is skilled at gathering information. "My friends joke that I can find anything on the internet about anyone," she says, "which for people who are dating my daughter is pretty scary at times."
Her ability to gather information and trust her gut led her to Macalester. Having been raised in San Bernardino, California, Carthen Watson admits she didn't know much about the college at first—and was considering other schools. Her research made all the difference.
"I realized that it was the same school whose debate program I had heard about for years. It was among the top five debate programs in the country," says Carthen Watson. "The political activism [at Macalester] really drew me, and I thought that it's a place where it would be easy for me to find my niche.
Political and intellectual engagement
It didn't take long. By age nineteen, Carthen Watson was interning at the State Capitol and had become involved with Minnesota's Democratic-Farmer-Labor Party. She was even elected as an alternate delegate to attend the Democratic National Convention in 1980.
"It was exhilarating," says Carthen Watson. "I'd never even been old enough to vote before then. And there were a lot of people who sort of took me under their wing, and they were stalwarts of the DFL and continued to mentor me. I learned an awful lot and it certainly helped me in my career."
Perhaps the biggest way it helped was by distilling Carthen Watson's goals as someone who wanted to link the policy issues she debated on campus and turn them into tangible change. Thus leading her to a career in law.
But there was just one problem—she hated law school: "I remember being so disappointed in law school. At Macalester, there were all these people who were well read, who were engaged politically and intellectually. And you would sit around and you're having these conversations about the state of the world of public policy."
The hyper-competitive nature of law school students was such a shift that Carthen Watson contemplated leaving. "After that first semester, I hated it so much. I didn't know if I wanted to come back after Christmas," she recalls. A visit with a Mac friend's brother who had gone through the same thing reoriented her thinking. "He said, 'Look, law school is nothing like practicing law. They're just like two separate worlds, and if it still interests you, and challenges you, go ahead and stick it out.'"
Soul searching
Carthen Watson finished law school. She enjoyed an esteemed legal career for decades—first as a litigator in private practice, and then for years as senior associate general counsel managing labor and employment matters at the University of Minnesota.
Despite her success, she wanted more. "I loved practicing law," says Carthen Watson, "but it did not feed my soul. I took a sabbatical because I was pretty restless and I thought this would help."
So she moved abroad—to Cape Town, to take a job with the South African Human Rights Commission. "That work brought me back to what really made me pursue a legal career in the first place. And that was using the law as a vehicle for social change."
While there, Carthen Watson worked to abolish childhood corporal punishment and advocated for Black South Africans, who faced enormous obstacles in accessing housing.
The trip reinvigorated her passion for the law, so she came back to Minnesota, looking for an opportunity to do similar work. She found it at the YWCA Minneapolis, where she had previously served as a board member. She became president and CEO in 2021.
Mission critical
"It's an organization whose mission embodies my values, and I can be involved on a variety of fronts," says Carthen Watson. "From the public policy aspect of criminal justice reform to eliminating systemic racial and gender barriers, empowering girls and working with youth, the YWCA just brought it all together for me."
It's not lost on Carthen Watson that she leads the organization at a critical time. When we spoke, it had been just a few weeks since the Supreme Court announced the Dobbs v. Jackson Women's Health Organization decision, which overruled Roe v. Wade and the constitutional right to access an abortion. She was upset but not shocked.
"I did my senior honors project at Macalester about the Supreme Court's retreat from Roe back in 1982," said Carthen Watson. "The Court just chipped away at it and made it less accessible by requiring parental consent or waiting periods or denying federal funding. I never thought that they would get to the point where they would totally overrule it."
Given her organization's mission to eliminate racism and empower women, Carthen Watson says she wants to expand on a slew of programs that address the local community's needs.
She will gauge her success by how much she is able to alter systems that tend to disfavor women and people of color. These efforts include working with local institutions on bias training and conducting anti-racism workshops, interrupting the cradle to prison pipeline by providing affordable quality childcare for working parents, as well as fighting health disparities.
Carthen Watson is fueled by what's possible. "I was raised on that old cliché, 'to whom much is given, much is expected.' It was drilled into me from a very early age that the benefits, opportunities, and experiences I had were available to me because other people had stepped up, worked hard, sacrificed, and suffered, and I have a responsibility to pay it forward not only for my own child, but everyone else's child."
Tinbete Ermyas '08 is an editor at National Public Radio in Washington, D.C.