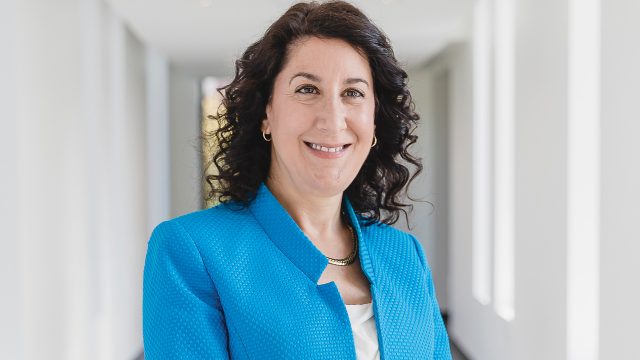 People sometimes ask me, "Did you always dream of being a college president?" And my answer each time is the same: I did not have the audacity to dream of being a college president until only a few years ago. But, now that I am here, it's an incredible privilege and honor to lead this extraordinary community and to help shape its future.
When I was offered the opportunity to become Macalester's seventeenth president, our trustees told me they hoped I would undertake a strategic planning process in my first year. That challenge excited me and, right away, I began to dream about how to approach a process for charting a path to the college's future. But, just weeks after I accepted the job, the COVID-19 pandemic upended life on Macalester's campus and around the world. I knew by March of 2020 that the difficulties we'd face together would be extraordinary and unprecedented. Then George Floyd's murder in May 2020, a few miles from our campus, sparked a national civil rights crisis that—rightfully—commanded our attention and prompted intense reflection about Macalester's responsibility to address racial injustice. Throughout my first year, operating the college and supporting our faculty, staff, and students through immense challenges required my complete focus. We simply did not have the luxury to plan even months ahead, let alone years.
I've quipped that my second year at the college felt like a "do-over first year" because I finally was able to gather with others in person, and build relationships—both on campus and around the U.S. at various meetings, celebrations, and events. The theme of that year for me was "togetherness" and, accordingly, I sought connection with members of each of the college's constituencies. Those connections laid a foundation for collaboration as we began collecting input from students, faculty, staff, alumni, parents, and local neighborhood residents about what Macalester should do, change, or let go of in order to make the college irresistible to the students of tomorrow.
The college's Senior Leadership Team named the strategic planning process Imagine, Macalester and through it we invited all of you to dream along with us. We solicited applications for the positions of "Strategic Planning Champions" from the college's various constituencies and invited them to work closely with us to sort, distill, and synthesize more than 3,000 suggestions made by members of our Mac community. At every step in the drafting process, we shared our work in transparent ways and invited feedback. We also held numerous town hall-style listening sessions in person and by Zoom to ensure no constituent perspective was excluded. Finally, an email box remained open throughout the process, through which we received hundreds of messages that we considered carefully. It was inspiring to see the creativity, innovation, and deep care for Macalester's future that so many of you shared with us over the past year. Although the pace of planning may have seemed frustratingly slow to some, I believe the unconventionally inclusive approach we took to solicit this input was well worth the time and effort it took to give everyone a voice.
The plan that was approved unanimously by the Board in October reflects the best thinking of all who participated in the dreaming process. It builds on Macalester's strengths. It celebrates all the things we love about Macalester's history, its values, and its impact. It amplifies what makes Mac distinctive in an increasingly competitive marketplace. And it inspires us to keep dreaming, together, about the future we imagine.
Imagine, Macalester is not a tactical implementation plan. It is an articulation of high-level goals that will guide our work. It also is a commitment to you that we will measure our progress with discipline, regularly share information about our accomplishments—and setbacks—via a public dashboard, and invite you to hold us accountable.
The next phase of our work will require deep and sustained collaboration. For example, a review and refresh of our curriculum is something our faculty must lead. Improvements to our campus culture can only be achieved if we all assign ourselves responsibility to practice inclusion, kindness, and sharing of power. Renovating and expanding our campus facilities will require increased philanthropic giving through a capital campaign. There is much to be done and we must be ambitious about pursuing our goals with tenacity and enthusiasm. I hope you all will find ways to participate, because we believe creating our future is a team sport.
In closing, I'll note that several alumni have asked me whether the name of our plan, Imagine, Macalester, was a deliberate nod to John Lennon. While it was not a conscious intention, it delights me that the positive feelings some have about his iconic song might somehow be projected onto our plan for a collective journey. And that seems fitting, since Macalester—like the song—urges us to dream of a more just and peaceful world. As everything we imagined together for Macalester's future begins to take shape, I'm reminded that Lennon's wife and creative partner, Yoko Ono, famously said: "A dream you dream alone is only a dream. A dream you dream together is reality."
Dr. Suzanne M. Rivera is president of Macalester College.