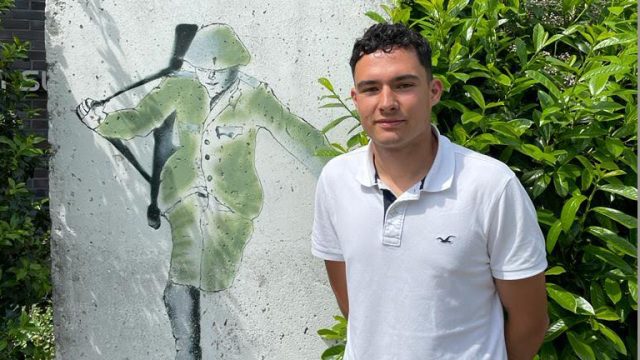 By Catherine Kane '26
How do urban design, history, and international perspectives converge? Milosz Fernandez-Kepka '23 (Las Vegas) found out firsthand this summer in Europe, where he studied the design and use of public urban space in two world-renowned urban redesign projects: the Olympic Village in Barcelona and Potsdamer Platz in Berlin.
Fernandez-Kepka—a geography major (with an urban studies concentration), psychology minor, and men's soccer player— spent the spring semester studying abroad in Seville, Spain. Then, with the support from the Leland and Kathleen Hansen Geography Research Endowed Fund grant, he visited Barcelona and Berlin to do fieldwork for his project.  
To prepare for the field work, he studied the historical context and design goals of both sites. Barcelona hosted the 1992 Summer Olympics and Potsdamer is a historic public square that was decimated during World War II and has since been revitalized after Germany's reunification. In comparing the Olympic Village and Potsdamer Platz, he noted that "while both of these mega-redesign projects occurred after the fall of a totalitarian regime (fascism in Spain and communism in East Germany), their architects and planners took quite different approaches to the design of public space."
With the grant from the Hansen Research Fund supporting his fieldwork, Fernandez-Kepka was able to observe in person the public spaces he was studying, adding a new dimension to his project that wouldn't have been possible had all of his work been done on campus. "My specific sites have a rich and complicated history, so being able to be there and observe how people use these spaces made it very real," he says.
After spending one week in Barcelona and another in Berlin, Fernandez-Kepka returned to Macalester to work with geography professors Laura Smith and Dan Trudeau to complete his research. The resulting project, a website called Intentional Public Spaces: Designing Vibrant and Inclusive Cities, analyzes the Olympic Village and Potsdamer in four dimensions: morphological, functional, social, and environmental.
Using an interdisciplinary approach to the project, he branched out from the urban geography-core of his research to include historical analysis, environmental impacts, and psychological considerations. "I realized that public spaces are like living things," Fernandez-Kepka says. "They transform, and they have their own identities and dynamics."