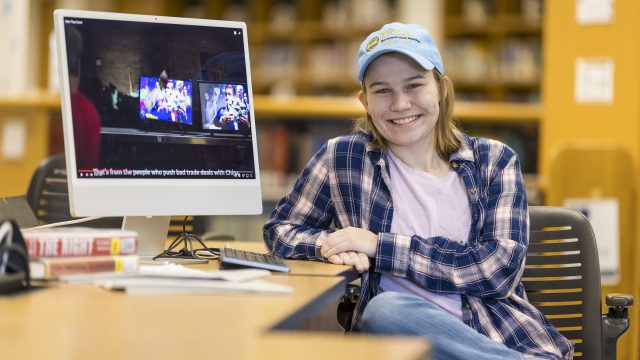 By Ashli Landa, staff writer
"I'd love to intern at the state capitol, so I think what I've learned about the inner workings of campaigns and elections will help me apply what I know when I start." —Lauren Petro '22
With the 2022 midterm elections serving as a timely throughline, Professor Julie Dolan's US Campaigns and Elections course helps students become familiar with democratic processes and methods, and explores historical and contemporary campaign strategies, disenfranchisement efforts, and political participation patterns. It also challenges students to get involved. 
In the course, which is only offered in the fall of even years, Dolan has her students track ongoing elections throughout the semester to analyze, predict, and interpret results using various political science tools. Though one of her main objectives is to support students' understanding of factors that shape elections, she also hopes that they gain personal experience in activities that facilitate democratic engagement. 
Students also participate in election engagement efforts on campus or in the Twin Cities. "Mobilization efforts have long been a feature of the course," Dolan says. "Rather than just read about the challenges and practices associated with it, I ask students to find a campaign or organization with whom they can do the work." 
For students like Lauren Petro '22 (Canton, Ohio), the mobilization efforts have been some of her favorite experiences. She's particularly invested in a volunteer program Dolan introduced, VoteForward, which encourages voter participation in underrepresented communities through letters. The English major has written more than one hundred letters throughout the semester. 
The class has also helped Petro better understand the mathematics of the political process. "Math plays a role in politics in ways like polling numbers, financing, and partisan share," she says. "Once I understood how to interpret the numbers, it was much less daunting for me."
She's finishing the semester feeling prepared for future involvement in politics, both personally and professionally. "I'd love to intern at the state capitol, so I think what I've learned about the inner workings of campaigns and elections will help me apply what I know when I start," she says."I found a meaningful way to contribute that makes a difference and that I enjoy."