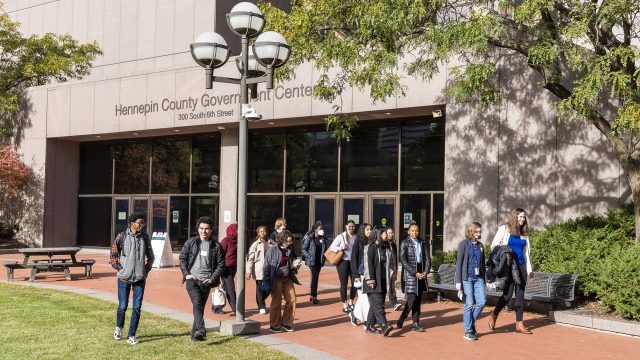 Over fall break, 15 Mac students got a taste of what it would be like to practice law in a MacExplore Law trip organized by Career Exploration. The group observed court proceedings and visited with a variety of specialized attorneys from places like the Volunteer Lawyers Network, Faegre Drinker, and Hennepin County Public Defenders, many of whom were Mac alumni. 
"I love Career Exploration because a lot of the experiences I've had at Mac are thanks to them," said Anna Sene, a junior who is double majoring in political science and classics. 
Activities such as the MacExplore trips are crucial for students to be able to assess future career options. 
"These experiences give students an easy way to make connections in potential careers of interest, meet peers who are also interested in those spaces, and hear about different roles within the field, all of which can provide important context for future decision-making." said Liz Karlen, associate director for career advising.
Rebecca Gentry, a senior anthropology major, has been working at a private law firm for the past year and echoed the importance of real world experience. 
"Being able to physically be there on-site and interact with the people who are living and breathing this work is a game changer," she said.  
While on the MacExplore trip, Sene was able to interview a volunteer lawyer about their job experiences and create a network of contacts for the future. 
"I know I have people that I can reach out to if I have questions and they can connect me with other people," she said. 
The Career Exploration staff emphasize to students that career paths almost never go in a straight line.
"The whole process doesn't end at your first job out of college," said John Mountain, interim dean of Career Exploration. Rather, most students find their way in the years after college or even graduate school. With events like the MacExplore Law trip, Career Exploration strives to act as a medium through which they can obtain the experience and contacts they need to help them make better career choices. 
"A lot of our work is really just listening to the students, hearing what they're saying, and then connecting them and giving them exposure to those fields so that they can decide what's right for them," he said.