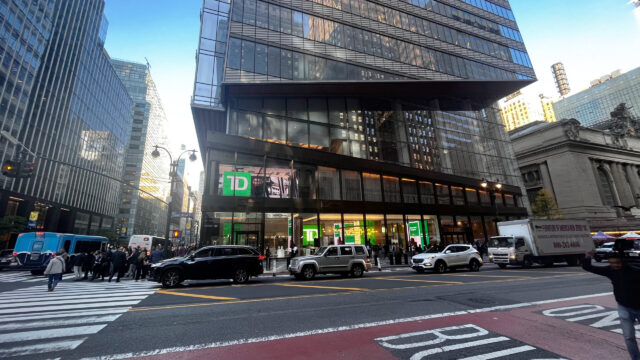 By Ashli Landa
"I felt immersed in the investment banking lifestyle: waking up early in the morning, dressing up, a fast-paced lifestyle, and most importantly, being on time."
—Elie Rizk '24
This October's MacConnect trip offered an exclusive opportunity for Mac students to network with alumni, explore potential career paths, tour New York City and its top companies (including Goldman Sachs, Bank of America, TD Securities, Truist Securities, Bloomberg, and Evolve Capital Partners), and cultivate experiences, bonds, and connections that will stay with them far past graduation. 
Six economics students reflected on the trip with us.
Tell us about your MacConnect trip. 
Elie Rizk '24:
My MacConnect trip was a once-in-a-lifetime experience. I could never think of any other program that can combine bank tours, amazing alumni connections, and hands-on investment banking and finance experience this way. I was amazed by the friendliness and kindness of Mac alumni. I was able to have long conversations with so many of them at the alumni gathering as well as after every visit we had. I felt immersed in the investment banking lifestyle: waking up early in the morning, dressing up, a fast-paced lifestyle, and most importantly, being on time. 
Sid Layesa '25:
The trip made me fully realize the value of a liberal arts education. I had been deciding between a biology or economics major. Last summer, I had an opportunity to work at a research lab at the University of Arizona in Tucson, which was also made possible by Macalester. Before the MacConnect trip, I was determined to be a scientist and get a PhD. After the trip, I could see myself working in banking too. Whether I pursue a career in banking or science, I am grateful to Macalester for giving me opportunities to explore both of these disciplines.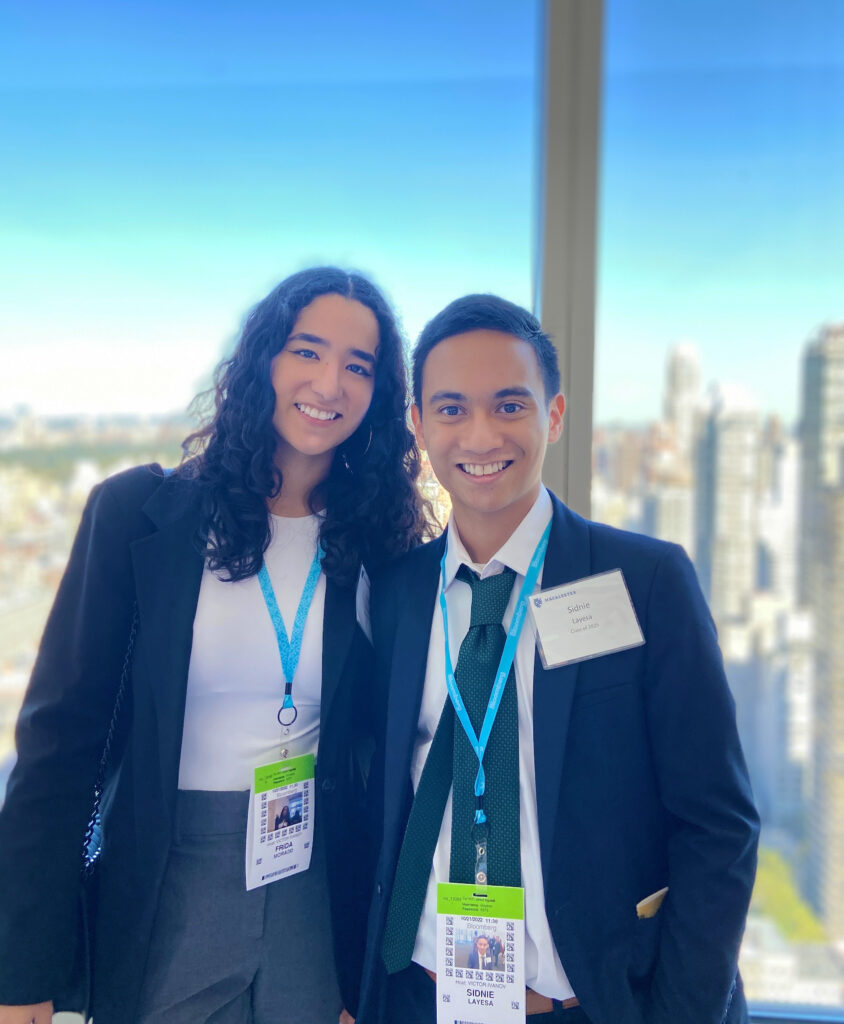 Frida Morado Salazar '25:
I had the opportunity to navigate professional environments with my classmates and explore my interest in the finance industry. It was insightful to learn about the work alumni are doing and have the opportunity to ask them questions. I also received helpful advice about the steps I should be taking at the moment to accomplish my career goals. 
Kalid Ali '25:
Going to New York and meeting alums one-on-one gave us an understanding of what we could do in New York or Wall Street and what we can achieve. It was really nice to connect with different people within different industries and get to know them, learn from them, and how their Mac experience paved the way for what they're doing now. The fact that we could see Mac alums in high career levels on Wall Street gave us hope—Mac is a small school in a small city, but has big power in a big city.
What was one highlight of the trip?
Cynthia Zhang '25:
At the alumni reception, I got the chance to chat with alumni to get to know their stories and build my network. It really challenged my social skills, but it was fun to listen to others sharing their stories and learn from them.
Evan Burns '25:
Going on the trip, I knew I wanted to go into finance, but I wasn't sure what exactly I wanted to do, so talking to people in different finance fields allowed me to gain more context about that decision. 
Kalid:
Bonding time [with classmates]. The people that went didn't really know each other, so this gave us time to bond and be like, "Hey, let's stick together. Let's go back to campus and do the things that are necessary for us to be here in New York."
Sid:
As an international student, it's inspiring to hear the stories of international alumni who were once in my position and are now successful in their careers. It gives me hope that it is possible for me to work at these banks despite my immigration status as a student visa holder.
Frida:
We took a guided tour of Bloomberg's New York office and saw the radio stations broadcast live. It was great to learn about a company that combines the financial, software, and media industry. It was also a nice reminder of the wide availability of opportunities after graduating with an economics major and a liberal arts education.
What will you take away from this experience?
Cynthia:
I learned what an investment banking workplace looks like, and that networking is one of the most important and useful ways to learn about and gain opportunities in a career field.
Sid:
Knowing how great of a resource the Macalester alumni network is. The trip made me appreciate how tight-knit and incredibly helpful it is in the field of banking and beyond. 
Frida:
The importance of reaching out to alums and getting to know their stories. It's a great way to keep you motivated and constantly exploring new opportunities and career paths. 
Elie:
To keep pushing myself out of my comfort zone and keep exposing myself to new things and new people. This trip emphasized the importance of having strong connections and mentors. I have been more active on LinkedIn researching and reaching out to Mac alums. 
Evan:
How strong the Macalester alumni network is. Every single person I talked to, no matter what they did, was really open to talking with me. They wanted to do everything they could to help me move in the right direction. 
Kalid:
That there's always something out there. Whatever I decide to do, wherever I decide to go, whatever my major is, there will be a career. I just need to get there.