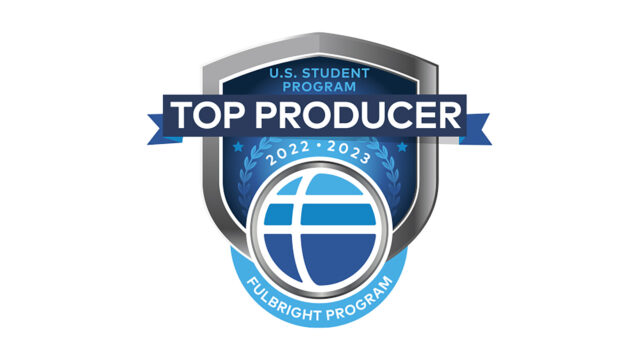 The U.S. Department of State's Bureau of Educational and Cultural Affairs named Macalester College a Fulbright Top Producing Institution for U.S. Students. This recognition is given to the U.S. colleges and universities that received the highest number of applicants selected for the 2022-23 Fulbright U.S. Student Program. Ten Macalester students were selected for Fulbright awards for academic year 2022-2023, putting the college in 9th place among baccalaureate institutions and tied for 11th among all schools. 
Fulbright is the U.S. government's flagship international educational exchange program. It is also among the largest and most diverse exchange programs in the world. Since its inception in 1946, more than 400,000 participants from all backgrounds and fields – including recent university graduates, teachers, scientists, researchers, artists, and others, from the United States and over 160 other countries – have participated in the Fulbright Program. Fulbright alumni have returned to their home countries to make an impact on their communities thanks to their expanded worldview, a deep appreciation for their host country and its people, and a larger network of colleagues and friends.  
"We are very proud of Macalester's long streak of being named a top producer of accepted applicants for the Fulbright US Student program. Their success speaks volumes about the talent and compassion of our students, their curiosity about the world, and their desire to make it a better place," said President Suzanne Rivera. 
The Fulbright U.S. Scholar Program is supported at Macalester through the Grants, Foundation and Corporate Relations office. 
"On behalf of President Biden and Secretary of State Blinken, congratulations to the colleges and universities recognized as 2022-2023 Fulbright Top Producing Institutions, and to all the applicants who were selected for the Fulbright Program this year," said Lee Satterfield, Assistant Secretary of State for Educational and Cultural Affairs.
The Fulbright Program was established over 75 years ago to increase mutual understanding between the people of the United States and the people of other countries. While the primary source of funding for the Fulbright Program is an annual appropriation made by the U.S. Congress to the U.S. Department of State's Bureau of Educational and Cultural Affairs, it benefits from additional support from foreign partner governments, non-governmental organizations, private organizations, corporate partnerships, and individual donors. Importantly, U.S. and foreign host institutions provide support as well.  
Fulbright alumni work to make a positive impact on their communities, sectors, and the world and have included 41 heads of state or government, 62 Nobel Laureates, 89 Pulitzer Prize winners, 78 MacArthur Fellows, and countless leaders and changemakers who carry forward the Fulbright mission of enhancing mutual understanding.   
For more information about the Fulbright Program, visit https://fulbrightprogram.org.