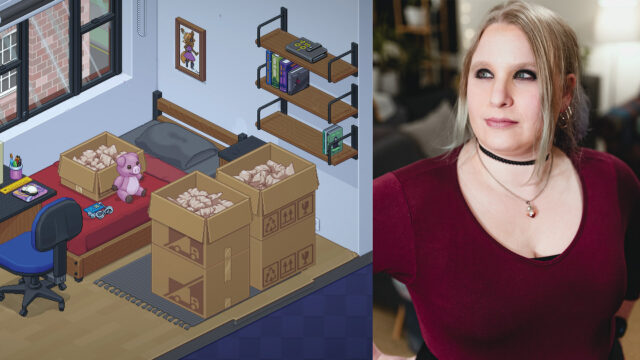 Annie VanderMeer '03 unpacks a career in creating video games.
By Andrew Faught / Photo by AJ Thompson
As one of the narrative designers of the award-winning video game Unpacking, Annie VanderMeer '03 helped dream up thousands of physical items—from the mundane to the meaningful—to illustrate life's journeys through the things we carry.
The dialogue-free game follows an unseen and unheard female protagonist between 1995 and 2015, from her childhood, to college, and on to adulthood. In thirty-five rooms, players unpack boxes of her toys, books, and memories, decorating various living spaces, while also divining clues—through objects and settings—about the character's personal journey.
"We essentially mapped out this arc of who she was and who she became," says VanderMeer, narrative lead with Digimancy Entertainment, a fully remote studio. "We're telling a story with stuff."
The experience, she adds, taps an emotional resonance in players: "While you're putting together this person's story, you naturally reflect on how your own life has gone—your moves and the stuff you've chosen to bring with you." (One scenario suggests a breakup with a love interest, as the adult character finds herself living again in her childhood room.)
Billed as a "Zen" puzzle game, Unpacking won the BAFTA (British Academy of Film and Television Arts) for Best Narrative, and a number of other awards. The game was created by Australian game developer Witch Beam, for whom VanderMeer was a contract employee, and released on multiple platforms in 2021.
In the past decade, developers have pioneered new ways to develop more immersive, story-based  content. Unpacking provides a voyeuristic thrill, and a kind of intimacy with and empathy for the unnamed protagonist, says VanderMeer, who works from Seattle.
"The modern term is you're developing a parasocial kind of connection to this person whose stuff you're putting away," she adds. "You're helping a friend move in."
The game has a deliberate pace that allows for introspection, with no requirement that the player dodge bullets or slay dragons. A single player visits living spaces in eight different years of the character's life, learning about her through her possessions. There are no rules, and it's not competitive.
"There's no way to fail," VanderMeer says. "You're not going to drop and break something. You're not going to put something in the wrong spot and the game is going to end. There are parts where you can't really finish a level, because you can't put a toaster in the bathtub, but there aren't consequences."
VanderMeer always has been a video game fanatic. Growing up in Mesa, Ariz., she played classic role-playing games on her dad's PC, and "platformer" games (in which players move through a series of environments) on consoles. Today, she enjoys "a bajillion" new titles, including the narrative-driven games Inscryption, and Horizon Forbidden West.
But she never figured she'd make a career of games. Male gamers often were openly hostile toward female gamers, including VanderMeer, questioning their interest. "There was a great deal of gatekeeping from guys, insisting that you prove your knowledge and skill or be labeled a fake," she says.
There were other dissuading factors. She comes from a family of doctors and academics, and gaming didn't seem to fit the part. VanderMeer decided that she'd become an English professor.
She enrolled at Macalester because she wanted a liberal arts experience in a culturally diverse setting. She majored in English with, not surprisingly, a specialization in creative writing, but then fate intervened.
After graduation, she took a job at the electronics retailer GameStop in Irvine, Calif. She met game developers from nearby firms who came into the store on their lunch hour. After VanderMeer served as a panelist on a "sci-fi/fantasy/geek convention" at the University of California–Irvine, the roommate of a friend who worked at video game developer Papaya Studio approached her and asked if she'd be interested in writing for the company.
It turned out the writing was more in the public relations vein. But company leaders did say she could write a game story—Taxi Driver, designed as a "sequel" to the film of the same name.
She jumped at the opportunity, and then joined Obsidian Entertainment in 2006, helping to create the Dungeons & Dragons property Neverwinter Nights 2. After working on both big-budget "AAA" games, including Destiny and Guild Wars 2, and small-team indie titles, she was hired as narrative lead at Digimancy in August.
While nearly half of all US gamers are women, only a quarter of game developers are women, according to the market research firm NPD Group. VanderMeer says it's difficult for women, including herself, to advance into senior roles, attributing this to the industry's having long been male dominated and a continuing perception that women aren't good with tech that has carried over into games.
Throughout her career, VanderMeer has been encouraged by Stephanie Burt, who taught English at Macalester from 2000 to 2007, and advised VanderMeer's thesis on science fiction and fantasy. Burt is now a professor of English at Harvard. An award-winning poet, Burt says it's her former protégé who has given her a lesson in storytelling.
In the fantastical world of video games, VanderMeer has figured out new ways to address character and emotion, Burt says.
"How are the emotional possibilities for a character different because they can commune with cats, or merge with a laser-guided robot, or turn into a cloud?" Burt asks. "Annie is just so good at thinking about things like that."
VanderMeer tells students who are interested in gaming to focus on what excites them. "Even though I loved taking English courses at Mac, I deeply appreciated exploring other subjects. Game development is home to so many roles and disciplines—having a diversity of learning experiences helps."
While some players have questioned what Unpacking is all about, VanderMeer has her own reasons for enjoying the game.
"It's profoundly satisfying to open boxes and put things away—it's a weird primal thing," she says. "It's hard to not feel close to somebody when you've put away their underwear."
Andrew Faught is a freelance writer based in Fresno, Calif.