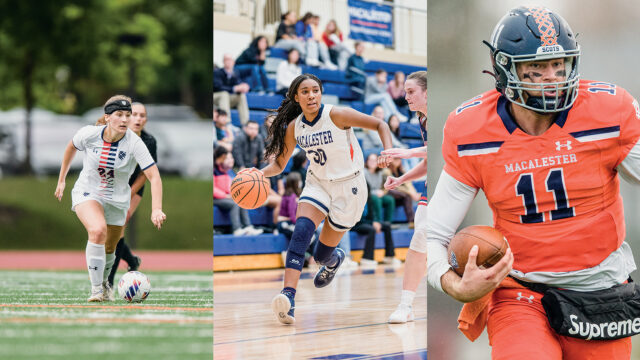 1. The men's and women's soccer teams both made the MIAC playoffs.
2. The women's volleyball team had its second winning season in a row.
3. Both the men's and the women's cross-country teams finished fourth in the MIAC (the best finish for men in nearly twenty years and the best finish for women in nine years).
4. The football team ended its season with three straight wins to finish 5-5 on the season.
5. Every fall team had a better record than last year and no team finished below .500.
6. Men's basketball forward Badou Ba '25 (Dakar, Senegal), a recipient of four MIAC Defensive Player of the Week awards, was featured in a January Star Tribune story.
7. Sophomore guard/forward Peyton Starks '25 (Ellisville, Mo.) was named MIAC Offensive Player of the Week for women's basketball on Jan. 9 after scoring 25 and 30 points in victories over St. Olaf and St. Scholastica, respectively.