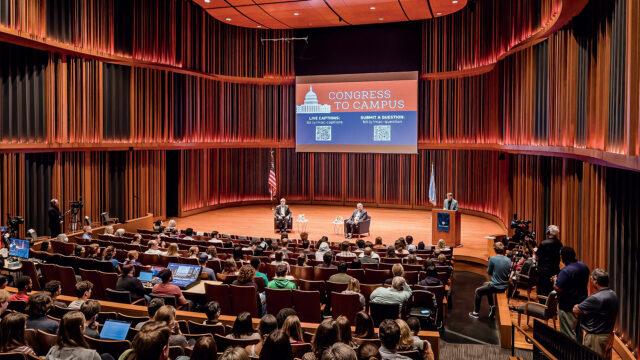 By Laura Billings Coleman / Photos by David J. Turner
Sam Coppersmith is a former Democratic congressman from Phoenix, Arizona, who served one term from 1993 to 1995, as he sometimes jokes, during "the height of the fax machine" era. Dennis Ross, a Republican from Lakeland, Florida, spent four terms in Congress, first landing in D.C. with the 2010 midterm Tea Party sweep. A quick glance at their legislative biographies might suggest the two former lawmakers share little common ground: Coppersmith has been honored as a champion of Planned Parenthood; Ross earned an A- rating from the National Rifle Association. But on an October morning in Professor Duchess Harris's American studies senior seminar, the pair sat side by side, fielding students' questions, and finding occasional points of agreement.
Both know the challenges of campaigning and navigating demanding congressional responsibilities. Both have tried to serve constituents who voted against them. And both are worried that in an era of unprecedented political polarization, the next generation may not be learning to engage effectively with opposing opinions—a skill essential for the continuation of democracy.
"I'm very concerned that my generation has done a significant disservice to your generation for not teaching you the significant requirement that you be involved in the process of self-government," Ross had explained to an audience of Macalester students and faculty gathered the day before in Mairs Concert Hall to hear the former members of Congress discuss the Supreme Court's June Dobbs v. Jackson Women's Health Organization decision, which overturned the constitutional right to abortion.
"What brought us here," Coppersmith said from the stage, "is the idea that we can dialogue. What we hope to do here is show that one, we can disagree in ways that maybe are productive for ourselves and for you, and second is, even though we're going to walk away and still be 180 degrees from each other, maybe we can tease out something where we can agree, for the good of the country to move forward."
Ross and Coppersmith visited Macalester through Congress to Campus, which aims to teach students to understand how politically charged topics look from both sides of the aisle. The initiative is the flagship program of the Association of Former Members of Congress, an alliance of 800 former US senators and representatives. For the past forty years, the organization has been sending Republican and Democrat former lawmakers like Ross and Coppersmith to more than 140 colleges and universities, modeling the importance of bipartisan dialogue through classroom visits and conversational forums. This fall, with financial support from two Mac alums, Macalester began a partnership with Congress to Campus that will bring new speakers to the college for the next four years.
But the program is just one part of a growing conversation taking place at Macalester and at many other liberal arts colleges, exploring what higher education can do to help ease the fierce partisanship of the moment, and to create a campus culture that makes room for free speech and a full range of perspectives. "Around here, we sometimes refer to the 'Mac Bubble,'" political science professor Andrew Latham says about Mac's tight-knit campus, and typically progressive student body. While topics like solving systemic racism, protecting abortion rights, and staging an urgent response to the climate crisis may rank highly on the political agenda for the strong majority of Macalester students, the general population students will encounter after they graduate may hold vastly different viewpoints. "That's why a liberal arts education has to prepare students for the world they actually belong to and inhabit," Latham says. "The 'Mac Bubble' is not the same as the real world, so these kinds of experiences can help us to accomplish our mission, part of which is to prepare students for lives of political and civic engagement beyond this campus."
Breaking out of the bubble
Macalester has long had a reputation for left-leaning politics. It's an identity that also tends to reinforce itself in the admissions process. "If you take it back to the anti-Vietnam protests, Macalester is known for a certain political sensibility that attracts certain high school students to apply," says Harris. "It would be fair to say that Macalester's student body is disproportionate ideologically, but that's coming out of a history that tells [progressive] students they might be a good fit."
For nearly a decade, Latham has been teaching a class on conservative politics—but with few actual conservatives in attendance. "There are always a few who will come into my office, close the door, and confess," he says with a chuckle, "but generally the class is filled with liberal students who are hungry to understand how the other side thinks." Student-led GOP and conservative student groups have struggled to find their footing and new members in recent years, leading to complaints from some alums and right-wing media figures that Macalester has become a "monoculture."
But today's college students as a whole lean leftward. Although 28 percent of the general population identifies as liberal, 50 percent of college students call themselves liberals, outnumbering both conservatives and moderates by two to one, according to the 2020 College Free Speech Rankings from RealClearEducation, the survey firm College Pulse, and the Foundation for Individual Rights and Expression. At selective colleges like Macalester, those rates are even greater.
In fact, higher education itself has become a source of division among American voters, with white college-educated voters giving increasingly strong majorities to Democrats, as Republicans attract growing numbers of white voters without a degree. A recent poll for NBC News found that 46 percent of rising sophomores wouldn't want to room with someone who supported the opposing candidate in the 2020 election.
For many students, the freedom to explore a more progressive worldview can be a major draw. "Politics weren't the main factor in choosing Macalester, but I was definitely interested in breaking out of the conservative area where I'm from, and into a more progressive, liberal environment," says Emma Kopplin '24 (Redfield, S.D.). Starting with a first-year seminar in American studies taught by Duchess Harris, "I got the chance to have a lot of conversations I hadn't had before, and to take some missteps and to understand my own biases. I'm glad I had the space to have those kinds of experiences."
But there are times, she adds, when the pressure to agree with prevailing views infringes on free speech. "There are some conversations at Macalester that tend to get shut down, or people maybe don't say the things they're thinking because they're afraid of getting 'canceled,'" Kopplin says.
'More speech—not less—is vital to learning'
As she wrote in a recent column for this magazine, President Suzanne Rivera believes that "More speech—not less—is vital to learning."
That was the vision behind the Congress to Campus partnership. Macalester trustee emeritus Peter Fenn '70 P'05, who has spent his career in government and politics, recommended the three-day program to Rivera. "I've worked with Congress to Campus for some time," he says, "and it's important that students have access to those who are in the arena, and can have a civil dialogue—disagree without being disagreeable—about the issues facing the country and the world."
Latham and Harris eagerly agreed to initiate the program last spring in time for a fall 2022 campus visit. While the Association of Former Members of Congress selects the members it will send to campus, each college chooses its own discussion topic. Latham and Harris chose reproductive rights, a topic that would be relevant to college students (a 2022 BestColleges study found that two-thirds of current college students want to live and work in a state where access is legal). "But this program was put in motion pre-Dobbs," Harris said before the event. "Before we knew there would be a Supreme Court ruling, this seemed like it would be fascinating and timely. But now that we're here, I can't predict how students are going to react."
The announcement of the Congress to Campus event stirred immediate controversy. A student group met with administrators to voice concerns about the lack of student involvement in the event's planning, format, and execution. "For me it was an example of not practicing the inclusivity the college claims to value," says Bea Green '22 (Orford, N.H.), an anthropology major. "The college needs to invite more student perspectives into the creation of these events." An op-ed from Mac Weekly editor-in-chief Kamini Ramakrishna '24 (Rochester, Minn.) argued that, "Access to reproductive health care is a real and pressing issue for many Macalester students, and seeing this access debated on a public stage is guaranteed to be traumatizing for such students." More than fifty students with protest signs gathered outside the Mairs Concert Hall prior to the event, and several more were escorted from the hall after interrupting opening remarks from former Congressman Ross.
The hour-long event was not a classic debate, but instead a question and answer session about how these two lawmakers arrived at their positions on the issue, and what they see as the future of privacy and reproductive rights.
Rivera opened the event: "It's inevitable that we will not always agree on every issue, and it's important that we learn how to engage across those differences, how to marshal courage to have tough conversations, how to extend and receive kindness, and how to be informed and engaged voters."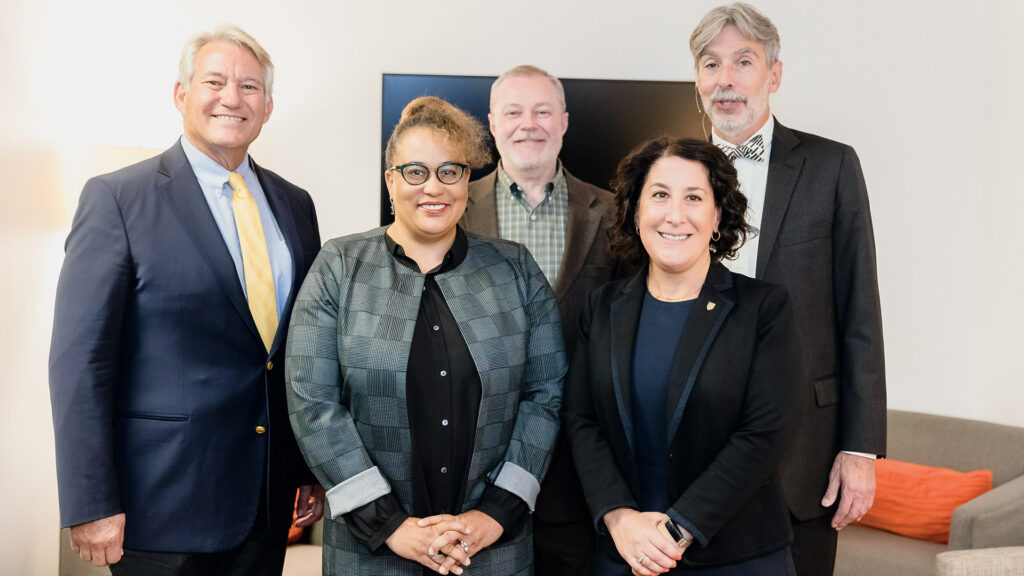 Sarah Beth Hobby '24 (South Pittsburg, Tenn.), Austin Wu '23 (Chaska, Minn.), and Gabe Karsh '25 (Evanston, Ill.), students from Macalester's forensics teams, posed questions to the two former congressmen, while Director of Forensics Beau Larsen helped to frame why free expression is critical, for both sides: "We have to know what the common arguments are, how they are formed, and why they hold appeal in order to invigorate change. In the world of forensics, we believe that dialogue is an essential means of democratic participation and that to be scholars, thinkers, teachers, lawyers, citizens, and neighbors, we cannot just know, we have to speak."
Students who attended the voluntary event expressed a wide range of opinions on the experience. "I think it was probably a mistake to make abortion the topic, because it's not that controversial on this campus," says Karsh, a member of the Policy Debate Team. "But it's still being talked about on campus, so if the goal was to start a conversation, I think it was successful."
Tara Weber '25 (Sun Prairie, Wis.) an American studies and Asian studies major, says that she appreciated the opportunity to hear how abortion rights opponents think and speak: "I surround myself with people who have the same worldview, and many are unwilling to listen to an opposing viewpoint. I don't think the goal is to empathize with the other side, but to understand what they're saying in order to counteract it." With abortion now effectively illegal in her home state, "You can't say that women's bodily autonomy is not up for debate—it shouldn't be, but it is."
Fenn says the dialogue made him "increasingly proud of the college. It took courage for Mac to choose such a controversial topic for the first forum, but we have always been a college that doesn't shrink from diversity and difference—we continually try and embrace a society that is inclusive, and accepting, and tolerant."
Latham and Harris say they hope they can build on the lessons learned during the inaugural Congress to Campus, invite more students into the planning process, and look for more ways to bring students into closer contact with challenging ideas, speakers, and topics. "There are relatively few in-built mechanisms that encourage students to get together and talk across differences," says Latham. Congress to Campus is just "the beginning of something, of building these kinds of moments into a general education program [that teaches] openness and engagement across these big and serious differences."
St. Paul writer Laura Billings Coleman is a frequent contributor to Macalester Today.