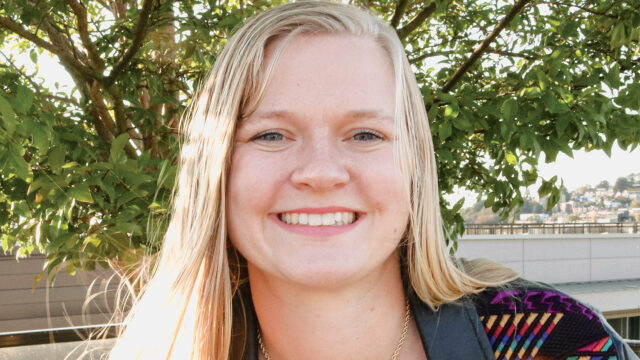 By Catherine Kane '26
Caroline Duncombe '18 watched many improv shows while at Macalester, but most of her time was spent in the Chemistry Department, where she completed her major and co-chaired the Women in STEM student organization. Before moving to Seattle to begin her PhD in pathobiology at the University of Washington, she heard about a science-themed improv show in New York City.
"I thought it was a great idea to combine science and comedy, but never had the talent to be able to perform myself," Duncombe says. "You have to think really fast."
After ruminating on the idea for years, she teamed up with a local improv troupe, Bandit Theater, to create a science-themed show. Her show, "Mad Science," invites Seattle-area scientists to give a short presentation on their work; then, the troupe riffs off the talk to create a twenty-minute set. "The scientists who participate love this unique opportunity to watch their work be interpreted by a professional improv team," Duncombe says.
Audience members also get a dose of education and fun. "It's actually a fantastic way to learn because the scientist has presented the concepts and then it's twisted and warped into improv in a very funny way," she says.
In her producer role for "Mad Science," she books researchers. In one show segment, for example, she invited an atmospheric scientist to explain clouds, and a technology expert to explain the cloud. Duncombe thinks of her audience as "people who listen to Radiolab," she says. "People who like learning, which I feel is a lot of people at Macalester, are the people who enjoy the show most."
Starting a PhD at University of Washington during the beginning of the pandemic, she realized her research has limitations if it can't be communicated effectively. Alongside her work on "Mad Science," her PhD program is part bench work and part public health, a dual focus that is aligned with Duncombe's interest in science communication.
"Learning the stories on how scientists do their work is just as important as learning about the answers they provide," she says.