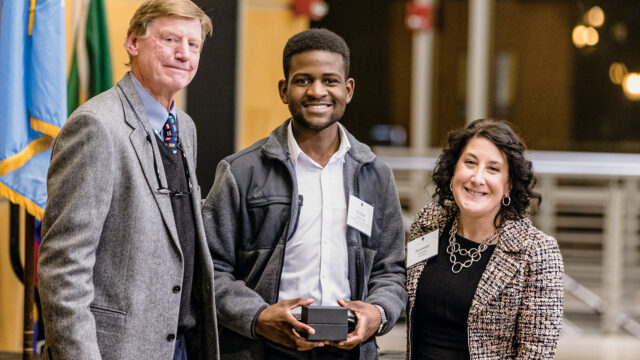 One of the things that most attracted me to Macalester was the college's deep and longstanding commitment to global citizenship. As a first-generation American, I was raised in an immigrant community, surrounded by people whose languages, stories, customs, and traditions added to the rich tapestry of my neighborhood. This formative experience led me to think of myself as a member of the world family, and to regard national borders as geopolitical constructs, not boundaries that determine the value or importance of people and cultures.
For decades, Macalester's emphasis on internationalism has been a differentiator among its peers. I've heard it in conversation with so many alumni: It's the major reason why you chose to join our community—and a major reason why your time on campus was transformative. For some, it was a life-changing study abroad experience. For others, it was having a roommate from another country. For others, volunteering at an organization in St. Paul that helps refugees adjust to their new lives in the US.
Compared to other colleges of similar size, we have long boasted a high percentage of international students, participation by a majority of our students in study away programs, meaningful engagement with local immigrant communities in the Twin Cities, and a tradition of excellence in research and scholarship that advances many disciplines under the broad umbrella of international studies. Ours was the first higher education institution in the US to fly the United Nations flag on campus. And it is a great source of pride that distinguished alumnus Kofi Annan '61, who was an international student at Mac, served as United Nations Secretary General.
Those commitments are not merely historical relics or legends of a bygone era. Every day, I see how internationalism is woven into our community in countless ways—and those values continue to be a differentiator for Macalester in today's higher education landscape.
It starts with our current students, who hold citizenship in ninety-six different countries, with an international cohort that's among the most diverse of any US college—including socioeconomically, because Macalester is one of few US higher education institutions that provides need-based financial aid to non-US citizens, and because of our extraordinary partnership with the Davis United World College (UWC) Scholars Program (read more about this program on page 6). In addition, our domestic students are increasingly diverse, with many being the children of immigrants.
It's also reflected in our faculty, many of whom were born and spent their formative years outside the US. They bring these perspectives to their scholarship, teaching, and advising, and to every aspect of our campus community.
It's threaded through the classroom experience, with an international general education requirement as one of our curriculum's building blocks, and numerous interdisciplinary concentrations with global foci, including African studies; community and global health; food, agriculture, and society; and international development. Our performing arts programs include ensembles in which students learn a broad range of world music and dance. Through campus traditions like the International Roundtable, scholars and community members engage in conversation with our students, faculty, and staff on some of the most complex global issues of our time.
Outside our classrooms, dozens of student organizations focus on international issues and cultural traditions. Off campus, groups of Mac students teach English to adult immigrants with Literacy Minnesota and CLUES, and they work with the Immigrant Law Center of Minnesota, The Advocates for Human Rights, the International Institute of Minnesota, and the Binger Center for New Americans.
And, over the past several months, I've gotten a firsthand understanding of how far this global focus extends. Last fall, I met with groups of alumni in London (home to the college's largest international alumni chapter), and I'm making plans for a trip to Asia later this year. Some of our most active international chapters include Cyprus (our first official international chapter), Singapore, and Shanghai. These chapters and others have met with Mac faculty abroad, welcomed visiting Mac students in study away programs, hosted "Mac in Your City" events, and stayed connected with active group chats on platforms like WeChat and WhatsApp.
As we developed our recently approved strategic plan, Imagine, Macalester, we heard from every constituency of the college that we must continue to emphasize internationalism as a priority. It distinguishes us among small liberal arts colleges and it is an important part of our campus culture. Accordingly, the plan includes a charge to amplify our emphasis on citizenship within the wider world. Internationalism has not only been one of the college's core values throughout its history—it is a cherished commitment that is key to Macalester's future.
Our commitment to internationalism and global citizenship is as important and essential now as it ever has been. The world needs the kinds of leaders Mac produces: people who are deeply committed to work across national borders, personal differences, and ideological divides to create the world we want to see.
Dr. Suzanne M. Rivera is president of Macalester College.