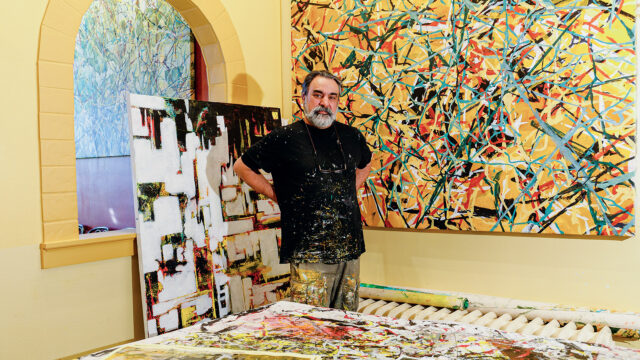 By Kate Norlander '91 / Photo by Jack Mader
Having filled his life with family, friends, art, music, and good food, Emel Sherzad '89 calls himself "one of the luckiest human beings on this planet. There is so much good in this world. I am lucky to be able to taste it."
Growing up in Afghanistan, Sherzad was raised to value art and music, especially the masterful improvisation of jazz, Indian classical music, and abstract expressionist paintings.
Spending seven months as a political prisoner led him to embrace improvisation as a way of life.
As a teenager, Sherzad dreamed of studying art in Paris or Rome. Then came the Communist coup of April 1978. "Some members of my family were executed. The rest of us became political prisoners," he said. "That affected me. I thought, 'Don't make plans. They don't work.'"
During his time in prison, Sherzad leaned on art and music to help him make it through the days. He smuggled a pen into the prison with him—writing utensils, books, and paper were not allowed—and then used his father's empty cigarette packs and cartons as paper. He drew on the cartons and wrote on the packs. "I wanted to write the names of all the musicians I knew because if and when I ever got out, I would seek them out and see what they had done."
In exile
After he was released from prison at age seventeen, Sherzad was forced into exile, which led him to Switzerland, where he finished high school with an emphasis in modern languages: French, Italian, English, and Spanish. After high school he immigrated to the United States. One of his maternal uncles, who split his time between California and Minnesota, invited him to spend Christmas in Minnesota and encouraged him to visit the local colleges. At Macalester, he met with Jimm Crowder, then associate director of international admissions, who offered him a scholarship. He enrolled the following fall. After taking a class in Spanish literature, he decided to study Spanish and Portuguese, but he didn't discard his dream of studying art. He took a studio art class every semester.
Sherzad's dedication to regularly creating art continues. His paintings decorated the walls of Khyber Pass Café, a restaurant a block away from Macalester, which he co-owned with his wife, Masooda. During the pandemic, the couple closed the restaurant's dining room, offering takeout orders only for more than two years.
Sherzad saw an opportunity. Covering the restaurant's floor in plastic, he brought all of the tables together to create a large work surface for painting. "It was a moment of growth," he said. "Most of the time my work has no plan. If I do something that I like, usually I don't know how it happened. But this time, I explored one technique. I'm not using it exclusively, but I've made it mine."
In November, the couple announced on Facebook that they had closed the restaurant, a St. Paul fixture for thirty-seven years that introduced the Mac community and the Twin Cities to Afghani cuisine and culture. It was time to pass the baton to someone with more youthful energy.
'A little more sugar'
Before he became a co-owner of Khyber Pass, he was a customer. While at Macalester, he visited the restaurant, then located on St. Clair Avenue. Masooda, whose family owned the newly opened cafe, waited on him, and the pride with which she carried herself made him feel at home.
"I ordered some tea and asked for some sugar. She brought me some, and I asked, nicely, 'Can I have a little more sugar?' And she just gave me this look, like, 'Who do you think you are?' I thought, 'Yes, this is a real Afghan. No schmoozing at all.' I loved it."
Soon he began working there and became acquainted with Masooda's family. After graduating, he moved to Washington, D.C., to study French, Spanish, and linguistics, but he later returned to St. Paul to marry Masooda. When she bought the restaurant from her family, Sherzad joined her in running it. They moved the restaurant to its Grand Avenue location in 2002.
The couple divided their work according to their strengths. Masooda handled the organizational details and did most of the cooking. While Sherzad also cooked, he spent most of his time in the front of the house.
"It's funny, because growing up I was really more of an introvert," he said. "The atmosphere at Macalester did something to me. I became more sociable. I fit right in with the many misfits." Welcoming guests to Khyber Pass felt natural to him. "It was a pleasure and a privilege to welcome people to the restaurant. The people who came were the kind of people I would invite to my home, and the restaurant was like an extension of my home."
Jazz conspiracist
For eleven years, until the pandemic closed its dining area, the restaurant had a tradition of Thursday night concerts. Although his only formal training in music was some sitar instruction while he was growing up, Sherzad enjoys collecting musical instruments and improvising with other musicians.
His musical knowledge led to his long-running radio show, International Jazz Conspiracy, on KFAI, a noncommercial FM station in the Twin Cities. The show has been on the air under different names for more than twenty-eight years. Sherzad describes it as "the conspiracy of winning hearts and minds, making political borders meaningless through the cross-cultural exchange that happens through music, especially jazz."
While their restaurant has closed, Sherzad and his wife are working as partners with new co-owners, who are using the space for a cocktail lounge and restaurant. This new concept will include an occasional Afghani pop-up and will feature Sherzad's paintings as part of the décor. He also will continue to paint and host his radio show. As for what's next? He'll improvise.
Kate Norlander '91 is a writer and a marketing professional in higher education.