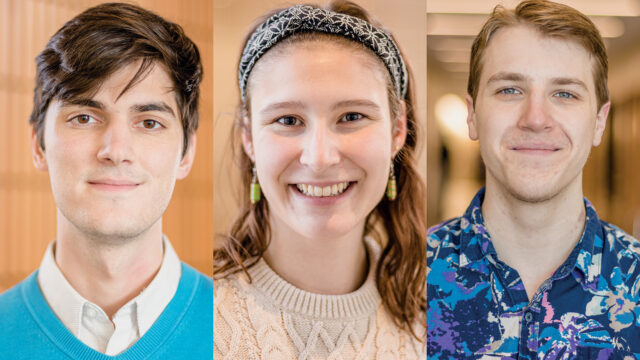 By Talia Bank '23 / Photos by David J. Turner
As part of the Unfiltered project, we asked a group of Macalester students the same five questions every semester, beginning in fall 2019, following along on their college journey.
What class are you most excited about right now?
What's one recent triumph (large or small!)?
What have you learned lately?
What do you wish you had known six months ago?
What's one thing you want to do in the next six months?
College is often a time of change and growth. New challenges, triumphs, and experiences both inside and outside the classroom influence how we see the world and live our lives. Unfiltered is an effort to capture a snapshot of that transformation.
This spring, our first Unfiltered cohort is graduating. We asked them how they have changed throughout their time at Mac, and what it was like to look back at their responses.
For Ross Relic '23, a physics and music double major from Crystal Lake, Ill., Unfiltered serves as a time capsule of sorts. Some goals, like composing new music and spending time with friends, show up time and time again in his responses. But he also mentions reaching new milestones and taking time to recognize his needs as a college student. From mental health awareness to dating, a social media hiatus, and weight loss, Relic has been candid about the highs and lows.
"A lot of people deal with that stuff. In my mind there's no reason to not be vulnerable and talk about those sorts of things," Relic says. "Another motivating factor is it's just not interesting if it's not vulnerable and true to your life. There's just not much substance otherwise."
Hannah Scharrer '23, an international studies and Latin American studies double major from Tacoma, Wash., thinks of Unfiltered as an exercise in reflection. Especially during her sophomore year, with classes taught virtually due to the COVID-19 pandemic, it encouraged Scharrer to identify some positives and explore what she truly values.
"It was definitely hard answering those questions during sophomore year, but I think it also helped me reflect on what I am actually excited about and sort of pulled me out of despair," says Scharrer. "It's just really nice to have this method to make you take stock of what has been changing or what has been constant in my life and what I'm enjoying and what I'm not."
Carter Rutherford '23, a geography and Asian studies double major from Alexandria, Va. and Santiago, Chile, likewise appreciates the ability to contemplate a challenging time in his life and ponder the takeaways of his college experience as a whole.
"It seemed like a great way to reflect on my college experience as it was happening," he says. "I never imagined the pandemic would happen, and having this small record of what was on my mind as I navigated college and life over the past few years has been really helpful. I would give myself a warning: college is going to be more challenging than you could possibly imagine. Keep being yourself, show yourself lots of compassion, and continue to be curious and adventurous no matter what."
Inspired by looking back over her time at Macalester, Scharrer also gave the following advice to her first-year self, and others embarking on their college journey:
"This is an exciting time of your life. Just throw yourself into whatever you want; Be liberal arts. I took a statistics class my freshman semester and I loved it, though I was not planning on being a statistics minor," says Scharrer. "Don't force yourself to do everything, but try to get to know yourself and other people and get to know what you like to do. Exploration is the best way to achieve that. And if you don't have the answers, that's fine."
Read some of the responses from our Unfiltered students' journeys as they navigated college and lived and studied through a global pandemic. Look for their final Unfiltered responses in May.
Talia Bank '23 is a political science, legal studies, and Spanish major at Macalester.