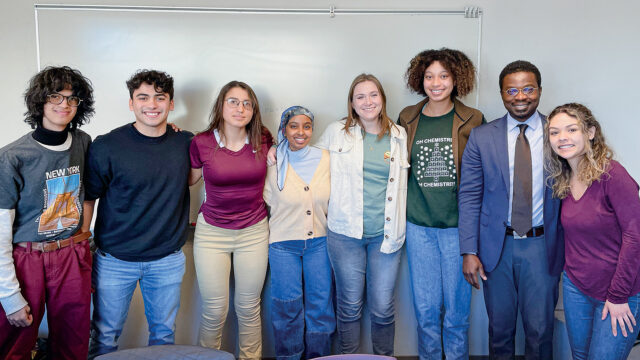 By Catherine Kane '26
Richmond Sarpong came to Macalester from Botswana in 1991 on a pre-medicine track. That didn't last long.
"I fell in love with chemistry," he says.
Sarpong switched his major to chemistry and continued down that path, taking a particular interest in organic chemistry. Now a chemistry professor at the University of California–Berkeley, Sarpong came back to campus in February to reflect on his journey and current work with a lecture made possible by a Jean Dreyfus Lectureship for Undergraduate Institutions grant.
He spoke about his upbringing, time at Macalester, and scholarship at UC–Berkeley, particularly his research into creating less addictive painkillers using compounds inspired by others found in the natural world, to a packed audience in Kagin Ballroom.
At Berkeley, his lab conducts research on natural compounds that can be used in drug development. "The research we do is focused on how we can improve the way in which we make medicines," Sarpong says. "About 50 percent of medicines are inspired by natural products, which are chemical compounds that are found in nature."
Sarpong's fascination with medicine, and later using chemistry to improve health outcomes, comes from his childhood in Sub-Saharan Africa. He saw the impact of Ivermectin, an antiparasitic drug, on communities he was living in to treat river blindness. Coming to Macalester, he learned how such drugs are made using chemical processes.
"To me, molecules are like architectural masterpieces," he says.
With a newfound passion for organic chemistry, Sarpong continued on to Princeton where he earned a PhD in organic chemistry and became a professor at UC–Berkeley in 2004. Sarpong said his time at Macalester uniquely prepared him to enter the world of research.
"Macalester provided me with a personal infrastructure to learn how to learn," he says. "It also gave me this appreciation for diversity, internationalism, and having a global mindset, which I think has been important in my role as a chemistry professor. Macalester gave me the ability to engage, interact, and find common ground with people from all sorts of different cultures and countries."
His two days on campus were funded by a grant the Chemistry Department received from the Camille and Henry Dreyfus Foundation. The grant provides funding to host a speaker and support two undergraduates in summer research.
During his visit, he reflected on the promise of the students he met: "The future passes squarely through Macalester."