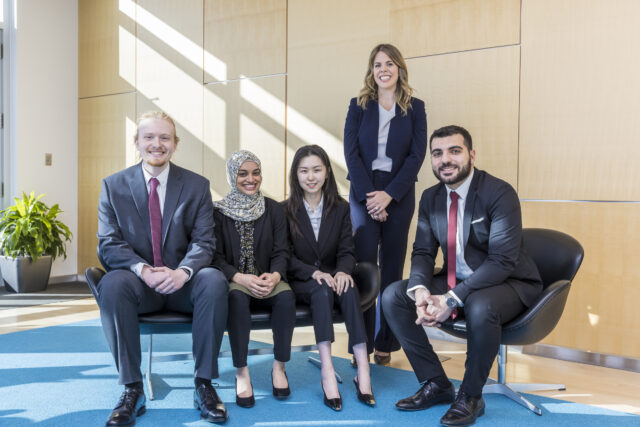 "There's no answers in the back of the book, no one right way to do it. We could give the same project to five different teams and probably come up with five different sets of recommendations and ideas. It requires a lot of creativity." —Professor Elizabeth Jansen
Compassionate and committed are the two words Danielle Assie used to describe the Macalester team that the University of St. Thomas MBA student advised over the four months of rigorous teamwork, comprehensive research, and experiential learning that comprises the Innovation Scholars program.
The program presents teams of four from twelve private Minnesota colleges and universities with a unique project, challenge, dilemma, or idea in early stages of development from Mayo Clinic or biomedical companies affiliated with Medical Alley. The teams, led by a graduate student from a different college and guided by campus and faculty mentors, are tasked with exploring the potentials of the project and providing a recommendation to the client of how to move forward. 
"It's a really exciting, hard program with a lot of real-world components to it," says Professor Liz Jansen, Innovation Scholars academic program director and one of the Mac team's faculty mentors, along with economics professors Felix Friedt and Peter Ferderer, Director of Entrepreneurship and Innovation Jody Emmings, and biology professor Elena Tonc. "There's no answers in the back of the book, no one right way to do it. We could give the same project to five different teams and probably come up with five different sets of recommendations and ideas. It requires a lot of creativity."
By the culminating presentation in February, a thirty-minute PowerPoint summary might seem like an afterthought—one last box to check. But distilling a forty-page research paper and presenting to an audience with varying levels of familiarity with the industry—except the experts, who are catching every potential inaccuracy—poses yet another daunting challenge, Jansen says.
"It's intimidating for students to make recommendations in front of the inventors, the company, scientists, and other college groups," says Jansen. "But that's the real magic of the program—translating so everyone can understand what we're talking about. That's what informed citizenry is all about." 
The Macalester team—Hufsa Ahmed '24 (economics and political science), Bella Ding '23 (biology and applied mathematics and statistics), Oliver Lagasse '24 (biology), and Elie Rizk '24 (economics and data science)—was paired with MarPam Pharma, an early-stage medical company affiliated with Medical Alley, and tackled a challenging biomedical tech transfer project focused on a novel treatment for HIV.
The interdisciplinary exchange required is one of the reasons Jansen has been involved since the program's inception. For her, it showcases just how holistic and expansive a liberal arts education can be. 
"Sometimes people think your best folks in any kind of IT or engineering or biomedical technology come from these large research universities. But the truth is, there's plenty of great stuff coming out of the liberal arts schools in those exact same spaces," she says. 
"The program fits the liberal arts and the Macalester student so well because of the multiple dimensions to it. It gives them a lot to chew on, to work with, and they're well-suited to it. They're comfortable traversing traditional disciplinary boundaries. It boils down to critical thinking, deep analysis, and thorough research. And that's the liberal arts education. That's what these students are really capable of doing."
We interviewed each member of the team to tell us more about—in Bella Ding's words—the "eye-opening, inspirational, rewarding, and challenging experience." 
How would you describe your Innovation Scholars experience? 
Bella Ding (Wuxi, Jiangsu): It is definitely one of the best experiences I've had at Mac.
Oliver Lagasse (Oberlin, Ohio): It was challenging for sure, in a good way—the perfect amount of extra work, but it was fun to do. It was a great experience to wrap my mind around something that was complex and mentally stimulating.
Hufsa Ahmed (St. Paul): It was different than anything else I've participated in before. It was one of the first times I really had the chance to integrate and apply knowledge from both of my majors, and take my learning outside of the classroom in a way that felt super impactful. Being able to engage in a project that did not have a clear-cut deliverable—like an assignment or a project where you know what the expectations are—was not a setting I had been in before. It required us to get out of our comfort zones, try something new, and really rely on one another. It really opened my eyes to things I could be doing post-graduation. 
Elie Rizk (Daroun, Keserwan): When we first met in November, I didn't know any of my teammates, so I was kind of nervous. But I felt like they became my best friends by the end of the program, when we had to meet four or five times a week. They had to accommodate me being in Lebanon during winter break, so they had to wake up early and I had to stay up late so we could work at the same time. I felt like we had a great bond as a team. The program itself offered me a new horizon in terms of careers, since it was related to the medical field and health care. Those are two fields that I'd never actually introduced myself to and I'd never thought about working in. 
What was your favorite part of the project?
Bella: Talking to people related to health care and asking them questions. Working as a team of college students sometimes keeps us in a bubble, and thanks to the many opportunities our team lead worked to get us, we had the chance to break out of that and see what it's like to work with people with HIV, how drug prices work, what ethics should be considered, etc. 
Hufsa: Being able to work within disciplines that I haven't had the chance to experience in my college journey so far was exciting and rewarding. Throughout middle and high school I was always interested in biology and science, but had decided that wasn't what I wanted to do in college. It was the coolest opportunity to engage with and learn from other science students and mentors and do research about something that I haven't had the chance to dig into since high school. It made me remember how much I enjoy that area of learning.
Oliver: I learned so much about the intricacies of our healthcare system, and diving into the economics of it was really interesting. In the weeks leading up to that final presentation, when we were editing our paper and giving our practice talks to our mentors, we were like, "Wow. We actually came a long way." Day in, day out, we never really realized how much progress we were making until we got to those practice presentations. They were rough at first, but we worked on it and it was really satisfying to see it all come together at the final presentation. 
Elie: Presentation day—that was a really perfect day. The lead-up to it ever since winter break, constant meetings, constant working on the paper, on the presentation—we kind of got stuck just finishing the project. We didn't know how it was going to impact the company or the program itself. So on presentation day we went there wearing suits and looking nice, but actually very nervous. And then we went up to present and everybody had great feedback for us, like "Congratulations, you over-delivered!" MarPam's co-founders Maria Athanasiou and Pam Skinner were on Zoom during the presentation, and said she was moved to tears by the powerful stories of people living with HIV. That really struck me and made us all feel good, like "Wow, the past four months actually meant something."
Has this experience impacted your future plans?
Bella: As a person who wants to go into health care, I mainly focused on the biology side of medicine in the past. But this experience opened my eyes and showed me the importance of economics in the actual practice of medicine. Now, I am very interested in the interdisciplinary topic and hope to learn more in the future.
Oliver: I still plan to go to med school, and this definitely reinforced my passion for medicine. I really love being able to help people with these new treatments. But seeing the more business side of it opened my eyes to other avenues within the field that are not necessarily as a provider. Now I would be open to more administrative or clinical research roles. 
Hufsa: It solidified my interest in my current majors, economics and political science. I really like the intersection, and Innovation Scholars demonstrated that I can apply my economics skills to big questions and big problems that have the potential to really impact people. I hope to lead a purposeful career and better my community and the greater world, so knowing that I can apply my economics knowledge in a way that feels fulfilling and impactful is exciting.
Elie: It definitely changed my perspective. Before, whenever I saw a medical company job or internship opportunity, I wouldn't even read it. But now I'm open to working at a medical company in the future, because I found out that it's actually more fun, more entertaining than I thought. There's more to it than just solving equations, making models, crunching numbers. It's actually learning about stuff that will save people's lives and impact millions of people.
What's something you learned from this program? 
Bella: One key thing is how to work as a team on a project bigger than a classroom project. The project we were given was unique—we didn't have many instructions, just some basic background information and a general title, which gave us lots of freedom but also posed the threat of too many directions and time management. I've learned different strategies that can better facilitate teamwork and project progression in general.
Oliver: I definitely learned about teamwork, which is something I've done a million times before, but this was different because it had higher stakes. And with that came organization and time management. We were all very busy people, but once we hit that groove, we were like a well-oiled machine. Being able to overcome challenges together was super helpful.
Hufsa: The team aspect—I'm an independent worker, so this pushed me to see the value of working in multidisciplinary teams and putting a bunch of brains together to come up with something way better than I could have on my own. There were plenty of times in the project where we were completely stuck and had to lean upon each other to come up with solutions and find a way forward.
Elie: That you don't know everything! And to ask for feedback. I don't think we would've been able to finish as strong as we did if we were not receptive to good feedback and constantly listening to people who are experts in this subject matter. Teamwork, listening, and being open-minded took us a long way and helped us deliver a great project.