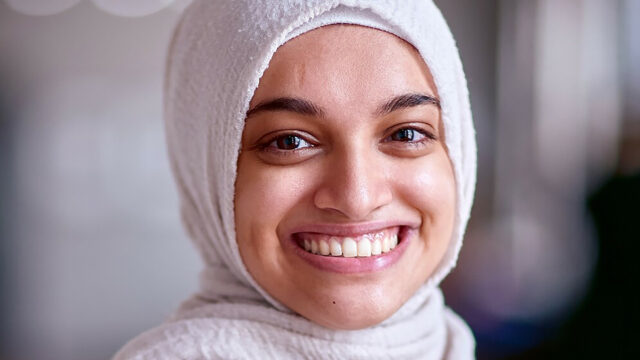 Macalester junior Hufsa Ahmed '24 is one of 12 students from across the country to be selected for a Frederick Douglass Global Fellowship. The program offers opportunities for student leaders of color to study social justice leadership across the globe. The cohort will travel to Washington D.C., Cape Town, and Ireland in July and August to learn about the legacies of social justice figures such as Nelson Mandela, Daniel O'Connell, and Frederick Douglass. 
"I'm most excited to explore Cape Town," Ahmed said. "Nelson Mandela is someone I look up to because he had an incredible amount of patience in his work with social justice and committed his life to it. I'm really excited to be able to go there and learn about Mandela and this country so far away from where I've grown up." 
The Council on International Educational Exchange (CIEE) launched the fellowship in 2017 with a goal to increase study-abroad opportunities for underrepresented communities. The Government of Ireland will co-sponsor the 2023 Frederick Douglass Global Fellows in honor of the meeting between 27-year-old abolitionist Frederick Douglass and the great Irish reformer Daniel O'Connell in Dublin in 1845—an experience that expanded Douglass' view of social injustice and influenced his style of agitating for positive change through nonviolent social and political efforts in the United States.
"I think my approach to college and life in general is to take advantage of opportunities I see. I'm really big into experiential learning and doing things that are different than what I've done before, so as someone who hasn't studied away or spent any time learning outside of Minnesota, I thought this was a really cool opportunity to learn outside of the community that I've grown up in," Ahmed said. 
According to the CIEE, Ahmed was selected because of her academic excellence, communication skills, and commitment to social justice. Ahmed was an intern for the Governor of Minnesota and a Chuck Green Civic Engagement Fellow. She is also a member of the Muslim Student Association board and has lobbied for climate justice in the Minnesota state legislature.
As a political science and economics double major, Ahmed is looking towards working in public policy advising in her post-graduate career, for which Macalester and the fellowship will help prepare her.  
"Macalester's focus on both a global education but also an interdisciplinary education has prepared me for the fellowship. I was grappling with the idea of whether I wanted to spend my summer doing a program that doesn't necessarily give me hard, technical skills, and instead focuses on soft skills," Ahmed said. "I came to realize that whether it's communication, leadership, or learning about other cultures, these are still equally important skills."
Ahmed said she has thought about policy mostly from a very U.S.-centric perspective, so being given the chance to learn how policy changes were pushed in other parts of the world is very exciting. 
"I've spent a lot of college doing community organizing, political work, volunteering, and being really integrated within my community. It will be really cool to learn about how people and movements in different countries have achieved social justice," she said. "And the skills and information that have been successful in the past are going to be helpful for me as I try to apply them to my own work."