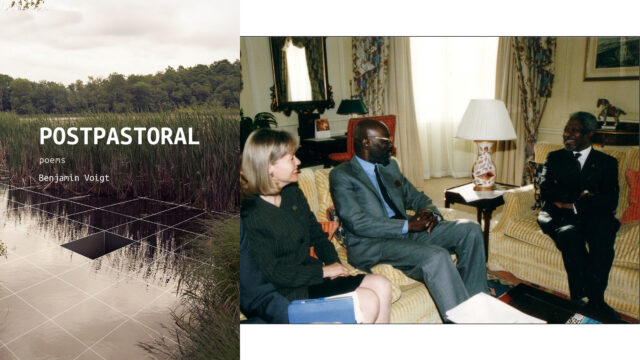 Maccolades is a monthly round-up of the most recent accolades and accomplishments earned by members of the Macalester community. Below are highlights from April 2023. 
Research that strikes a chord
Macalester graduate Shana Redmond '02, professor of English and comparative literature at Columbia University, received a 2023 John Simon Guggenheim Memorial Fellowship for music research. Intended for mid-career individuals who have demonstrated exceptional capacity for productive scholarship or exceptional creative ability in the arts, the fellowships are awarded through an annual competition in the U.S. and Canada. Out of almost 2,500 applicants, 171 fellowships were awarded. Redmond is a writer and interdisciplinary scholar of race, culture, and power. She will work on a monograph, Dark Prelude: Black Life Before Mourning, which offers a cultural theory of Black listening and life in advance of the fatal execution of no-knock warrants and traffic stops. 
Joining forces for a greener tomorrow
The Minnesota Pollution Control Agency selected Macalester as a host site for a Minnesota GreenCorps member. Over the next year, the member will work full time with the Sustainability Office and departments throughout campus to help advance Macalester's zero-waste goals. Projects will focus on zero-waste education, the Mac Free Swap, food waste and food security. Graduating seniors also could apply for Minnesota GreenCorps and collaborate with Macalester or another organization in Minnesota working to advance sustainability goals. 
A tech-savvy wordsmith
Ben Voigt '10, an academic information associate at Macalester, was awarded the inaugural Poetry.onl Chapbook Fellowship, which includes publication of a chapbook. "It's been a joy and an honor to find a home for my work that really understands and affirms what I'm up to," he said. 
The poems in his chapbook, Postpastoral, wrestle with how technology (from Facebook to farm equipment) not only shapes our everyday experiences in the 21st century, but connects us intimately to the violence of global capitalism. "We have to ask: What's the cost of these digital escapes?" Voigt said. "The long poem from my chapbook is an elegy for Xu Lizhi, a poet who wrote about life in a Foxconn factory in China, and eventually committed suicide. Is all my scrolling on the other side of the world partly responsible for his death? To me, that's an open question."
Charting a course for human rights
Stephanie Farrior '75 was one of two recipients of the inaugural Proven Pioneers award from the nongovernmental organization, Human Rights First. Farrior was a keynote speaker at the organization's Women's History Month event in New York City. The Emerging Leaders Advisory Board recognized Farrior for her work on women's human rights and human rights more broadly.
"I am continually inspired by the energy, creativity and passion of young people who are engaged in human rights advocacy, so it was especially meaningful for me to have been chosen by Human Rights First's youth leadership for this award," Farrior said. "Whenever my human rights work is recognized, I feel Macalester is in the room and being honored with me. I am so proud of my alma mater for establishing the Kofi Annan Institute for Global Citizenship, with the many opportunities for engagement it provides for students. Small college, global impact!"
Driving the poetic conversation north of the border
English Professor Michael Prior was named the new editor of Véhicule Press's Signal Editions poetry imprint. As one of Canada's oldest and most venerable independent publishers, and one of the few that regularly publishes books in both English and French, Véhicule Press has been a literary home for some of the country's most well-regarded authors. Prof. Prior will oversee poetry book selection and editing at the press, while also mentoring new authors. 
"Véhicule has a long history of publishing exciting poetry, especially debuts," he said. "I see the role as a chance to help shape the literary conversation in Canada with an emphasis on diverse new voices, to foster literary community, and to add, in some small way, to the formidable legacy of the poetry imprint. I'm honored to be able to contribute to the press' legacy while also excited about the chance to guide its poetry imprint in new directions."
Chemistry grad takes national stage
Macalester graduate Kami Hull '03 was selected as a plenary session speaker for the National Organic Chemistry Symposium, held biennially by the American Chemical Society's Division of Organic Chemistry. "The NOS is a genuinely world-class event, and selection as an NOS speaker is a high honor, indeed, with only a select few organic chemists ever getting more than one invitation during their careers, however long and distinguished," said Macalester Chemistry Professor Ronald Brisbois. Hull worked with Prof. Brisbois as an undergraduate research student and now teaches chemistry at the University of Texas at Austin. 
Leading the way in statistics education
Daniel Kaplan, Dewitt Wallace Professor of Mathematics, Statistics, and Computer Science, was named a fellow of the American Statistical Association. Dr. Kaplan will be honored at an awards ceremony this summer at the Joint Statistical Meetings, an annual conference and the largest gathering of statisticians held in North America. The association praised Kaplan for his "profound contributions to statistics and data science education" and for "revolutionizing how students should be introduced to the field."
Learning to shape the future of higher education
Macalester Professors Andrea Kaston Tange (English) and Duchess Harris (American Studies) were selected as ACM Mellon Academic Leadership Fellows. Supported by a $1.5 million Mellon Foundation grant, this new program is meant to familiarize humanities faculty with top-level academic leadership by immersing them in upper-level academic administration. During the two-year term, fellows will lead projects and contribute to senior leadership discussions, while receiving a stipend, reduced teaching load, mentorship, and leadership development workshops. 
"Now more than ever, colleges need strong academic leaders who can think strategically and apply an equity lens to their work. The ACM Mellon Academic Leadership Fellows program will help Macalester and other ACM member institutions build and support a cohort of faculty who are well prepared to lead on new and emerging challenges facing our campus communities," said Macalester President Suzanne Rivera.
How to be considered for future Maccolades
If you or someone you know recently earned an award, fellowship, or honor and would like it to be considered for inclusion in next month's Maccolades, please let Communications & Marketing know by filling out this Maccolades form. For recent book publications, please use this book publication form.