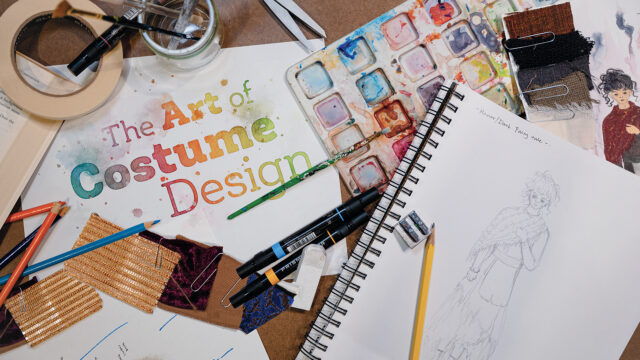 By Joe Linstroth / Photo by John Schoolmeesters
Note: The work pictured above is by Kitty Jiang '24 (Lacey, Wash.). The sketch and rendering are for the Character Design Project in which the students chose a short story and developed designs for a character in three drastically different styles. Kitty chose "Hansel and Gretel" and one of her concepts was designing Gretel's costume in the style of a horror movie/dark fairy tale.
In life, fashion choices can say a lot about who someone is, whether the choices are intentional or not. Onstage and onscreen, however, what the performers wear very intentionally conveys meaning. In fact, every button, boot, and beret is usually the result of meticulous research and creative design. As a professional costume and scenic designer with dozens of productions under her belt, Theater and Dance Department visiting assistant professor Sarah Bahr offers students a real-world experience in the backstage drama of costume design.
What is the role of the costume designer in a production?
Our role is to define a character. We make a lot of design choices that tell the audience something about that character before they even speak any words, dance any movement, or sing any songs. Something about the costume signals to the audience that this is their personality, their occupation, or their status. It also can be psychological. Sometimes audience members are not going to be able to articulate what they saw, how they felt, or why, but we're making choices like using a muted color tone to help lower the mood, for example.
What are the fundamental skills that a costume designer must have?
Script analysis and character analysis, being able to take a story and have a personal relationship with it. You also have to be collaborative and possess the flexibility to shift your design choices to best tell the story and support the characters. You can't have an ego in theater, because at its heart, theater is a collaborative art form that brings a variety of artists with specialized skills together to tell stories and inspire audiences.
Then there are the design basics: how line, texture, color and shape all work together to create a design and say something about the character.
A lot of costume design classes teach costume or fashion history, but it's quite a broad topic. It's also Western- and Euro-centric, so I teach students how to be good researchers instead. Being a good researcher means you can go into any project and say, "Yep, I know exactly what I need to learn more about."
As a professional who has worked on all different types of productions, how do you make sure to remain authentic to a culture that is not your own?
When I'm approached to work on a project, I trust that a director believes I have the research, communication, and design skills to tell the story authentically and in the right way. I make sure to ask questions and utilize my resources, which sometimes includes a cultural consultant, to support and uplift the characters and cultures.
How do you teach students about cultural appropriation?
We talk about how cultural appropriation in theater has been going on for centuries and is still going on. We look at the different ways that appropriation has been done in theater and fashion, and also talk about ways to approach the work where you're not appropriating, but rather you're uplifting and having a cultural exchange.
For example, if you're designing a play set in the Elizabethan era, the cast of actors will most likely be diverse with varied cultural, racial, and religious backgrounds, along with gender identities that don't align with the characters in the script. Your research needs to be representative of your actor so that they can see themselves in the character and time period. A more in-depth research journey will create a more nuanced and inclusive costume design.
What skills does costume designing teach that are useful both on and offstage?
Collaboration is key. In any other aspect of your life, you're going to be working with other people. If you learn how to communicate and share your work in progress, you can be a good collaborator.
In the theater or any other workplace, you can't just come to the table with a final product and say, "I'm done, that's it." Being part of a team that comes up with a final product that you're all proud of, that's what students gain from this class.
How do you know when you've done a great job?
I love going to opening nights. There's an excitement in the air with seeing the first real performance where the design, the acting and the blocking are set, and now we're going to put it all together in front of an audience for the first time. I like to sit in the back of the theater and just observe people's reactions and take in the entire stage picture. I'm always proud of that moment, even if there are little details that we didn't get to refine or if I'm questioning whether I made the right choices. Once it's opening night, you don't change it. You just let the artform be itself. At that point, I feel like all the collaborators should just celebrate. We did this. We made this together.