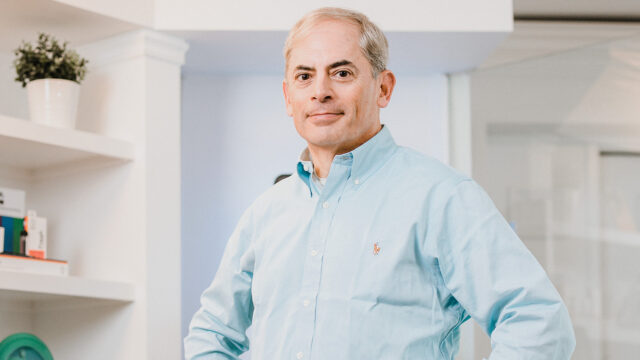 By Daniel P. Smith / Photo by Christopher McIntosh
Ask Jim Shorris if he ever envisioned working for a cannabis company and the 1982 alumnus chuckles.
"Absolutely not," Shorris says.
In fact, Shorris spent almost five years in the 1980s as a prosecutor with the Manhattan District Attorney's Office. During that time, Shorris tackled numerous criminal cases, including some connected to America's war on drugs, which then included cannabis.
"Even though I thought some of it was a little silly," Shorris says, "we treated cannabis like every other street drug when it had some legitimate, valued uses."
As Shorris advanced in his legal career, however, the nation's views on cannabis evolved. In 1996, California became the first state to approve cannabis for medical use. Within a decade, nearly a quarter of states had followed suit. Then, in 2012, Colorado and Washington broke ground as the first two states to legalize the recreational use of cannabis. Today, three-quarters of the nation's states permit the use of medical cannabis while nearly half allow for recreational use. And each year, both numbers grow.
The rapid legalization of cannabis, albeit under strict regulatory watch, spurred the rise of cannabis retail operations from coast to coast, including budding enterprises like Curaleaf Holdings.
Founded in 2010, Massachusetts-based Curaleaf is the world's largest cannabis company, operating 145 dispensaries and 29 cultivation sites across 21 states at the start of 2023. And in an unforeseen career shift for a man who once prosecuted cannabis-related drug offenses, Shorris is now one of Curaleaf's key executives.
As Curaleaf's chief compliance officer, Shorris ensures the 6,000-employee company follows all federal, state, and local laws related to cannabis. These include 24/7 video surveillance in dispensaries and manufacturing facilities as well as packaging and testing guidelines.
"I see the legitimate uses of cannabis and want to see it available to people in safe, legal ways," he says.
Shorris admits people are often taken aback when they discover he works for a cannabis company. Shorris, after all, is a buttoned-up legal pro with a decorated résumé that includes serving as the enforcement chief for the Financial Industry Regulatory Authority, where he managed a staff of more than 260 attorneys, investigators, forensic specialists, and others at the securities industry's self-regulatory organization.
When he was first contacted about the compliance role at Curaleaf, Shorris dismissed the inquiry. He presumed the company wanted someone with a pharmaceutical or manufacturing background, neither of which Shorris possessed. But the more Shorris learned about Curaleaf, its mission of safe consumption, and its chief compliance role, the more he lobbied for the position.
"Curaleaf is a young, dynamic company focused on setting the standard for the industry," says Shorris, a New York native who earned his law degree from Case Western Reserve University. "Though this was certainly different from the compliance work I had done elsewhere, so much seemed transferable."
When Shorris started at Curaleaf in March 2020, just as COVID-19 overtook the country, he inherited a mighty task: to build Curaleaf's compliance program from its relatively rudimentary origins into a sturdy outfit.
Unlike the well-established financial services field where Shorris had spent the bulk of his career, cannabis lives within a complex and ever-evolving compliance environment. Medical programs carry a different set of rules than recreational programs; public precedent is nearly nonexistent given the industry's youth; and, most notably, each state has its own regulatory guidelines. In each state, Shorris notes, Curaleaf essentially operates its own business with cultivation, production, and retail operations adjusted to local laws. (Toss in county and city regulations and the regulatory plot thickens further.)
As a result, Shorris sets the company's compliance strategies and goals nationally before working with local compliance programs to ensure professional execution on the local level. This includes efforts such as transparency in labeling and advertising as well as the physical setup of retail operations. The effort demands constant collaboration, a focused eye on the details, and devotion to clarity, skills Shorris first developed while working on the news desk of the Mac Weekly as an undergraduate.
"That's where I learned how to ask questions, get facts, and explain things in clear terms," the political science major says.
In leading compliance at a $1 billion company, Shorris is constantly seeking a balance between following regulations and pursuing business objectives. His goal is complicated by a changing regulatory environment as well as accelerating competition from retail rivals and a still-strong illicit market that creates an imbalance between cannabis supply and demand. And then, of course, there is the fact that cannabis remains a Schedule I controlled substance alongside heroin, LSD, and ecstasy.
Because cannabis remains illegal on the federal level, Curaleaf cannot secure loans from federally licensed banks or deduct expenses against revenue for tax purposes. Its Schedule I classification also makes it tough to overcome still-prevalent societal taboos. While Shorris says federal movement to reschedule cannabis would help signal the product's legitimate uses, that effort is not his concern. Rather, he remains dedicated to the efforts he can control as Curaleaf's compliance chief.
"In ensuring safety, truth in labeling and advertising, and being transparent with buyers, we can break down taboos associated with cannabis and introduce it to a wider market," he says. "I believe cannabis has a place in society and hope to continue seeing acceptance of those valid uses."
And with more states each year permitting cannabis for medical or recreational use, Shorris is getting his wish—and more compliance work.
"It's a whole new set of regulations to account for," he says, "but that's the role I play here."
Daniel P. Smith is a Chicago-based freelance writer.