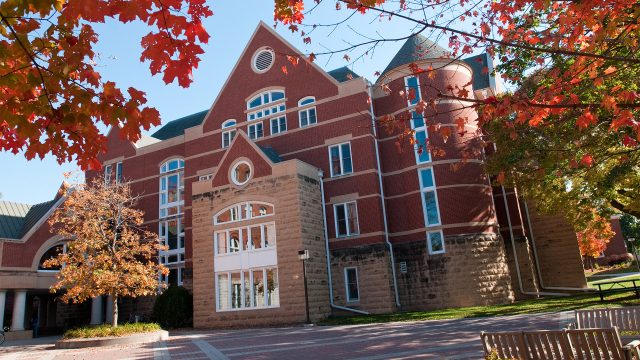 Over the past forty years, the price of textbooks and other educational course materials has risen dramatically: 812 percent since 1978, according to data from the Bureau of Labor Statistics. Beyond causing notable financial stress and negative learning outcomes for students, it can act as a deterrent for choosing classes or majors. A nationwide September 2020 study found that nearly two-thirds of students at four-year institutions often skip purchasing materials altogether, despite concerns for the impact on their grade. 
A team of Macalester faculty and staff is focused on identifying solutions for this broad problem. They've learned that open educational resources (OER) could provide some relief—and help shape a more inclusive learning model.
"Through our research so far, we've found that a number of faculty are already doing all sorts of things to mitigate costs for students," says Angi Faiks, Library director. "OER can put the power back into the hands of the teacher and the students. It shifts the balance of power from 'here is the textbook from which you must teach' to piecing things together, creating new resources, rethinking materials. It offers a more co-created and inclusive way of teaching." 
OER can be defined as "educational materials, from single lessons to entire textbooks, that are free for faculty and students to use, customize, and share." They can be things like podcasts, articles, YouTube lectures, or an open-access textbook. The inherent accessibility could provide students relief from financial burdens, allowing them to better pursue their academic interests. 
For faculty and staff, the reduced cost is one of many benefits.
"OER can also be a means to create more inclusive resources," says Louann Terveer, digital initiatives and scholarly communication librarian. "The entry point for OER is textbook affordability, but it can be so much larger. It's a tool to help faculty have resources that are more ability-inclusive and representative of the students that they're teaching." 
"OER is a really good example of what we truly care about, which is getting more quality resources in more hands, in more equitable ways," adds Faiks. "The work we do around OER is with the big picture of supporting inclusive, lifelong learning for everyone. So the question for Macalester is, what is our responsibility to not only the Mac student, but to students everywhere? Something we invest in here can automatically be something for everyone."
This commitment to equity was one of the driving factors for Macalester faculty and staff to participate in the American Association of Colleges and Universities' Institute on Open Educational Resources in July of 2022. It's a yearlong institute that supports educators in launching, expanding, or hastening campus adoption of free and affordable instructional materials, mainly through mentoring and guidance for data collection and community-building measures like engaging with other institutions wrestling with similar initiatives. 
The participants set two main goals to accomplish through the Institute: an environmental scan of students and faculty to determine campus climate around OER and academic material affordability; and to just get the conversation started. The ultimate goal, Terveer says, is to identify faculty needs and opportunities in order to propose structures that would assist those interested in adopting OER. 
"It's a way for us to go deeper in understanding how Macalester could participate in developing more OER, which we believe is not only good for Macalester, but good for everyone," says Faiks.
Mac's Library and faculty panel have since conducted two surveys (one for students and one for faculty) and presented a preliminary presentation on both at the Serie Center in March. The group will continue to work through the results, explore opportunities to communicate their findings, and consider recommendations for OER adoption. 
While it's admittedly a "hard slog to change a system as powerful as the textbook industry," and the process of building support infrastructure, adopting materials, and listening to concerns is a slow but steady one, the Library is hopeful for a future that aims to center students' well being—academically, personally, financially, and holistically.