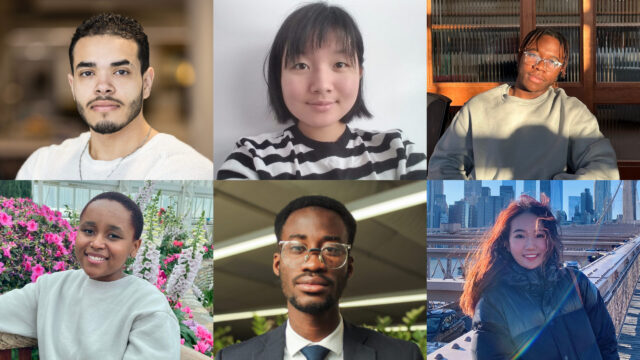 In 2021, the University of Chicago's Becker Friedman Institute for Economics (BFI) launched its Expanding Diversity in Economics Summer Institute (EDE). The program is designed to "identify and support talented undergraduate students from a broad range of backgrounds who are interested in the study of economics." Among the 45 talented undergraduates the program has selected for its third cohort, a record-setting seven are from Macalester: Abdullah Farea '26, Shirley Jiang '26, Ethen Kantu '26, Lifelihle Kunene '25, Yvan N'guettia '26, Gabriella Nieves '26, and Jiayao (Skye) Sun '26.
"As the EDE program begins its third year, we are already seeing its impacts in terms of building a community, its graduates take jobs in economics related fields, and doors to the world's best graduate schools begin to open," said Michael Greenstone, the Milton Friedman Distinguished Service Professor of Economics and Director of BFI, in a press release. "EDE was designed to expose more students to economics at an early stage to help promote a new generation of scholars and professionals who will help develop new answers to old questions, ask new questions, and ultimately make the world a better place."
The Chicago-based programming will focus on microeconomic research and applied economic analysis, giving students a rare chance to participate in programs including technical skill building, daily course instruction from faculty, guest talks, and field trips.
The incoming cohort will also participate in an inaugural DC-based week, where they will learn about the important role that economists play in making fiscal and monetary policy, both domestic and international. Hosted by the Hutchins Center, participants will engage in coursework and applied group projects, and learn from current and former government officials, private sector researchers, and early career professionals.
EDE prioritizes the inclusion of students from all socioeconomic backgrounds. The costs of housing, travel and participation are covered for all participants, who also receive a stipend of $1,200 ($2,400 for Pell-Grant-eligible students) upon successful completion of the program.
The 45 participants in the 2023 cohort were selected through a holistic and rigorous evaluation process involving more than 650 applications. The cohort represents 31 universities across 16 states. The majority of participants (96%) are first- or second-year undergraduate students, with an average GPA of 3.8. Approximately 40% are first-generation college students, and roughly 56% are Pell Grant recipients or have household incomes under $20,000. Women comprise 62% of the cohort; roughly 40% of the cohort identify as Black or African American, and 30% as Hispanic or Latinx, Native American, or Alaska Native.
The Expanding Diversity in Economics Summer Institute runs from June 8-30.