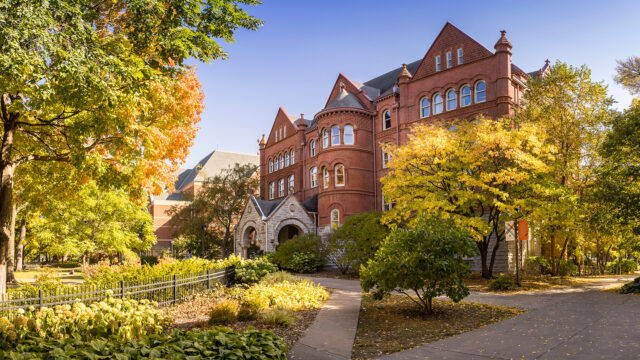 For many students, Macalester's longstanding commitment to access plays a major role in making it possible to choose Mac for college: nearly 65 percent of our students received need-based financial aid last year.
Tuition is not the only barrier, though, that high-need students face in higher education. There are other immediate expenses: a laptop, a warm coat, linens for their dorm room, required course materials. There's also the acute lack of familiarity that first-generation students—15 percent of Macalester's student body—and high-need students can feel as they navigate higher education's so-called "hidden curriculum" of unspoken rules and expectations, which their classmates often seem to navigate with ease. The extra burdens can add layers of stress, block students from participating fully in the life of the college, and prevent them from finding their place in the Macalester community.
Beginning this fall, a new initiative will expand the web of institutional support and remove those roadblocks in order to foster a sense of belonging for the college's highest-need students. Thanks to a lead gift from Decker Anstrom '72 and his spouse Sherry Hiemstra, a group of incoming first-years—Flemming Scholars—will be selected to receive start-up stipends, and have opportunities to connect with faculty and staff who were the first in their families to earn a college degree and participate in intentional programming that introduces students to student-centered resources and support.
"Our commitment to support high-need and first-gen students starts long before they arrive, and it needs to extend throughout their years on campus and beyond," President Suzanne M. Rivera says. "We're building on past progress and working toward a transformative vision for our community. The Flemming Scholars initiative is an important step forward." 
With their gift, Anstrom and Hiemstra celebrate the legacy and impact of former Macalester president Arthur Flemming, a champion of expanding access to higher education and a formative mentor for Anstrom, who served as the college's student body president in 1970. In 1968, in response to campus advocacy, Flemming helped launch the Expanded Educational Opportunities program to increase the number of historically underrepresented students on campus. Under his leadership, the college also committed to creating an office of minority programs and an African American studies program, and increasing the number of faculty and staff members of color.
"We want to honor the guiding vision of President Flemming and his passion for ensuring that anyone who had the ability and interest could go to college," Anstrom says. "Our north star is making sure every student has the ability to fully participate in everything Mac has to offer, without systemic barriers getting in the way."
This pilot program aligns with Macalester's strategic plan goal to become a student-ready campus in which every member of the community can thrive. The Flemming Scholars initiative is the first step in an ambitious long-term vision, with future priorities including summer programs, health insurance support, and a physical space on campus that facilitates community-building, fosters a sense of belonging on campus, and provides direct access to student-centered resources and support. 
For more information, contact AVP of Development Carley Stuber at [email protected] or 651-696-6335.