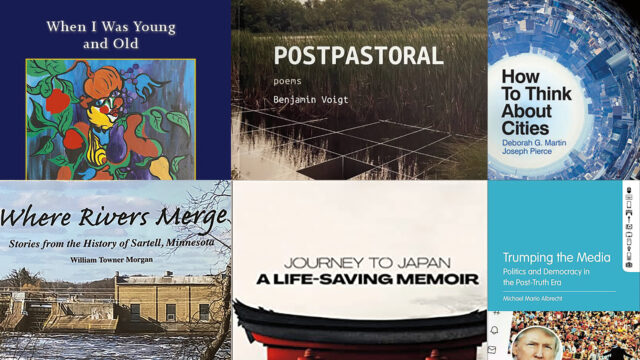 William Towner Morgan '55. Where Rivers Merge: Stories from the History of Sartell, Minnesota (2022)
Dr. Bill Morgan '55 taught American studies at St. Cloud State University from 1978 to 2009 where he designed courses in American architecture, local history, and preservation. He wrote monthly articles on those subjects for the St. Cloud Times, and many of those pieces appear in his book, Where Rivers Merge, in edited form.
"As a writer who likes 'being there,' I have experienced some thrilling moments in and around local historic sites, including climbing to the top of Peace Rock; visiting several places where oxcart remnants can still be seen; and exploring the last-standing yellow-brick building on the abandoned paper mill site. Sartell's late nineteenth- and early twentieth-century character is well represented by these historic structures.
My searches have also taken me to several historic sites near Sartell as well, including the Arnold/Heim Mill and House; the Graves' Farm; the site of the vanished town of Watab; and the Rice, Minnesota, cemetery where lie members of the wedding party who died in the 1886 cyclone."
---
Ben Voigt '10. Postpastoral (Poetry.onl, 2023)
An academic information associate at Macalester, Ben Voigt '10 was awarded the inaugural Poetry.onl Chapbook Fellowship, which includes publication of a chapbook. "It's been a joy and an honor to find a home for my work that really understands and affirms what I'm up to," he said.
The poems in his chapbook, Postpastoral, wrestle with how technology (from Facebook to farm equipment) not only shapes our everyday experiences in the twenty-first century, but connects us intimately to the violence of global capitalism. "We have to ask: What's the cost of these digital escapes?" Voigt said. "The long poem from my chapbook is an elegy for Xu Lizhi, a poet who wrote about life in a Foxconn factory in China, and eventually committed suicide. Is all my scrolling on the other side of the world partly responsible for his death? To me, that's an open question."
---
Sarah Rossmann Deschamps '88. Journey to Japan: A Life-Saving Memoir (Amazon Publishing Lab, 2023)
Calling her memoir a "true Macalester story," Sarah Rossmann Deschamps '88 recounts how, after moving from Minnesota to Tokyo with her family and dreaming of exploration and adventure, she gave birth to a baby with multiple medical issues. She details their lengthy "cross-cultural medical nightmare," and her family's relentless determination to give their child the best chance in the world.
Fred and I met in 1985 at Macalester. Fred was from Belgium, and I was from across the street. On our first date, we went to a Japanese restaurant near campus. Fred proclaimed, "I took you to a Japanese place because I want to live in Japan someday."

I loved to travel. When I was a child, my parents took us to Europe and Australia. At Mac, I took every opportunity to travel. I spent January terms in Spain, in New York at the United Nations, and my senior year in China. I studied in Bogotá, Colombia, for a semester during my junior year. Japan intrigued me. The moment Fred mentioned it, I was all in. We married in 1992, traveled the world, and fell in love with the idea of living abroad.
---
Freya Manfred '66. When I was Young and Old: Poems and Prose (Nodin Press, 2023)
"When I Was Young and Old"
Out of nowhere we find ourselves
stretched out under the sun on the summer lawn,
and I saw how lively, how supple, he was
in each new pose, as I breathed in, yes, and out yes,
and when we sat down to eat I heard every word
he spoke, yes, as if he knew I would always understand,
and I asked for soup that was green and wild,
and he wanted to taste it, and I said yes again,
and on the mountains we slid so smoothly
through snow drifts, down icy-steep ravines,
on our two simple, matter-of-fact feet, yes —
and when I wandered off alone,
the wolf who followed us did not attack,
but went his solitary way, so I felt safe, yes.
And when we lay down together, at last,
I was amazed how much care he gave
to my humble, forgotten ears and cosmic toes,
and when he kissed me, I slipped like lightning
into another world, yes and yes and yes.
This all happened when he was young and I was old,
and I was young and he was old,
and it still happens whenever a dream arrives at night
to assure me it was all meant to be.
But now I wonder, is my dream more alive
than the poem I write about the dream?
And is my life as alive, as real, as the poem or the dream?
Yes, and yes, and yes.
---
Deborah G. Martin '91 and Joseph Pierce. How To Think About Cities (Polity Books, 2023)
Michael Mario Albrecht '98. Trumping the Media: Politics and Democracy in the Post-Truth Era (Bloomsbury 2022)