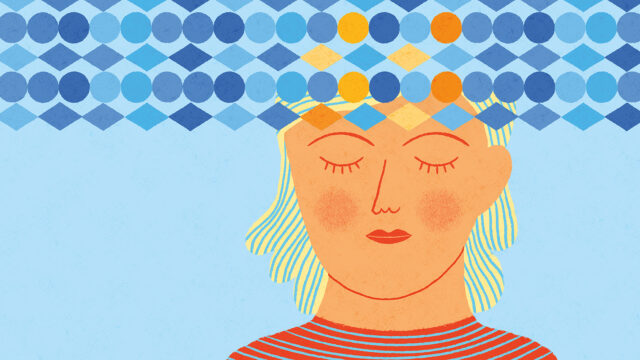 By Erin Peterson / Illustrations by James O'Brien
As debates rage about everything from artificial intelligence to trans rights to climate change, it can seem like we are in a moment with no precedent.
You've heard the hot takes from the pundits. But what if today's headlines were instead filtered through some of the essential ideas from philosophy, history, literature, and religious studies?
Instead of offering a comforting clarity, the humanities add a layer of complexity—and that's the point. "The humanities can make the familiar unfamiliar," says assistant professor of Islamic studies Ahoo Najafian. "Education should undo your certainties."
In these pages, six Macalester faculty members share ways that a deep understanding of the humanities makes some of today's most important conversations a richer and more textured experience.
Are we really all that different from machines?
Geoffrey Gorham is a professor of philosophy.
As artificial intelligence platforms including ChatGPT, Bard, and Claude began their red-hot ascent into the cultural conversation this past fall, many began predicting dystopian futures in which machines took over and humans were sidelined.
Professor Geoffrey Gorham says that questions about AI that once felt almost like science fiction now seem particularly urgent. "One of the questions we ask in philosophy is, 'What is consciousness?'" he says. "Is it a matter of being a really good responder to problems, or a good learner? Is it something that only certain kinds of biological entities can have?"
He says that one useful way to see our potential future is to look at the ideas explored in Her, a prescient 2013 movie about artificial intelligence starring Joaquin Phoenix.
In the movie, Phoenix's character, Theodore, falls in love with an AI virtual assistant, a twist that nudges viewers to contemplate some of the thorniest questions about the role of AI in our lives. "It's increasingly difficult to know now—when you're not looking at a body in front of you—whether or not you're talking to a bot," Gorham says. "When do we start attributing genuine thoughts to AI? Does it 'make sense' to fall in love with an operating system?" he asks.
Gorham also says AI's dramatic leaps should also prompt us to consider if we are really all that different from the machines we fret about. "In some ways, we are 'trained up' in the same way that a computer is," he says. "We're observing things, our neural network is molded, and we learn to respond appropriately based on our conditioning and our training. Some might say it's a myth to suggest we're anything different than that. That can be humbling."
Do mascot changes matter?
Katrina Phillips is an associate professor of history with a focus on Native history and the history of the American West.
Over the past few years, major sports teams have retired some of their most offensive mascots—the Washington Redskins were renamed the Commanders and the Cleveland Indians became the Guardians. Professor and Native historian Katrina Phillips, a citizen of the Red Cliff Band of Lake Superior Ojibwe, has watched with interest as both an academic and a parent. "My kids are sports obsessed," she says. "In the past, I would hear my nine-year-old talk about how the [Redskins] were playing, and I'd have to say, 'That's a word you can't use,' and explain why." She notes that scholars have long argued that using Native people as mascots is part of a larger manifestation of white supremacy.
At the same time, as some of these dehumanizing mascots got jettisoned, fuller, more human representations of Native people began to bubble up in pop culture. Native actress Alaqua Cox landed the lead role in the Disney+ show Echo. Reservation Dogs, a critically beloved show, features a cast, directors, writers, and production crew who are almost all Indigenous. "There has always been dissonance between the ways that Native people have been presented in pop culture and the way that Native people see themselves in real life," she says. "These kinds of breakout roles and shows are helping to change that," she says.
But can pop culture really drive larger social change? Phillips understands it might be easy to dismiss these seemingly modest name changes and pop culture appearances, but history shows that they can serve as important milestones on the path to larger change. For example, she notes a 1969 episode of Mr. Rogers' Neighborhood that broke a notable "color barrier" when Mr. Rogers asked a Black police officer to join him as he cooled his feet in a wading pool. Others have suggested that broadly popular television shows like Will & Grace helped open up more minds to same-sex marriage.
Meaningful representation can lead to meaningful change, says Phillips. "People might say, aren't there other issues to be focused on—poverty, access to food, health?" she says. "But all of these things are intertwined for Native people. The dehumanization of mascots is tied to the dehumanization of people. But if things like pop culture shows can help others see us as people, not mascots, they'll be more likely to support things like food sovereignty issues, for example. For many people, Native issues are not even on their radar, but we are starting to see hints of change."
What is the essence of Islam?
Ahoo Najafian is an assistant professor of Islamic studies.
In January, St. Paul's Hamline University found itself in the middle of a national media frenzy: after providing written and verbal disclaimers to students, an adjunct art professor had shown a reverential fourteenth-century image of the Prophet Muhammad. A Muslim student in the class lodged a formal complaint, and the University responded by describing the act as Islamophobic. After a significant outcry, Hamline officials retracted that specific characterization.
A few months later, the debate moved to Macalester when the college temporarily paused the gallery exhibit "Taravat" over the weekend in order to create space for discussion and learning after some students expressed concerns about sexualized imagery in the artwork.
While pundits and newspaper editorials debated the balance between religious discrimination and academic freedom, Professor Ahoo Najafian, a scholar of Islamic studies, saw other ways to view the controversies. To her, these moments also highlighted the shifting norms within the second-largest religion in the world, including the ways that Islam has regarded depictions of the Prophet Muhammad. "Right now, one mainstream understanding is that Muslims shouldn't be making or looking at these images," she says. "But over hundreds of years, Muslims have been creating images of Muhammad. For some, it has been a sign of respect. For others, you shouldn't even be looking at the images."
The value of studying religion, whether it's Islam, Christianity, Hinduism, or anything else, says Najafian, is that it can illuminate the many ways that people practice a religion across time and place. "Islam is practiced by 1.9 billion people, and it has 1,400 years of history. It is absolutely natural for religions to be contradictory," she says. "If someone says they can tell you the essence of Islam is one thing, my job is to tell you that there is no one essence."
But this is, in some ways, its strength. Najafian wants students to embrace the kaleidoscopic beauty of Islam—including its messy realities. She hopes they take that same openheartedness to the rest of their lives. "I want them to fall in love with ambiguity and uncertainty," she says.
Are debates about trans rights about more than trans rights?
Myrl Beam is an associate professor of women's, gender, and sexuality studies.
In Tennessee, a so-called "anti-drag" law, which restricts adult cabaret performances in public, passed in March. In April, Florida expanded on what is often called the "don't say gay" bill—public schools are banned from teaching about sexual orientation and gender identity through high school. And in Kansas, a bill passed in April that will prevent transgender women and girls from competing on sports teams consistent with their gender.
Larger ideology ties all of these efforts together, says Professor Myrl Beam. "These and other bills like them represent attempts to regulate gender nonconformity," he says. "And they're worth looking at in a unified, connected way."
Certainly, the bills and laws—even those that are not enacted—have a significant impact on many individuals: "We know, for instance, as anti-trans bills are being debated that there has been an uptick in depression and suicide, particularly among young trans individuals," he says. "It's not just trans people, but those who want to embody gender in ways that their families, faith communities, or other communities might not want them to," he says.
There also are larger, societal effects that can be powerful and lasting. "One way to think about the legislative process is that it is the terrain over which norms are being grappled, and in which power hierarchies are being challenged or entrenched," he says.
An expansive sense of history can show parallels between today's debates about trans issues and similar broad cultural conversations in the past about gay marriage, women's rights, and civil rights. Norms are shaped—and sometimes upended—by these debates.
Frequently, debates that happen on a political and cultural level lead to a new understanding of what is possible and acceptable. "The robust reaction in support of trans people—the Trans Refuge Bill in Minnesota, for example—reflects the success of feminist, queer, and trans social movements in creating space for more ways of living," says Beam.
What makes a better activist?
John Kim is an associate professor of media and cultural studies. He is one of the project leaders for "Mississippi River Watershed: An Immersive Humanities Curriculum," which received a $1.5 million grant from the Mellon Foundation.
Professor John Kim believes Macalester students are natural activists: they're thoughtful, action-oriented, and hungry to get out in the world to make it a better place. In recent years, Macalester students have been involved in a number of protests, including the Stop Line 3 demonstrations against the expansion of an oil pipeline across the treaty territory of the Anishinaabe peoples and near the Mississippi headwaters in northern Minnesota.
As students roll up their sleeves in service of issues that are important to them, Kim hopes that the coursework and projects he and others have developed through the Mellon grant will allow students to pair their enthusiasm with meaningful historical and cultural context.
For example, in Kim's Media Activism course and other projects, students study topics including regional Indigenous histories, resource extraction, and environmental activism connected to the Mississippi River watershed. They pair these lessons with on-the-ground work with community partners linked to Stop Line 3 protests, including MN350 and Honor the Earth.
History, culture, the role of media, and environmental knowledge help students see their activism through a new and expansive lens. "An oil pipeline is connected to many issues, but it may not be obvious until you learn and engage with them," he says. "This includes ongoing social and racial inequalities among those who are impacted by pipelines; the history of US treaties and their role in environmental issues; and local and state politics and support for resource extraction," he says. "An awareness of the interconnections between these issues can lead to a more informed activism that hopefully can be more thoughtful and effective."
Can hard news inspire empathy?
Matt Burgess is an associate professor of English.
When he's not teaching creative writing at Macalester, Professor Matt Burgess writes novels with topics and characters that have often been inspired by the news.
For example, Burgess read a New York Times article that featured a man who had just been released from a long prison term, and who was perplexed by a Heinz–Trivial Pursuit cross-promotion on a ketchup bottle. "I thought: what would it be like to look at the world through that guy's eyes?" he says. That question led to the development of a character in a book he is currently working on called Run the Bag.
It's this sense of empathy and possibility that he nudges all of his students to bring to their work. "If you're firmly entrenched in your opinions about what you want a story to say before you've even started—whether it's about a specific political ideology that you think is bad, or a specific way you feel about guns—it puts you and the story at a disadvantage."
He uses a handful of class exercises to encourage this type of human-centered thinking. In one, he has them describe a particularly exaggerated villain who is also an alcoholic. Burgess asks them to imagine the villain's living situation, and students gamely shout out stereotypes about dingy studio apartments, overflowing ashtrays, and empty bottles scattered on the floor.
Next, he asks them to add an element to the scene that doesn't point to alcoholism: a green yoga mat, perhaps. The detail is tiny, yet it re-orients students' views of this person. "Now, this character starts to seem like a human being, not a stereotype," he says.
The work of storytelling is to set aside easy generalizations in favor of complicated humanity. "It's harder to keep your heart closed to somebody after you've heard their story. Writing and reading literature can make people less rigid in their thinking."
Burgess always hopes his students see the headlines as starting points for deeper stories, rather than cudgels for a specific point of view. "I want students to be bighearted people in the world," he says. "Literature should be something that helps you love people more."
Erin Peterson is a Minneapolis-based writer.