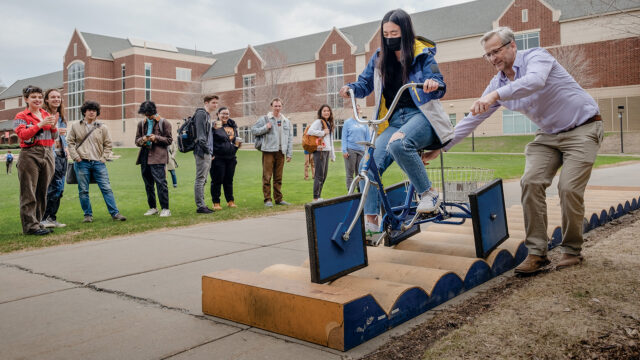 Photo by Ethan Brown
In mid-March, Stan Wagon, professor emeritus of experimental mathematics, woke up to an email from someone he didn't know. In the message, an engineer from the United Kingdom described a new bridge he and his team recently built and then he thanked Dr. Wagon for the inspiration.
The Cody Dock Rolling Bridge in London took seven years to complete and had just won The Bridges Design Award in the UK, with judges calling it "a unique and novel design capturing the spirit of engineering," and an "innovative derivation of the rolling path of the bridge using historical square-wheel mathematics."
"I almost fell out of my chair," said Wagon, who now lives in Colorado.
Nearly twenty-five years after Wagon's invention of a working square-wheeled bicycle made international headlines, earned a place in the National Museum of Mathematics, and was even cited by Ripley's Believe It or Not!, a team in London had built a rotating bridge that was a first-of-its-kind in the world, all based on his original bicycle design.
"Contrary to popular belief, advanced math ideas can be really exciting, surprising, and just plain fun," says mathematics professor William Mitchell. Wagon's original bicycle had been in storage at Macalester since 2017, and Mitchell led the effort to resurrect it.
"We realized that Stan's bike is portable enough to bring outside once or twice a year to celebrate the creativity and unexpected whimsy of mathematics," says mathematics professor Andrew Beveridge. To celebrate both the bike's recent inspiration and the seniors in the Mathematics, Statistics and Computer Science Department, students, faculty, and staff were invited to ride the bike at an April event.