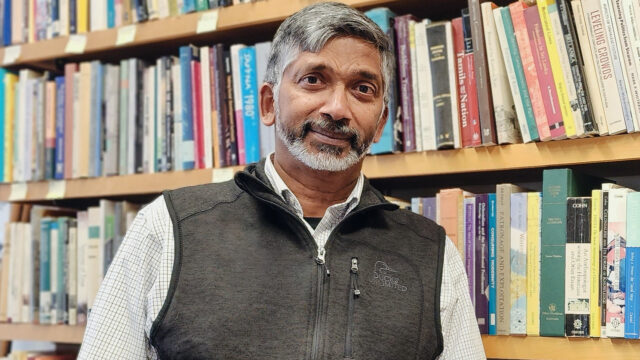 By Catherine Kane '26 / Photo by Csanad Hegyi '23
Arjun Guneratne is a professor of anthropology specializing in South Asia.
Q: Any standout books you've read recently?
A: I am currently reading Brotherless Night by V. V. Ganeshananthan. There is really good literature emerging about the Sri Lankan Civil War and this novel is one of the best. It is an intimate portrait of a family being sucked into war, told through the eyes of a young woman. Brotherless Night examines the complex motives its different members have to the struggle, and gives the reader a real sense of what it must have been like to be living through that period.
Q: What's one of your all-time favorite reads?
A: In an Antique Land by Amitav Ghosh. Before he became a famous novelist, Ghosh was an anthropologist studying in Egypt, and he tells the story of his fieldwork in two villages. A narrative running concurrently, almost like a double helix, concerns a twelfth-century Yemeni merchant in Western India, a story Ghosh uncovers in the archives of an old synagogue in Cairo. It calls boundaries of all kinds into question, and dissolves the line between the study of anthropology and history.
Q: What is something you love to read that we might not expect?
A: My weakness is navies in the age of Napoleon so I am a big fan of the Master and Commander series by Patrick O'Brian. O'Brian is very ethnographic in his approach and makes no concessions to the reader with the vocabulary of the period. The eponymous master and commander passed time on the ship by playing the violin, and a fan of the book made a CD of the music they played. I own that, too.
Q: What book would you recommend to everyone at Macalester?
A: A really important book to read right now is Dirty Knowledge by Julia Schleck. If you're interested in what academic freedom means, this book explains it. It discusses how academic freedom is undermined by gig labor in academia and the rolling back of tenure at universities. The author argues that the university is a seedbed for the ideas that will help us deal with the challenges facing us, and academic freedom is what makes that seedbed possible. But there is an assault in this country on the freedom to think, and that doesn't bode well for the future.